US-led RIMPAC, World's Largest Maritime Exercise, Starts Without China or Taiwan
The exercises kicked off without Taiwan's participation, despite a push from Congress, while China's previous invitations are a distant memory.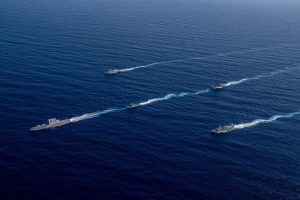 The U.S. Navy began hosting the world's largest maritime exercise, involving 26 countries, off Hawaii on June 29, amid worsening tensions between Washington and Beijing over the Indo-Pacific region and elsewhere.
The Rim of the Pacific exercise, also known as RIMPAC, will run through August 4. Thirty-eight surface ships, four submarines, nine national land forces, more than 170 aircraft, and about 25,000 personnel will train and operate together in and around the Hawaiian Islands and southern California.
The exercises serve as an opportunity for the United States to put on a show of multilateral cooperation, or collective action, against a more assertive China.
In December 2021, the two houses of the U.S. Congress passed the National Defense Authorization Act (NDAA) for Fiscal Year 2022, with recommendations that President Joe Biden's administration invite Taiwan to RIMPAC 2022 to enhance the cooperation between the U.S. and Taiwan aimed at countering the threat from China.
But the Biden administration didn't invite Taipei to the latest biennial drill, an apparent move to avoid any excessive confrontation with China.
However, it should be noted that the small Pacific Island of Tonga is participating in RIMPAC for the second time at the invitation of Washington, at a time when China and the U.S. and allies are squaring off for influence in the South Pacific.
RIMPAC exercises have been conducted every two years, on even-numbered years, for decades. The last time the exercise was conducted on a full scale was back in 2018. Because of the COVID-19 pandemic, RIMPAC was an on-sea only exercise in 2020.
Although the battle for supremacy between the United States and China is intensifying within the Indo-Pacific area and elsewhere, not long ago Beijing was welcomed to RIMPAC. China took part in RIMPAC for the first time in 2014 and again in 2016 during the Obama administration.
However, in May 2018 during the Trump administration, the Pentagon rescinded an invitation to China to participate in RIMPAC that year, citing Beijing's rapid militarization of the South China Sea, where it has overlapping territorial claims with smaller Asian countries.
While China was not allowed to participate in RIMPAC 2018, it sent an auxiliary general intelligence (AGI) ship to monitor the exercises from waters near Hawaii. It also sent a Dongdiao-class AGI vessel to observe the drills in 2014.
This year's exercise program will include gunnery, missile, anti-submarine, and air defense exercises, as well as amphibious, counterpiracy, mine clearance, explosive ordnance disposal, diving, and salvage operations, according to a U.S. 3rd Fleet news release about RIMPAC 2022. Additionally, the exercise will also introduce space and cyber operations for all partner nations, the press release said.
This year's exercise includes forces from Australia, Brunei, Canada, Chile, Colombia, Denmark, Ecuador, France, Germany, India, Indonesia, Israel, Japan, Malaysia, Mexico, Netherlands, New Zealand, Peru, the Philippines, Singapore, South Korea, Sri Lanka, Thailand, Tonga, the United Kingdom, and the United States.
Japan has sent JS Izumo, one of the Japan Maritime Self Defense Force's two largest Izumo-class helicopter carriers, and one destroyer, JS Takanami, to Hawaii.