Bangladesh Parties Turn to Political Opportunism as Elections Draw Close
With Islamists displaying support for secular celebrations and secular parties burnishing their Islamist credentials, is Bangladesh heading toward political syncretism or hybridization?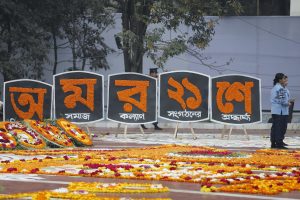 Bangladesh is scheduled to vote in general elections by December 2023. With their political fortunes hanging in the balance, political parties are scrambling to give themselves an image makeover before they go to the people for votes.
In a bid to broaden their support base, parties are diluting their ideological commitment. While so-called secular parties are beefing up their Islamist credentials, Islamist parties are downplaying their religious views in order to appeal to religious minorities and secular Bangladeshis.
Predominantly Muslim Bangladesh emerged as an independent country in 1971 out of a bloody war that saw the forces of religious nationalism clash with those of secular/linguistic nationalism. While the latter emerged victorious in 1971, the battle between the two continues to date. Come elections and the politics of opportunism are on full display.
Walking down Dhaka's main street at Paltan on March 26, Bangladesh's Independence Day, this year, I was surprised to hear a "secular" song that evokes love for the country emanating from a loudspeaker at a procession organized by the Islami Andolan Bangladesh (IAB). "Every inch of this land is purer than the gold. This land is bought with blood of millions. I swear to God that none can snatch this land from us. Bangladesh, My Bangladesh," the chorus of the song went.
The IAB held processions celebrating Bangladesh's independence this year. Such celebrations are hardly the norm followed by the country's Islamist parties.
This is an example of the opportunistic politics that parties adopt ahead of elections.
Opportunism generally means "the conscious policy and politics of taking selfish advantage of circumstances with little regard for principles, or what the consequences are for others. Opportunist actions are expedient actions guided primarily by self-interested motives." When political actors seek to make "political capital out of situations with the aim being that of gaining more influence, prestige or support, instead of truly winning people over to a principled position or improving their political understanding," they are said to be engaging in political opportunism.
The IAB owes its emergence to Maulana Syed Muhammad Ishaq and Syed Maulana Rezaul Karim, who is its current amir (leader). Its nitimala (guiding principles) states that its main agenda is to transform Bangladesh into an Islamic welfare state through the implementation of Islamic ideals inspired by the Khilafat Rasheda (rightly guided) model.
When their declared agenda is only to Islamize the society, why are they celebrating secular events such as Independence Day, International Language Day and Victory Day, which all mark the triumph of secular/linguistic nationalism? This is aimed at impressing secular voters, a clear sign of political opportunism.
Other Islamist groups such as Jamaat-e-Islami and Zaker Party too engage in such opportunism.
Just as opportunistic is Bangladesh's ruling party, the Awami League, which is known for its secular orientation. At the time of its founding in 1949, the party was known as the East Bengal Awami Muslim League. However, in 1955, amid rising linguistic nationalism in what was then East Pakistan, its leaders dropped the word "Muslim" from its name to give the party a secular character.
The AL's promise to uphold secular values was concretized when its government under the leadership of Sheikh Mujibur Rahman offered the newly independent Bangladesh a constitution with democracy, nationalism, socialism and secularism as its fundamental pillars.
However, to garner popular support, the AL has adopted policies supporting Islamist causes. These are aimed at striking a chord with the Muslim masses and also building good relations with some religion-based political parties.
The AL has repeatedly assured the masses that it would not pass any law that is contrary to the Quran and Sunnah. The party's 2014 election manifesto declared that model mosques would be built in every upazila (smallest administrative unit in Bangladesh) by 2021. The AL government has built a number of mosques in recent years.
In 2014, Prime Minister Sheikh Hasina, who is also the leader of the AL, declared in a public gathering that Bangladesh is a Muslim majority country, which will be run according to the last sermon and the Madinah Charter of the Prophet Muhammad.
Bowing to pressure from Islamists, the AL government approved the Digital Security Act to prosecute those who offend religious sentiments. It also recognized Qawmi Dawrah degree (the degree conferred by Qawmi madrassas across the country) as equivalent to a Master's degree.
Most importantly, the AL government restored secularism as an integral facet of the Bangladeshi constitution but kept Islam as the state religion.
Clearly, the AL has compromised with its declared ideology of promoting secular values in Bangladesh. Other secular parties such as the Bangladesh Nationalist Party (BNP) and the Jatio Party (JP) too have shown such flexibility especially when it comes to choosing electoral allies.
So why do both secular and Islamist parties willing to don Islamic or secular garb respectively to gain popular support?
As mentioned above, Islam is the religion of the majority population. Scholars contend that the Islamic faith has traditionally or historically been integrated into Bangladeshi culture and society as a unique syncretistic tradition. So, political elites – whether Islamist or Secularist – use Islamic sentiments for political purposes.
On the other hand, Bangladesh is a product of secular movements. Secular political elites with the help of media and civil society have kept secular sentiment alive at least among the country's urban population by reiterating the Independence narrative or consciousness (muktijudder chetona). Therefore, Islamist parties have also left no stone unturned to capitalize on Bangladesh's independence narrative to reach out to the wider population.
With elections a little over a year away, Bangladeshi politicians will step up their efforts to draw votes beyond their core support base. That will require them to compromise a bit on their original ideology.
This political opportunism could ultimately herald a new era of political syncretism or hybridization in Bangladesh.