What Do Bangladeshis Think About Democracy, Human Rights, and Elections?
Two surveys provide useful insights into how Bangladeshis view elections and their concerns over democracy, human rights and price rise.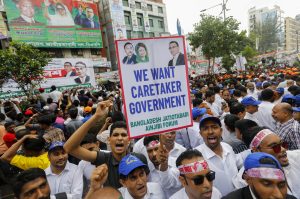 Bangladesh will be voting in national elections in January 2024. Leaders of both, the ruling Awami League (AL) and the opposition parties are claiming that the people are supporting them.
In the absence of free and fair elections in recent years, it is difficult to determine which party the people genuinely support; and with the government clamping down on free speech, dissent and criticism, it is difficult to figure out what is going on in their minds. The last internationally accepted and widely recognized free and fair election in Bangladesh was in 2008 when the AL swept to power.
The elections of 2014 and 2018 under the AL government were marred in controversy. There were allegations of widespread rigging by the government.
So, what do Bangladeshis think about their country's democracy, human rights and elections?
Two recent polls conducted by the International Republic Institute (IRI) and Open Society Barometer (OSB) shed interesting light on these questions.
IRI's nationally representative sample includes 5,000 people, 18 years and older, and from all the country's 64 districts and eight divisions. The opinion survey was conducted between March 1 and April 6 of this year. The IRI also conducted eight Focus Group Discussions (FGDs) in divisional cities.
OSB on the other hand surveyed 1,000 nationally representative adults in each of the 30 countries it surveyed, including Bangladesh.
While IRI's opinion survey found that 50 percent of those surveyed believe that the state of democracy is in either good or very good shape, its FGDs reveal a different picture. In the FGDs, people told IRI researchers that democracy is in "shambles" in Bangladesh.  The participants believe that Bangladesh's key democratic deficiencies include the loss of personal freedoms like freedom of speech and assembly, vote rigging, opposition repression, abuse of the Digital Security Act, and lack of internal party democracy.
A woman quoted in the IRI FGD states: "If you say something about a political issue, if I say something, I have a fear that I may be murdered for this."
The OBS survey on the other hand found that Bangladesh was unique among all the countries polled as Bangladeshis offer higher support for civil and political rights (36 percent) over economic and social rights (28 percent). Civil and political rights include respecting the civil and political rights of individuals, and the right to life of individuals among others.
Although some analysts on Bangladesh ignore the importance of human rights and the dignity of Bangladeshi people over their preference for strategy, regional and global geopolitics, to Bangladeshis human rights are extremely important and policymakers must take note of that.
According to the OSB survey, 82 percent of Bangladeshi respondents said that human rights reflect the values they believe in and 79 percent of them wanted government accountability when rights are abused. Perhaps that is the reason why the sanctions imposed by the U.S. on Rapid Action Battalion officials for gross human rights violations received such strong support from rights activists, journalists and the opposition in Bangladesh.
Regarding elections, 92 percent of the surveyed Bangladeshis in the IRI poll said that they are going to vote in the next election underscoring the enormous interest of Bangladeshis in ballot box politics although many have concerns about vote rigging, a problem that is allegedly institutionalized by the current government according to its critics. If they did not vote, the primary reason would be that someone else had voted in their name (55 percent), they were unable to vote for their preferred candidate, probably referring to intimidation (12 percent) and they had been threatened to not vote (3 percent).
A whopping 87 percent of those surveyed said it is important for the AL to seek input from other political parties and include them in the decision-making process.
The IRI FGD further found that "there is support for the return of the caretaker government system — or some form of bipartisan or nonpartisan election administration — without which few think the 2024 elections will be free and fair." However, so far, the AL government has been steadfast in rejecting such demands.
What could be a driver of future political unrest and upheaval in Bangladesh?
Both, the IRI and OSB surveys point to skyrocketing prices of essential commodities and rising standards of living. In the IRI survey, 51 percent drew attention to rising prices. 52 percent of Bangladeshi in the OSB survey said that "they have struggled to feed themselves or their families within the last year."
In this regard, it is noteworthy that earlier this year, a Daily Prothom Alo journalist Shamsuzzaman Shams, was sent to prison and charged under the Digital Security Act for publishing a comment from a day laborer about the cost of living crisis in the country. The laborer had said: "What is the use of freedom if we cannot afford rice."
The AL government accused Shams of "smearing the image of the government with false news and for raising questions about the achievements of Bangladesh."
Political parties, the AL government, Bangladesh's development partners and decision-makers would do well to take heed of the findings of these two surveys. The surveys may have shortcomings but they provide useful insights into what is running in people's minds.