Chinese Drone Maker DJI and the US Congress
Insights from Alexandra Seymour.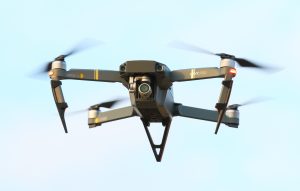 The Diplomat author Mercy Kuo regularly engages subject-matter experts, policy practitioners, and strategic thinkers across the globe for their diverse insights into U.S. Asia policy. This conversation with Alexandra Seymour, as associate fellow in the Technology and National Security Program, Center for a New American Security in Washington, D.C.,  is the 331st in "The Trans-Pacific View Insight Series."
Why is DJI  ̶  a blacklisted Chinese drone maker  ̶  lobbying the U.S. Congress not to pass the American Security Drone Act (ASDA)?
Although the American Security Drone Act applies to UAS (unmanned aerial systems) "manufactured or assembled by certain entities," it was written with DJI in mind. In proposing ASDA, legislators have been vocal about the national security risks DJI poses – namely their ability to steal intellectual property and amass large amounts of data, which could further Chinese Communist Party efforts. While this is not exclusive to DJI (hence ASDA's applicability to other Chinese- or authoritarian regime-owned companies), the company has confirmed ties to the Xinjiang Public Security Bureau. This has raised significant human rights concerns on top of the national security risks.
Knowing that there is already bipartisan consensus on the risks DJI poses to national security, the company is now lobbying Congress to retain both the access it has to the drone market and its status as a market dominator. Importantly, their lobbying has included significant efforts to dispel U.S. national security concerns. Given DJI's known ties to the CCP, these lobbying efforts and messaging must concern Americans from both a national security and human rights perspective.
Compare and contrast the U.S. market share of DJI and Autel, another Chinese drone maker. Why is DJI under greater U.S. government scrutiny than Autel?
Although it is dropping, DJI still retains a majority of the U.S. drone market share. It holds a large portion of the commercial sector and is a leading supplier of drones to U.S. law enforcement agencies. In contrast, while Autel's U.S. market share is growing due to the shift away from DJI, it comprises only about 7 percent as of 2021.
Federal spending numbers help illustrate this point. According to USA Spending, since 2008, DJI has received about $2 million for 159 transactions across several government agencies. As Axios reported, some of these were even after the Department of Defense issued a statement about how DJI "pose[s] a potential threat to national security," specifically the Secret Service and FBI. As for Autel, the company received five transactions totaling less than $50,000 (although, they did receive almost $1 million in PPP loans).
Having said that, while there is currently a market imbalance and Autel is under less scrutiny, the U.S. government must scrutinize any potential business with companies from authoritarian nations for the sake of protecting national security interests.
How does DJI benefit from ASDA's removal from the National Defense Authorization bill?
Without a federal purchase ban, DJI can continue to sell its products to government entities that have not restricted Chinese-made UAS technologies, which would be bought with taxpayer dollars. Lack of congressional action also empowers the DJI brand because the company can continue to market its product as safe, cheaper, and more advanced than competitor technologies. Considering the U.S. government recognizes DJI as a national security risk, these possibilities must be addressed.
Explain the concerns of U.S. lawmakers regarding the national security risks of DJI's data transfer technology to the Chinese government.
CCP laws establish no distinction between commercial and government use of data. This means that even in seemingly harmless cases – such as enhancing crop monitoring – the Chinese government can use any data collected however it deems necessary. This surveillance power can extend to U.S. critical infrastructure, particularly in local communities that use DJI drones for law enforcement purposes.
Importantly, data is what powers artificial intelligence models. The more data the CCP has to train AI models, the more accurate they become. Getting ahead in AI is a priority for the CCP, so allowing the federal government to use DJI drones that collect tremendous amounts of data essentially hands the CCP an advantage.
Assess the national security impact of DJI's actions to retain U.S. market share, especially in terms of protecting U.S. technology and innovation.
The national security impact will depend on how successful DJI is. It could give China an advantage in AI, or heightened knowledge of U.S. critical infrastructure, individuals, and technologies. Additionally, the data collected from maintaining U.S. market share can help improve DJI's products, which simultaneously hurts American market competitiveness.
The U.S. is aware of the CCP's ambitions to be the world leader in technology, so it should prioritize measures that protect its own technology and innovation. Knowing that the CCP accelerates its advancements through "military-civil fusion" and intellectual property theft, the U.S. should be concerned about ceding its market share to an authoritarian power that may use data for malign purposes. This is an opportunity for the U.S., along with its allies and partners, to draw a clear distinction between a democratic and authoritarian model for technology use.