Does the South Korean Ministry of Gender Equality Need to Be Abolished? 
A simple rebrand could make MOGEF a strong ally of the Yoon administration for solving many of the crises facing the South Korean public.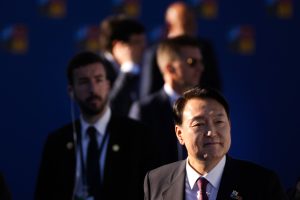 The South Korean Ministry of Gender Equality and Family (MOGEF) has been marred by drama since its founding in 2001, but never has it been so thrust into the spotlight of controversies as it currently is under the Yoon administration.
In April 2022, Yoon Suk-yeol won his bid for the South Korean presidency on a number of campaign promises; however, it was his anti-feminist platform that catapulted his campaign across the finish line.
A top-line campaign promise was the abolishment of MOGEF, but his delay in pursuing the abolishment after coming into office left many gender experts hopeful that Yoon would backtrack on this decision. In an effort to sustain the ministry, some have suggested a more moderate approach such as rebranding, restructuring, or redefining the mission of the ministry instead of outright abolishment. 
Four months into his presidency Yoon's popularity is at historic lows, bottoming out at a 24 percent approval rating. Note that former U.S. President Trump and U.K. Prime Minister Boris Johnson, at their lowest, held steady 34 percent approval ratings. Last month, in a suspected attempt to galvanize the anti-feminist base that won him the presidency, Yoon dashed any hopes of a stay-of-abolishment by requesting plans to be drafted for a swift dismantling of the Ministry of Gender Equality and Family. 
The MOGEF is a targeted scapegoat in large part because of its name; the "Ministry of Gender Equality and Family" is an incorrect translation — perhaps in part to please the international community. The Korean name 여성가족부 is more accurately translated as "The Ministry of Women Affairs and Family." This correct translation is key to understanding the backlash against the ministry and the anti-feminist argument that South Korean men face reverse discrimination and neglect because the ministry only caters to women's needs.
The request to dismantle MOGEF comes at a time when South Korea is facing a population and gender crisis that has been years in the making. South Korea has a rapidly aging population, the highest suicide rate among the world's high-income countries, and a death rate outpacing the birthrate since 2020. South Korea's fertility rate, which is closely linked to birthrate, is 0.81 — the lowest in the world. South Korea is the only country with a fertility rate below one; to maintain population replacement levels, fertility rates need to level at 2.1 children per woman in her lifetime. 
But what are the factors causing this population crisis, and what does population have to do with gender? A high suicide rate and a shockingly low birth rate are symptoms of larger issues in society, which also means the solutions should be found in exploring these larger issues, not triaging the symptoms. 
South Korea has a work culture problem with long hours, abusive practices, lack of diversity, and high levels of discrimination — none of which contribute to an environment that is conducive to raising children in a dual-income family. The current economic and real estate crisis saw the cost of housing more than double in recent years, with young professionals and the elderly hardest hit. Additionally, South Korea has a care problem, from eldercare to long-term care to childcare — particularly for women, as the primary caregiver obligation is becoming unpopular with the younger, more progressive generations. These societal issues are intersectional and the solutions to correct them in a holistic and sustainable way must include a gender lens, a lens MOGEF can provide. 
The dynamics of the Korean family are changing. The multigenerational home maintained by the wife as a stay-at-home mother is being replaced by the nuclear family along with the need for a dual-income household. As women shift into the workforce, society is often slow to catch up, placing the burden on women, as was seen in the United States circa 1970 when women entered the formal labor market in droves. Women face the "Doubleday" work day, working a full-time job and coming home to unpaid care and household work. In addition, women face the "motherhood penalty," which often derails their careers. In response to these added burdens, some South Korean women are saying no to marriage and motherhood. 
For women to start saying "yes," a number of things need to change. Care work needs to be recognized and in some cases formalized, and there needs to be a division of care work at home — a reason why paternity leave and normal work hours are essential to healthy family growth. Only then will there be the opportunity for women to stay in the workforce without the "motherhood penalty" limiting promotional opportunities or making a return to work hostile, if not impossible, for women who take a career break. Additionally, non-traditional families need to be brought into policy considerations as single-parent families, multinational families, refugee families, and LGBTQ+ families become mainstream. 
Ironically, the very same ministry that Yoon is trying to abolish is the ministry trying to solve these issues, which could very well be an essential partner to his administration. 
What has MOGEF done for South Korean women?
In its short tenure, MOGEF has played a key role in bringing gender and families to the forefront of policy discussions. The ministry's gains have been moderate at times but should not be discounted. MOGEF was instrumental in the abolishment of the Hojuje family registry system, which required all citizens to be registered under a male head of household regardless of marital status. The ministry established inter-agency cooperation for the protection of at-risk youth and victims of digital sex crimes. A chief outcome was interagency access to the Korean National Police Agency's Illicit Image Tracking System, making image and video deletion requests an immediate and streamlined process for victims of digital sex crimes. Additionally, MOGEF has worked to establish programs and policies for increased participation of women in politics and the formal labor sector; implemented care benefits for childcare, long-term disability care, and elder care; and continues to operate centers for at-risk youth and teenage victims of abuse.
Days before Yoon called for action plans to dismantle MOGEF, the ministry released its latest report and policy recommendations to address the population crisis and other gender-related issues, including: 

Increasing the number of state-accredited babysitters from 26,000 to 170,000, to

ease the burden of childcare for double-income households

.

Expanding the income ceiling for low-income families to qualify for childcare subsidies. 

Creating shelters for male victims of sexual, domestic, and digital violence. 

Increasing the percentage of single-parent families eligible for childcare expenses

from 39 percent to 53 percent

.

The launch of a

pilot program

providing a child support expense for parents under the age of 24 years old
The idea of abolishing MOGEF and redistributing funding to other ministries to handle gender issues in accordance with their respective oversight is a misstep. In the recent past, other ministries have attempted to contribute gendered solutions to the low fertility rate, but their efforts have been problematic at best. In 2016, the Ministry of the Interior developed an interactive website mapping women of childbearing age by district and province. After its launch it faced public backlash, some deeming it a "rape map" for men to target women. The site was taken down.
In 2019, the Seoul city government created a pregnancy guide with sexist tips for expecting mothers such as "Before giving birth, prepare 3-7 days of food and clothes for your husband so he can conveniently use them while you are in the hospital." Additional tips included advice for weight loss ("hang out clothes that you wore before getting married or small-sized clothes that you'd like to wear after giving birth and look at them when you want to eat more than necessary or want to skip a workout") and the recommendation to buy a hairband "so that you don't look disheveled, as you won't be able to wash your hair for a while in the hospital." The publication was taken down from Seoul's Pregnancy and Childbirth Information Center website in 2021 due to public outcry.
In both situations, a call to the gender experts at MOGEF could have saved these agencies a fair amount of domestic and international embarrassment, in addition to the funds wasted on developing those materials. 
MOGEF is uniquely qualified to handle the inordinate amount of gender issues that plague South Korean society, economy, and international soft power. Perhaps the answer is to rebrand, restructure, and add an inter-agency collaboration mandate instead of abolishment. Change the name of the Ministry of Women Affairs and Family, adjust the mission, and adopt inclusive language that reflects South Korea in all its gender and family diversity. It's not a perfect solution but it is a pause, to quiet the critics and give Yoon the opportunity to work with MOGEF to solve South Korea's pervading gender and social issues instead of burying them.