Ex-Malaysian PM Najib Begins Final Appeal Against 1MDB Conviction
Lawyers for the former leader are seeking to have the case thrown out on the grounds that a trial judge had a conflict of interest.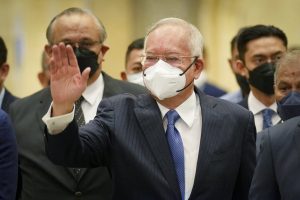 Malaysia's top court today began hearing a final appeal by former Prime Minister Najib Razak against his conviction in a corruption case linked to the wholesale looting of the state investment fund 1MDB.
In July 2020, the former leader was sentenced to 12 years in prison and fined $50 million after being found guilty on charges including criminal breach of trust, abuse of power, and money laundering. The charges, which collectively marked the first of five trials connected to 1MDB, related to Najib's illegal receipt of 42 million ringgit ($9.4 million) from SRC International, a former unit of the fund. An Appeal Court upheld the verdict last December, describing the former leader's conduct as a "national embarrassment."
The Federal Court has blocked out nine days of hearings for Najib's appeal. Reuters has reported, citing trial documents, that in addition to appealing that verdict, Najib's lawyers are planning to introduce fresh evidence accusing trial judge Nazlan Ghazali of a conflict of interest, on the grounds that he previously acted as legal counsel for a bank that funded 1MDB.
The 1MDB – or 1Malaysia Development Berhad – was established by Najib's government shortly after he took office in 2009 and later became the subject of what journalists Tom Wright and Bradley Hope have described as one of "the greatest financial heists in history." U.S. and Malaysian investigators would later estimate that around $4.5 billion was siphoned from 1MDB between 2009 and 2014 by high-level officials of the fund and their associates, and the case has prompted investigations in at least six countries. In July 2015, the Wall Street Journal reported that $681 million originating in the 1MDB fund had flowed into the prime minister's personal bank accounts.
Prior to being voted out in 2018, Najib attempted to stymie the investigations. He replaced Malaysia's attorney general just as he was getting ready to file criminal charges against him, and sacked cabinet members critical of the government's handling of the fund. His government also initiated legal proceedings against media outlets reporting on the scandal. Since then, the 69-year-old Najib has been open about his ambition of running again for elected office, and a large part of his response to the 1MDB accusations has been to mobilize his ethnic Malay political base and paint the charges as a political plot.
In this respect, Najib is in a better position than at any time since 2018. While the former leader continues to hold a seat in parliament, representing a district in his home state of Pahang, the conviction has prevented him from again standing for elected office. But his United Malays National Organisation (UMNO) currently controls the government after defections of lawmakers caused the collapse of the reformist government that toppled him in 2018, putting itself in pole position for the general election that has to be held by September 2023. The still-popular leader played a prominent role in recent state elections that were won by UMNO, and would likely take an acquittal as an opportunity to relaunch his political career, perhaps even to launch a bid to return to the national leadership.
Whatever the outcome of the current appeal, they concern just a fraction of the 42 charges in five separate trials that Najib faces in connection with 1MDB. His attempt to politicize the case, and to use his considerable personal wealth to stretch out the appeal process ad infinitum, ensures that seven years after its full scope first came to light, Malaysia's cardinal corruption scandal remains very far from over.