Imprisoned Former Malaysian PM Files Request for Royal Pardon
Najib Razak's campaign for a royal pardon will provide a compelling political B-plot in the run-up to the country's next general election.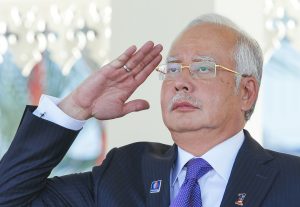 As sure as night follows day, Malaysia's former Prime Minister Najib Razak has officially petitioned the king for a royal pardon, less than two weeks after beginning a 12-year prison sentence for his involvement in the 1MDB corruption scandal.
The news was confirmed yesterday in a statement from Azhar Azizan Harun, the speaker of the Malaysian parliament, who said that he had received Najib's request for the pardon on September 2.
"I have received a copy of the pardon application under Article 42 of the Federal Constitution, for Datuk Seri Najib Razak, who is the Pekan MP, dated September 1," the speaker's statement said, as BenarNews reported.
According to the speaker's statement, the 69-year-old ex-leader will continue to hold his parliamentary seat until the king rules on his petition. He cannot contest the next election – due by September 2023, but likely to be held much sooner – unless he received a pardon before then. If not, Najib will automatically lose his seat.
In office from 2009 until his shock loss at the general election of 2018, Najib was jailed on August 23 after losing his final appeal in one of several ongoing cases linked to the massive looting of the 1MDB state investment fund. The verdict, which involved the former leader's illegal receipt of around $10 million from SRC International, a unit of 1MDB, has been hailed in Malaysia as a major step toward accountability after one of the largest corruption scandals in Malaysia's – or any country's – history.
U.S. and Malaysian investigators estimate that more than $6 billion was stolen from 1MDB between 2009 and 2014 by high-level officials of the fund and their associates, and concealed within a mirrored labyrinth of shell companies and dummy corporations that has taken years to trace.
This week's move is unsurprising. Now that he has exhausted the avenues of legal appeal, a royal pardon is the most obvious way for Najib to avoid serving his full term in prison, and he was required to file a petition for a pardon within 14 days or lose his parliamentary seat.
Nonetheless, the formal legal process has now proceeded onto the much less predictable terrain of Malaysian power politics, where Najib retains considerable clout, to the extent that he fronted for the party during its recent victorious state election campaign in Johor. Immediately after the court's ruling, Najib's supporters within the ruling United Malays National Organisation (UMNO) held protests agitating for a royal pardon, claiming that the former leader had been the subject of a politically motivated witch-hunt and had not received a fair trial.
Najib's faction of UMNO, led by party president Ahmad Zahid Hamidi, Najib's former deputy, has since pressured Prime Minister Ismail Sabri Yaakob to throw the weight of the party's resources and authority behind the royal pardon campaign. While Ismail Sabri has seemingly resisted this so far, all this ensures that the 1MDB case will provide a compelling political B-plot in the run-up to the general election, whenever it ends up being held.
Adding to the complexity of the situation is the fact that four other IMDB-linked cases against Najib remain ongoing, while his wife Rosmah Mansor also faces a number of corruption charges, including some related to 1MDB. Last week, the 70-year-old was sentenced to 10 years in prison for soliciting and receiving bribes in connection with a government contract to equip schools in Malaysian Borneo with solar panels.