India Sending Troops to Russian Vostok 2022 Exercise
Ongoing participation in Russian military exercises puts India in a unique position, as its relations with the U.S. and the Quad also continue to deepen.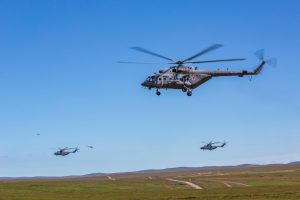 According to Indian media reports, India is planning to send troops to Russia for the annual Russian military exercise, Vostok 2022, that is set to take place from August 30 to September 5. One media report cites Indian sources as saying that a 75-member contingent is ready and will head to Vladivostok once the exercise dates are confirmed. 
According to the Russian Defense Ministry, the exercises will take place in 13 training grounds in Russia's Eastern Military District, including maneuvers involving units of airborne troops, long-range bombers, and military cargo aircraft. India has frequently taken part in multinational military exercises in Russia, including in the Zapad 2021 exercise. Many of these exercises have included Chinese and even Pakistani participation.
On the one hand, India's participation in Russian military exercises comes across as odd because of the increasing intensity of Russia-U.S. animosity in the wake of Russia's invasion of Ukraine. There has already been significant controversy because India tried to take the middle ground on the Russian invasion of Ukraine by abstaining from several resolutions in the U.N. that were critical of Russia. Similarly, India's continued purchase of oil from Russia has also come in for criticism. Russia has now displaced Saudi Arabia as the second largest supplier of petroleum to India. Indian officials have had to frequently defend this by pointing to Europe's large-scale purchases of Russian gas. As Europe slowly weans itself away from Russian gas, Indian officials have taken to justifying the oil purchases as necessary for a poor, energy deficient country like India. 
India also continues to buy Russian arms. Most recently, there have been reports in India that it will buy the Russian Tupolev Tu-160 Blackjack/White Swan supersonic long-range bomber. It is yet to be confirmed officially, but it would represent a quantum jump in India's nuclear capability considering the Tu-160's capability and range. However, Russia is reported to have less than 20 Tu-160s, and so it is unclear if new ones are going to be produced for India. 
On the other hand, India's military relationship with the U.S. and the Quad is also intensifying. Indian and U.S. Special Forces are conducting a three-week military exercise near the Sino-Indian border. In addition, the Pentagon has announced that India's defense attaché team in Washington, D.C. has been given the rare privilege of unescorted access to the Pentagon.
India has been trying to walk the middle ground between Russia and the U.S., including by giving Ukraine humanitarian assistance even while refusing to characterize the Russian attack as an invasion. In addition to the U.S., India's other security partners also appear to be less than happy with India's uncertain stance, based on conversations that the author has had. Nevertheless, they are careful to not openly question India's choices. 
While such balancing between Russia and the U.S. is likely to play well domestically in India, and will likely be seen as strategically astute, there may be greater discomfort because some of the upcoming military exercises include not just Russia but China and Pakistan as well. India may host both Chinese and Pakistani counterterrorism forces under the aegis of the Shanghai Cooperation Organization Regional Anti-Terrorist Structure later this year. According to media reports, this is likely to be happen in Manesar in Haryana state. Manesar is also the headquarters of the Indian National Security Guards (NSG), an elite Indian counterterrorism force, and so it is likely that the NSG will play host to the corresponding Chinese and Pakistani forces. Considering that NSG is actively involved in fighting Pakistan-sponsored terrorists (including the Mumbai 2008 terrorist attacks), and that China is actively helping Pakistan in international fora like the U.N. on terrorism issues, there are likely to be more than a few raised eyebrows in India about the wisdom of such moves. 
So far, the U.S. has been rather accommodating of India's choices despite initial negative reactions to New Delhi's Russian oil deals. A U.S. State Department spokesperson in fact recently responded to questions by saying that "this is not flipping a light switch," suggesting that it will take India time to wean itself away from Russia. He added that "this is something, that especially for countries that have historical relationships with Russia. Relationships that, as is the case with India, extend back decades, it is going to be a long-term proposition to re-orient foreign policy away from Russia." 
Hopefully, India's policy of keeping all options open does not hurt it in the long run. Not all partners may be as understanding as the U.S. has been, and even Washington's stance could potentially change with time.