North Korea: Repeated Reshuffling at the Top
Changes in key personnel continue to occur at a rapid pace.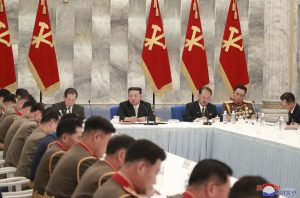 Ever since Kim Jong Un took office, his administration has been marked by a rapid turnover of senior military officials, perhaps most notably the 2013 execution of Vice Chairman of the National Defense Commission Jang Song Thaek. At first, observers concluded that the young Kim, then still in his 20s, was trying to cement his grip on power by appointing people loyal to himself, rather than to his father Kim Jong Il. Ten years later, however, the changes of key personnel continue.
The 5th Enlarged Plenary Meeting of the 8th Central Committee of the Workers' Party of Korea (WPK) was held from June 8 through 10. Even though less than one month had passed since North Korea first acknowledged cases of COVID-19 on May 12, it appeared that the regime wanted to demonstrate that it had successfully suppressed the outbreak, because in addition to this being the first "Enlarged Plenary Meeting" with many more participants than usual, no face masks were in evidence.
Rumor had it that Kim Jong Un was to talk policy towards the United States, but in fact nothing specific in this regard was announced. Instead, what caught the attention of observers was personnel. It was apparent how important this aspect was from the simple fact that "organizational issues" for the first time preceded reports on economic policy on the agenda.
In Japan, the United States, and South Korea, all reports focused on Choe Son Hui, who had been in charge of the practical aspects of the North Korea–United States summits, becoming North Korea's first female foreign minister. However, that was only one of a large number of transfers. There were wholesale replacements of the directors of Economic Department and the Light Industry Department of WPK as well as key figures in the economic sphere, along with senior officials at the Korean People's Army (KPA) and public security agencies.
It is also worth highlighting that this was the first time that a foreign minister was "appointed" at a party meeting. The Constitution of North Korea explicitly states that the ruling party is superior to the state, but cabinet ministers had previously all been appointed in the Supreme People's Assembly. Although warped, the decision-making process had been valued. This time, not only the foreign minister but also the social security minister, state security minister, foodstuff industries minister, commerce minister, and even the vice premier were "appointed," seeming to further move towards the unity of party and state.
The appointment of Foreign Minister Choe Son Hui, who had worked on U.S. policy for many years, could be interpreted as a move emphasizing relations with Washington, but this has always been the most important part of North Korea's foreign policy. It is also apparent to Pyongyang that even having secured agreements on economic cooperation from former President Moon Jae-in, there is not going to be any actual benefit unless sanctions are lifted through a breakthrough in negotiations with the United States.
This round of personnel transfers ought to be thought of as part of a logical chain reaction. Ri Son Gwon went from foreign minister to United Front Department Director of WPK, while Kim Yong Chol moved from that role to become a politburo member of the WPK, although his precise post is not known. With the foreign minister post vacant, it makes sense that Choe Son Hui would go there from First Vice Minister of Foreign Affairs, so it would be far too rash to assume that the Kim administration is signaling a shift to wanting dialogue simply because she became foreign minister.
A meeting of the Secretariat of WPK was held in June 12 this year, where it became clear that the posts of secretaries for international and South Korean affairs remain vacant. This suggests that Kim is not prioritizing dialogue with the United States and South Korea for the time being. At the 8th Congress of WPK in January 2021, Kim spoke of the "principle of power for power and goodwill for goodwill" as a principle for dealing with the United States, but we should note that he now only mentioned "power for power."
There has likewise been a rapid reshuffling of senior military officials. With this round, the Kim Jong Un administration now has its ninth Chief of the General Staff and its sixth Director of the General Political Bureau. The current defense minister is also the ninth. The order of the three has also changed. Starting in the Kim Jong Il era, it was customary to present them in the order of Director of the General Political Bureau, Chief of the General Staff, and Defense Minister (formerly People's Armed Forces Minister), but the Director of the General Political Bureau has subsequently switched with the Chief of the General Staff, with the Defense Minister reaching the top in April of this year.
Pak Jong Chon, who was harshly criticized and demoted in June 2021, joined the Presidium of the Politburo of WPK in September of the same year, followed by Ri Pyong Chol in April of this year, while Pak Thae Song, thought be some to have been executed, was reinstated as a politburo member at this meeting. In contrast to past charges, there was no complete purge but rather repeated promotions and demotions, which might be due to either a moderating of the supreme leader's personality or the realization that too many purges would result in a staff shortage.
We have also seen changes in the order in which the Presidium of the Politburo members who directly support Kim Jong Un are introduced. Chairman of the Standing Committee of the Supreme People's Assembly Choe Ryong Hae used to be presented after Kim Jong Un, but reports suggest that he is now preceded by Premier Kim Tok Hun and Jo Yong Won, Secretary of the Secretariat of WPK. In particular, Jo Yong Won is not only director of the WPK Organization and Guidance Department but also secretary in charge of organizational affairs of the Party Central Committee. He was clearly become more prominent as he moderates Political Bureau meetings, for instance.
The rapid reshuffling of personnel tends to concentrate power in the hands of one person, as decisions typically take longer in a system of so-called collective leadership. Continued observation will be needed to determine if this demonstration of the power to control key appointments is helping to seize public sentiment, but it does seem to indicate that Kim's grip on power is stable.