Sri Lanka's Story of Sovereign Default
How did Sri Lanka's economic crisis get so bad – and how can the country move forward from here?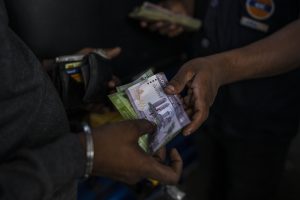 Sri Lanka has been on a quite a ride this last year. The country defaulted on its foreign debt (except debt to multilateral agencies such as the World Bank) on April 12 and in July witnessed the resignation of an executive president – both for the first time in Sri Lanka's history. 
Sri Lanka is currently facing the worst economic crisis in its post-independence history. There are shortages of fuel, cooking gas, medicine, and many essential items. At the same time, the country is going through a political crisis, which resulted in island-wide protests leading to the resignation of Mahinda Rajapaksa from the prime minister post in May. Two months later, President Gotabaya Rajapaksa – Mahinda's brother – was also compelled to resigned. 
Short-term Causes
Sri Lanka has for decades had an economy that is very vulnerable to domestic as well as global shocks. Since independence, the country has run into numerous balance of payment crises and sought IMF assistance 16 times to escape such difficulties. This time, however, the situation is very different and far more complicated, as Sri Lanka was compelled to suspend debt repayments to foreign creditors for the first time in its history.
While deep-rooted vulnerabilities posed the risk of a sovereign default, the current situation, which is almost unlivable for people, is a particular result of economic mismanagement in the last two-and-a-half years. Tax cuts by the newly elected government headed by Gotabaya Rajapaksa in November 2019 kicked off a series of economic policy errors. The tax cuts resulted in a credit rating downgrade in December 2019, making it difficult for Sri Lanka to borrow from international capital markets. COVID-19 made the situation worse in early 2020 as the global pandemic hit Sri Lanka's tourism industry, which accounted for approximately 25 percent of the country's foreign currency earnings. 
The adverse impact of COVID-19 resulted in a further downgrade of Sri Lanka's credit ratings in March/April 2020, making it almost impossible to borrow from international capital markets. This meant that Sri Lanka no longer could use its go-to strategy of borrowing from international capital markets through issuing International Sovereign Bonds (ISBs) to repay the massive amount of capital market borrowings obtained during the last decade. Starting from 2019, Sri Lanka has an ISB maturing in every year up to 2030, imposing a massive foreign loan repayment burden. During 2020-2025, approximately 50 percent of Sri Lanka's foreign loan payments will go to repay ISBs.
By April 2020, the country was in serious trouble. On one hand, Sri Lanka had lost a significant amount of foreign currency inflows due to the pandemic's impact on the tourism industry. On the other hand, Sri Lanka could not borrow using ISBs to fill the gap. As a result, foreign currency inflows dropped drastically while currency outflows remained the same. That substantially expanded the country's foreign currency gap, with limited options to borrow. This meant that, from spring of 2020 onward, Sri Lanka encountered a great risk of not being able to meet foreign loan payments.