Sri Lanka Leader Says IMF Deal Imminent After China's Pledge
With Beijing extending debt restructuring assurances, the last obstacle in the way of Sri Lanka securing the bailout deal has been removed.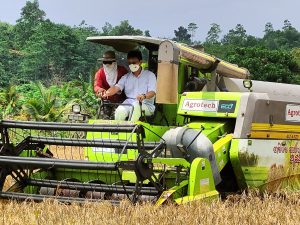 Sri Lanka's president said Tuesday that China has given crucial debt restructuring assurances that mean the bankrupt Indian Ocean nation could get its $2.9 billion bailout package approved soon.
President Ranil Wickremesinghe told Parliament that a letter from China's EXIM bank with the necessary assurances was received on Monday night and immediately he and the Central Bank governor sent a letter of intent to the International Monetary Fund for final approval.
"Now we have done our part, and I expect the IMF will do its share by the end of this month, by the third or fourth week," Wickremesinghe said.
China owns about 20 percent of Sri Lanka's foreign debt, which exceeds $51 billion. Its delayed assurances were seen as the last hurdle in securing the bailout deal after India and other creditors gave early pledges.
Wickremesinghe said he expects financial assistance from the World Bank and the Asian Development Bank to start coming soon after the IMF deal is reached.
He said, however, that difficult economic reforms needed to be carried out as agreed with the IMF, and Sri Lanka can't afford to sidestep from them as it has done with 16 past agreements.
"We must stress one fact: We don't repay foreign debt at the moment, we only repay loans to the multilateral financial institutions. If we break the agreement with the IMF, we will be compelled to repay loans to foreign countries and private banks," Wickremesinghe said.
"We have approximately $6-7 billion to repay every year until 2029. We don't have foreign currency to do that, and therefore it is imperative that the IMF keeps engaging with our creditors on the agreements reached on debt sustainability."
Wickremesinghe did not reveal what has been agreed with the IMF but said he will present details before Parliament for approval. He also warned he will crush any street protests trying to derail reform efforts.
Professionals and workers in many other sectors have been protesting for months over sharp increases in electricity charges and income taxes to strengthen state revenue, a prerequisite for the IMF package. Opposition parties have been demanding elections for village and town councils that were postponed by authorities citing a lack of funds.
Sri Lanka's worst economic crisis caused severe shortage of food, medicine, fuel, cooking gas, and electricity last year, leading to angry street protests that forced then-President Gotabaya Rajapaksa to flee from the country and resign.
The economy has shown signs of improvement since Wickremesinghe took over as president last July with shortages reduced, power cuts ended, and the Sri Lankan rupee starting to strengthen.