The Chip 4 Alliance Might Work on Paper, But Problems Will Persist
Can an envisioned supply chain partnership between the U.S., Japan, South Korea, and Taiwan actually become a reality?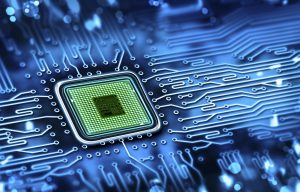 U.S. President Joe Biden recently added his signature to the CHIPS and Science Act 2022, officially enacting legislation on emerging technologies, especially semiconductors. Apart from focusing on building the United States' semiconductor manufacturing capabilities, the legislation makes a note of the U.S. cooperating with like-minded allies to build a robust semiconductor supply chain.
This has set off talks of another technology alliance in the semiconductor value chain that seeks to eliminate bottlenecks and build self-sufficiency. Even technologically advanced states such as the U.S. and Japan realize the futility of seeking self-sufficiency in semiconductors. In this case, there has been a pivot toward bringing together techno-democracies in the hope of covering all bases in the complex semiconductor supply chain.
One such alliance is speculated to be the Chip 4 Alliance, which would comprise the U.S., Taiwan, South Korea, and Japan, a partnership proposed by Washington in March. U.S. House Speaker Nancy Pelosi's recent meeting with semiconductor industry leaders in Taiwan has accelerated conversations about this new U.S.-Asian semiconductor partnership.
Why This Particular Group?
In early March, a report in South China Morning Post first mentioned that the U.S. government had proposed setting up a semiconductor industry alliance with its Asian partners, including South Korea, Japan, and Taiwan, to keep China's fledgling semiconductor industry at bay. But what is the rationale behind the U.S. pushing a possible grouping between itself and the East Asian tigers, especially in the semiconductor value chain?
If we look closely at the splits in the different states' contributions to the supply chain, there are clear winners. Being a design powerhouse and holding all Electronic Design Automation (EDA) tools licenses, the U.S. controls the fabless market via its private firms. It also has the most semiconductor fabrication facilities in the world. Taiwan is the global epicenter of semiconductor manufacturing, with over 60 percent of the world's chips being manufactured by the country's giants, TSMC and UMC. Taiwan also remains a hub for all Assembly, Testing, Marking, and Packaging (ATMP) processes through domestic firms like Foxconn and Winstron. South Korea has a semiconductor behemoth, Samsung, with both design and manufacturing capability. Last but not least, Japan remains integral to the functioning of the supply chain with its dominance over the production of critical manufacturing equipment and materials such as photoresists.
In this way, the Chip 4 alliance covers all the major areas of the value chain. Although there are other dependencies and bottlenecks, the four states can run semiconductor production more efficiently together. However, there is also a major hurdle that might prevent this alliance from taking shape: China and the pull of its massive market.
South Korea's Conundrum
Ever since the Chip 4 was rumored to be in the works, there was a sense of unpredictability regarding South Korea's participation in the alliance. The South Korean government and its private sector were believed to be wary of the implications and the potential restrictions that might be imposed on them by China.
China remains the biggest market for South Korean semiconductor companies. According to data from the Korea International Trade Association, Mainland China and Hong Kong account for around 60 percent of Seoul's semiconductor exports. South Korea is a global leader in memory chip production (total market value of $70 billion), and China remains its biggest trading partner, accounting for over 48 percent of South Korea's memory chip exports.
The last time the South Korean government decided to ally with the United States explicitly against China's wishes – by agreeing to deploy U.S. anti-missile systems in 2016 – Beijing imposed harsh embargoes on Korean goods and services in retaliation, crippling South Korean businesses dependent on exports. South Korean officials and business leaders alike fear a repeat of that jarring experience.
However, it may be difficult for China to fully weaponize South Korea's semiconductor exports. U.S. sanctions and export controls on China since 2020 have put a hold on Chinese firms' ability to access critical semiconductor raw materials and equipment. This has made even the biggest Chinese semiconductor firms dependent on South Korea's best firms, like SK Hynix and Samsung, for upcoming semiconductor technologies. Hence, harsh retaliatory actions by China against South Korean semiconductor companies could also hamper Chinese firms' growth trajectory.
President Yoon Suk-yeol recently announced that South Korea would be part of the preliminary meeting for the potential alliance. But will South Korea agree to snap ties with Beijing in the semiconductor domain, considering the enormous capital investment they have already made?
China's Central Role
The centrality of China as a huge semiconductor market will be a major hurdle for the proposed tech partnership. Even though the Chip 4 alliance holds the possibility of excluding China from the semiconductor supply chain, the fact that China remains a massive electronics goods market for all the alliance members is a major drawback.
As per government data, China accounted for 70 percent of the total global demand for notebook PCs and over 80 percent of global demand for mobile handsets. Last year, China imported $350 billion worth of semiconductors, with the U.S. and South Korea being its major suppliers. As a major consumer of electronic goods, the exclusion of China from the export market will also significantly hurt the finances and profits of U.S. firms.
South Korean chip giants have invested billions of dollars in key manufacturing facilities in China. Samsung Electronics has major memory-chip-producing facilities in two Chinese cities, Xi'an and Suzhou. SK Hynix has built its DRAM and NAND memory chip business facilities in the Chinese cities of Wuxi and Dalian. Seoul fears that joining the Chip 4 alliance might draw the ire of China again, thereby causing major losses to its semiconductor firms that rely on exports to China.
As a result, it is not feasible to completely eliminate or underestimate the role of China in the industry. As far as the alliance remaining anti-China is concerned, it will be extremely difficult for all stakeholders (governments and private companies) to get on board. In terms of building supply chain resilience, the alliance can ensure some level of strengthening in specific areas of the supply chain.
However, the semiconductor supply chain is more than just fabs, assembly factories, and design centers. A recent report by Nikkei Asia highlights how even the smallest components of the supply chain can disrupt the entire functioning of the industry. So even with the four major semiconductor powers coming together, self-sufficiency will remain out of the question.