TICAD 2022: Japan's Deepening Partnerships in Africa
The international context has changed markedly since the last TICAD in 2019. How is Japan approaching African countries today?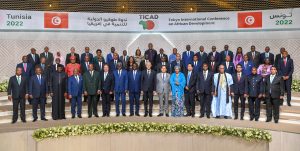 Prime Minister Kishida Fumio's video address on August 27, marked the opening of the eighth Tokyo International Conference on Africa Development (TICAD) and celebrated Tunisia as the second African nation to host the TICAD Conference over its 29-year history. Though he could not attend the event in person due to a positive COVID-19 test, Kishida confirmed his deep commitment to the Japan-Africa partnership, focusing on investment in human capital, sustainable and high quality growth, and security and stability in the global order.
The return of TICAD to the African continent for the first time since TICAD 6 in 2016 comes amid significant change domestically and internationally for both Japan and its African partner nations. The world continues to struggle with the social and economic repercussions of the COVID-19 pandemic. The war in Ukraine has shaken the global order and subsequent energy and food crises have had immense impacts on developing nations. Japan is re-emerging post-COVID and post-Tokyo Olympics, while also facing increasing aggression from China over Taiwan, and political challenges following the traumatic assassination of former Prime Minister Abe Shinzo, a pivotal figure in the Japan-Africa partnership.
As global attention is pulled away from African development cooperation, Tokyo's commitment on the continent and leadership in international community has reached a defining intersection.
The 2022 TICAD 8 conference was attended by 21 African heads of state and African Union, representatives from 48 African nations, and heads of major international institutions including the U.N., U.N. Development Program, and World Bank, making this conference an opportunity to reinvigorate Japan's leadership role in the global community amid turbulence.
The conference was headlined by Japan's deep-rooted TICAD narratives – partnership, ownership, and human security – with a heavy emphasis on Tokyo's leadership of global healthcare initiatives and the Indo-Pacific region. These tenets underlined Kishida's TICAD 8 announcement that Japan will provide $30 billion in public and private investment and train 300,000 Africans over the next three years.
Resilient, accessible, and quality healthcare was predictably one of the crosscutting themes of TICAD 8. Despite significant support from Asian partners, most notably Japan and China, many African nations continue to combat COVID-19 and the socioeconomic destabilization caused by the global pandemic. Revealing the danger of weak healthcare systems in an interconnected world, the pandemic brought TICAD's healthcare initiatives to the fore.
At the 2016 TICAD 6 in Nairobi, Japan initiated an ambitious program to fight and prevent infectious disease and respond to health crises across the African continent. This initiative built on extensive work by the Japan International Cooperation Agency (JICA) in combatting infectious diseases, including the Ebola outbreak, through the development of human capacity and delivery of PPE, medical equipment, and experts to hotspots. Through TICAD, Tokyo initiated African healthcare system reform, developing a framework of international organizations and African partner nations that was foundational in mobilizing resources for pandemic response.
The second theme of TICAD 8 was human security. Originally introduced at TICAD 3 held in Tokyo in 2003, human security has become a core diplomatic agenda for Japan in Africa and on the global stage. Tokyo has distinguished itself as a great development power by being a flagbearer of human security in the U.N. and OECD. This leadership role places Japan the fulcrum of triangular partnerships between developing nations and partners.
As the war in Ukraine and refugee flows continue to consume global aid, military means, and political will, Japan was resolute in demonstrating solidarity and leadership. Notably, in the TICAD 8 declaration, Japanese and African heads of state expressed "deep concern" over Russian aggression in Ukraine and the far-reaching negative impacts on Africa and the global economy. Kishida powerfully condemned Russian actions as a threat to forward progress and asserted Tokyo's ambition to partner with Africa to "strengthen the rule-based, free, and open international order," including reforms to bolster the foundations of the global system. TICAD thus highlighted the increasing pressure on actors that break international norms, sending a strong message to other aggressors in the Indo-Pacific, including China and North Korea.
The Japan-Africa relationship sits within an increasingly complex and contested international order, presenting both challenges and opportunities for Tokyo. TICAD 8 reinforced Japan's narrative of quality and sustainable partnership. Increasing national debt and lack of transparency of Chinese contracts has become an acute liability for African nations both domestically and internationally, souring sentiments toward the Beijing's Belt and Road narrative. At the Forum on China-Africa Cooperation (FOCAC) in November 2021, Beijing replaced the stunning billion-dollar loan proclamations of the past with initiatives focused on COVID-19 vaccination (the Health Silk Road), clean sustainable growth (Green Silk Road), and win-win cooperation. In place of costly loans, China aimed to deepen cooperation with African states in international organizations aiming to undercut Western efforts against Beijing's actions in Taiwan, Hong Kong, and Xinjiang, and its military expansion in the South China Sea.
While China-Africa shifts reflect a response to the global trepidation toward the Belt and Road Initiative, TICAD's long-standing commitment to quality partnership and African ownership is building resonance in African states and highlighting Japan's savvy leadership. In the U.N. and other international governance bodies, African states hold significant sway as a voting bloc. As the international order faces acute challenges, Tokyo and African states have a unique opportunity to act on long-standing TICAD commitments for reform within the United Nations. This moment offers Japan a unique window of opportunity, the most promising in the last decade, to distinguish itself as a preferred partner and place pressure on Beijing to adhere to international norms and standards.
Tokyo's leadership in the region and its narrative of a Free and Open Indo-Pacific was on display at TICAD 8. India, a pivotal Indo-Pacific emerging power, has struggled to reinvigorate its India-Africa Forum, postponing its 2020 Summit indefinitely. With the India-Africa summit stalled, Japan's role in brokering triangular partnerships between India and African states becomes even more critical. With the announcement of a special strategic and global partnership in 2015 and the Asia Africa Growth Corridor in 2016, Japan holds a key to unlocking a dynamic force in the region and moderating China's dominant narrative.
Tokyo's role in connecting Indo-Pacific power house economies with the potential of Africa is a distinguishing trait of Japan's partnership with African states. As New Delhi threads a fine line between Russia and the West within the Ukraine crisis, Japan's ability to reinvigorate India's development cooperation holds the potential to challenge China's dominant narrative and ultimately define the next decade of growth. Never has there been a more critical moment for Japan to redouble efforts in Africa and stake its place in an international community shaken by global crises.
Since the birth of TICAD nearly 30 years ago, Africa has seen a growth of diverse new partnership opportunities from Asia, the European Union, and the United States. While high-profile actors like China, Russia, and U.S. often capture the headlines, Japan's time-tested commitment, depth of development experience, and multilateral approach are ringing true in African states and on the global stage.