US and India Score Tactical Victories Vis-à-Vis China in Taiwan and Sri Lanka
This could prompt China to fast-track plans to challenge the current rules-based international order.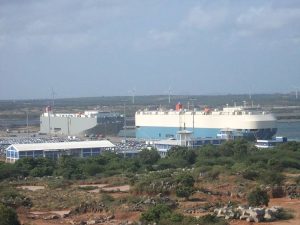 The rules-based international order that came into being after the Second World War, which established the current institutions and norms, and centered on the United Nations has benefitted everyone, with some caveats.  This explains its endurance despite grumblings from rising powers, challenges from unhappy and distrustful electorates, and rapid and widespread technological change.
China has been one of the key beneficiaries. Globalized trade has made it an economic superpower and given its unique advantages, it will never be taken out of the global supply chains despite the best attempts of the U.S. and its allies.
Does China want to change some aspects of the rules-based international order? Yes, it does. Everyone wants to tweak the system to better serve their needs and China is no different. It also knows that time is on its side and therefore, it really hasn't tried to oust the U.S. from its role as the global policemen, tolerates thousands of U.S. troops close to its borders in clear offensive positions, and clearly expects the U.S. to play a bigger role in Asia.
However, two recent events in places, thousands of kilometers from each other, might convince China that the time for diplomacy and/or rule of law in international relations is over and pushed forward its schedule for a forceful demonstration of power, perhaps over Taiwan.
Taiwan, Sri Lanka and China
One was the visit of U.S. House Speaker Nancy Pelosi to Taiwan and the other was the decision taken by the Sri Lankan government asking China to defer the visit of Yuan Wang 5, a Chinese survey ship to the island country after objections from India.
China sees Pelosi's visit as a violation of its "One China" policy, which is based on a U.N. General Assembly Resolution passed in 1971 that stated that the People's Republic of China is the only legitimate government of China. This is a position that the U.S. too has accepted since 1979. China sees Pelosi's visit as a violation of the globally accepted principle.
In the run-up to Pelosi's visit, China's state-owned Global Times warned that Beijing "will see it as a provocative action permitted by the Biden administration rather than a personal decision made by Pelosi."
The "Russia-Ukraine crisis has just let the world see the consequence of pushing a major power into a corner." Drawing on the views of Chinese analysts, the report said that "no one should underestimate China's determination for its reunification and rejuvenation," warning that China can now be expected to "steadily speed up its process of reunification and declare the end of US domination of the world order."
A few days later, the Sri Lankan government, which announced on July 12 that it permitted the Chinese vessel Yuan Wang 5 permission to dock at Hambantota Port, said it was deferring the arrival of the ship.
Foreign military ships using Sri Lankan ports for resupply are common. Seventy-two naval vessels docked in Sri Lankan ports in 2021 and it is not the first time that a Chinese research vessel will be arriving in a Sri Lankan port. China believes that it is exercising freedom of the high seas, another one of those rules countries are supposed to respect. China "fully respects coastal countries' jurisdiction over scientific research activities in waters under their jurisdiction."
China had already agreed to the conditions that Sri Lanka had laid down on July 12. It had agreed to keep its Automatic identification systems (AIS ) switched on within Sri Lanka's Exclusive Economic Zone to not conduct any research/surveys while in Sri Lankan waters.
The Chinese position is that it has been following the rules accepted by the international community.
The Chinese Response
Sri Lanka has made China lose face twice over the past year. In September 2021, the Sri Lankan government banned a shipment of 20,000 tons of fertilizer, worth $6.9 million, from China's Qingdao Seawin Biotech Group Co., alleging that there were harmful bacteria in the fertilizer. The move caused reputational damage to Seawin and Sri Lanka had to spend millions of dollars in compensation to the company.
And now this week, Sri Lanka asked the Chinese embassy in Colombo to defer the arrival of its survey vessel due to protests from India, which insisted that this is a security threat to the country.
Given the frequency of the arrival of foreign naval ships to Sri Lanka, the arrival of the Chinese vessel can only be called routine. India's response to the Chinese visit shows the level of securitization of the Indian Ocean and India's increasing intolerance to what it perceives are challenges to its dominion in its sphere of influence.
The decision to allow a foreign vessel to resupply at Hambantota Port is the sovereign right of Sri Lanka, something that is guaranteed by the post-World War II set of rules. From China's perspective, India has flexed its muscles and subverted internationally accepted rules. These are rules China has adhered to because the rules benefit them. But what happens when other players don't adhere to the rules anymore?
The incident in Taiwan and Sri Lanka are tactical victories for the U.S. and India. China has lost face and so has the Chinese Communist Party and President Xi Jinping.  Anyone who knows about Chinese culture knows that losing face is something unforgivable.
Thus, the Chinese response will be inevitable, calculated, precise, tough, long-term, and strategic – not tactical. A real showdown with the U.S. over Taiwan is inevitable as soon as China is ready in an array of mostly technological domains. China's response to Indian actions that it perceives as problematic will probably be another cross-border incident. Such responses usually take a year after the triggering incident.
There is some speculation that China might make things hard for Sri Lanka when it comes to debt restructuring. An agreement with China on how its loans to Sri Lanka can be restructured is vital for IMF aid that the country desperately needs. However, it is unlikely that China would go out of its way to make Sri Lanka pay as this would discredit Beijing in the eyes of other nations of the Global South that have taken Chinese loans.
As I have written previously, China has been shifting its attention away from Sri Lanka in the past few years for reasons that are beyond Sri Lanka's control. China made the same mistakes that all major powers, including the U.S. in the 1920s, the USSR in the 1950s, and Japan in the 1970s committed at the beginning of their major investments in developing countries.
Like these countries China underestimated the risks and overestimated the value of its own domestic experiences and strategies and in the process accumulated a lot of unsustainable debt. Chinese course correction ultimately means that they would drift further away from Sri Lanka.
However, the lessons learned by China from these incidents would mean that the international order may be headed towards its worst crisis since its inception.