Why AI Is the New Frontier in China-US Competition
With China well-placed to take advantage of these potentially lucrative innovations, Washington must leverage AI in its infrastructural plans for the future.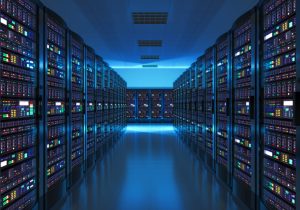 U.S. House Speaker Nancy Pelosi's controversial visit to Taiwan and its consequences marked the latest flashpoint in the simmering geopolitical tensions between China and the United States, and is only rapidly exacerbating bilateral competition. While the Chinese military's recent show of force in the Taiwan Strait served to put on display the vast strides in capabilities it has made since the previous Taiwan Strait Crisis in 1995-96, military and economic competition are only the most obvious facets in a broader struggle for supremacy in a changing global order.
The recent unveiling of massive infrastructure investment plans from both Beijing and Washington are, arguably, where the most serious struggle takes place, because of the far-reaching implications attached to these programs. They are evidence of both countries seeking to spend their way out of challenging fiscal climates, but their success will also serve to signal the superiority of their respective systems of political and economic governance and will lay the ground for global dominance for decades to come.
No surprise then that Chinese President Xi Jinping wants to aim higher than U.S. President Joe Biden.
It's also noteworthy that the bulk of U.S. funds are earmarked for dealing with long overdue upkeep of existing programs, with too little devoted toward investing in cutting-edge innovations. Artificial intelligence (AI) has shown much promise in solutions that revolutionize sectors such as transportation, energy, and more. With China well-placed to take advantage of these potentially lucrative innovations, Washington must ensure it will leverage AI in its infrastructural plans for the future.
Of course, both countries are currently traversing troubled waters. Biden earlier this year predicted that U.S. growth could surpass China's for the first time since 1976, despite his Treasury trying to quell rumors that the U.S. could declare a recession after two consecutive quarterly downturns. In China, more COVID-19 lockdowns caused the economy to shrink by 2.6 percent in the second quarter of 2022 and Xi's insistence that GDP will swell 5.5 percent by the end of the year seems overly optimistic.
However, Beijing has made more moves aimed at arresting its slump than the United States. Both powers have published historic infrastructure investment proposals in the last 12 months, though the $2.3 trillion China plans to spend in 2022 alone is over double the $1.1 trillion Washington will dish out over the coming five years. As well as tapping state-owned banks to swell its coffers, China is funneling investments into more progressive solutions than America, where over half of the allotted amount is scheduled to patch up ailing infrastructure projects which should have been completed years ago. Washington is thus playing catch-up rather than innovating, such as in AI.
Stanford University recently placed China in the top two countries worldwide for "AI vibrancy," noting that it has produced one-third of global academic papers and citations on the subject, as well as raising one-fifth of global private capital for developing it. McKinsey predicts that AI could add some $600 billion to China's economy by 2030, with $335 billion of that figure coming from autonomous driving alone.
China is also boosting the smart capabilities of the infrastructure surrounding road transport. The implementation of Hikvision's AI-powered traffic management system in Xi'an has seen traffic throughput jump up 10 percent as journey times fell by 12 percent. Elsewhere, the Alibaba City Brain system, in situ in 23 cities across the country, has seen Hangzhou fall from the fifth most congested city in China to the 57th. Concerning rail travel, the recently finished Hangzhou-Shaoxing-Taizhou high-speed railway has fully integrated AI into its operations, allowing for optimum performance, fewer accidents, and electricity savings of up to 30 percent.
To be fair, the U.S. has not been sitting idly by. The recent collaboration between NASDAQ-indexed Remark Holdings and Florida train operator Brightline employs AI to detect and prevent track intrusion across the Brightline rail network. The scale remains limited but may well serve to awaken private companies and safety authorities to the potential uses of AI in daily life.
Indeed, the United States is already much further advanced in the energy sector in terms of AI deployment. The Department of Energy recently established an AI Advanced Council, tasked with coordinating the country's efforts in the discipline and achieving its full potential. The private sector is also stepping up, too, with virtual power plant (VPP) provider AutoGrid using its technological clout to create a 400kWh residential battery VPP in southern California. Already responsible for managing, storing, and distributing some 600MW of electricity in 15 countries, AutoGrid is now bringing its experience and expertise in AI-managed power networks to the United States.
This shows that the U.S. leaders have understood AI's role in grid security, given the anticipated increase in demand from adoption of the Internet of Things and electric cars, as well as challenges related to renewables. Grid operators are thus embracing AI to solve distribution and stability issues, on the basis that guaranteed electricity supplies are indispensable for transitioning to a sustainable economic model. China has already demonstrated this, as its AI-controlled power grid can recover from a blackout in just three seconds.
It is initiatives like these, driven by the private sector, that should provide the main focus of major infrastructural bills like the one passed in Washington last August. Unfortunately, less than half of the $1.1 trillion headline figure is actually new spending. The fact that the United States' broken-down roads, bridges, and plumbing are finally receiving the attention they have required for decades is undoubtedly good news. Yet the bill still represents an opportunity missed – especially when viewed in context (and in contrast) to its Chinese counterpart.
By prioritizing AI and other forward-thinking innovations in its investment plans, Beijing has signaled its intent to put down solid foundations for future success that will clash with U.S. global interests. If the U.S. is to harbor any serious ambitions about outstripping its long-time economic rival – either this year or in any other on the horizon – it must invest to innovate, not to play catch-up.