Aung San Suu Kyi Meeting a Precondition of Next Myanmar Trip, UN Envoy Says
Heyzer's inaugural visit to the country last month was criticized for lending legitimacy to the military administration.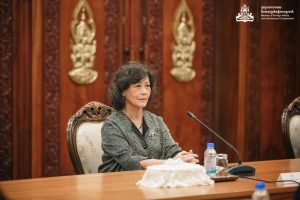 The United Nations special envoy on Myanmar has declared that she will not visit the country again unless its military administration allows her to meet with ousted leader Aung San Suu Kyi, after undertaking a much-criticized mission last month.
Speaking yesterday at a seminar organized by Singapore's ISEAS-Yusof Ishak Institute, Noeleen Heyzer described her assignment as part of "broader efforts by the United Nations to urgently support an effective and peaceful Myanmar-led political pathway to return to civilian rule based on the will and the needs of the people," the Associated Press reported.
Appointed in October 2021, Heyzer visited Myanmar for the first time last month and met with senior members of the military-run State Administration Council (SAC). In a meeting with Senior Gen. Min Aung Hlaing, who led last February's coup d'etat, she told the seminar, she requested a meeting with the Nobel laureate, who has been under lock and key since the military takeover.
"In response to my request to meet State Counselor Aung San Suu Kyi, the senior general indicated the possibility of a meeting eventually," Heyzer said. "I am now very concerned about her health and well-being, and condemn her sentencing to hard labor." She added, "If I ever visit Myanmar again, it will only be if I can meet with Daw Aung San Suu [Kyi]."
Heyzer's visit to Myanmar on August 16-17 was widely condemned by civil society groups in Myanmar for lending legitimacy to the military junta while gaining nothing substantial in return. In a joint statement issued shortly after her return from Myanmar, 864 organizations called on the U.N. General Assembly to withdraw the special envoy mandate, essentially arguing that it has done more harm than good.
Heyzer's "was the latest evidence of the historical ineffectualness of the mandate over a decades-long approach that has continually failed," the statement said. "The long history of the U.N.'s attempts at peace-brokering with Myanmar's military through Special Envoys has never catalyzed into meaningful results, but has instead lent legitimacy to perpetrators of international atrocity crimes – and has permitted worsening human rights and humanitarian crises." The statement added that such visits "could give the appearance of recognition and acceptance by the U.N. and, by extension, the international community."
In response, Heyzer during yesterday's seminar emphasized her "mandate as an impartial actor to engage with all stakeholders in Myanmar, the region and globally, consistent with the principles of the United Nations." This is accurate, as far as it goes, but as with ASEAN's Five-Point Consensus peace plan, however, there are serious doubts as to whether "stakeholder engagement" offers any meaningful way forward.
In this sense, the focus on meeting with Aung San Suu Kyi is probably misplaced. One can easily imagine a scenario in which the SAC permits Heyzer to meet with Aung San Suu Kyi under carefully controlled conditions. But aside from being able to check on her health and wellbeing in custody, it is not obvious how this would contribute to a "Myanmar-led" resolution to the country's political emergency. That would require a willingness on the part of the military junta to negotiate with those that it views as "terrorists," which is unlikely. Much the same is true of the various forces resisting the junta.
Making a request for access to Aung San Suu Kyi demand as the key to continued engagement hands the military junta a bargaining chip that it can use to string along the outside world, seek to fashion itself some international legitimacy, and buy the time that it needs to defeat the anti-coup resistance. Engagement with the military administration shouldn't be off the table. But until the political situation inside the country becomes more conducive to political negotiations, any choice to engage has to be weighed against its possible negative effects.
Also yesterday, Malaysia's Foreign Minister Saifuddin Abdullah issued another call for ASEAN to act more urgently in its efforts to provide humanitarian assistance and resolve the spiraling crisis in Myanmar. He said that the ASEAN Secretariat "must have a full-time team working on the conflict, otherwise people get killed in between all of our meetings… We must buck up."