Former Malaysian First Lady Sentenced to 10 Years Prison for Bribery
Rosmah Mansor, 70, was accused of soliciting and receiving bribes in order to facilitate a contract to provide solar panels for schools in Borneo.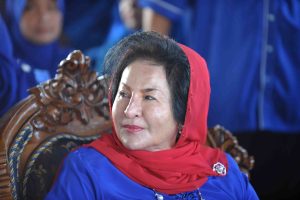 Four years after being ejected from the Seri Perdana complex in Putrajaya, the corruption charges are finally beginning to stack up against Malaysia's former first family. Just over a week after ex-Prime Minister Najib Razak was imprisoned over his involvement in the grand-scale pilfering of the state fund 1MDB, a court yesterday ordered his wife to serve 10 years in prison after finding her guilty of soliciting and receiving bribes during her husband's nine years in office.
According to a report by The Associated Press, Rosmah Mansor was convicted on a charge of soliciting 187.5 million ringgit ($42 million) and two charges of receiving 6.5 million ringgit ($1.5 million) in 2016 and 2017. The bribes allegedly helped a company secure a contract to provide solar energy panels to schools in eastern Malaysia. The AP reported that the court sentenced Rosmah to 10 years in prison on each charge, to be served concurrently, and an eye-watering 970 million ringgit ($217 million) in fines. The 70-year-old will be allowed to remain free on bail pending her appeal to higher courts.
Despite making a heartfelt plea to the court that she was the victim of a miscarriage of justice, and denying ever taking a single ringgit in bribes, High Court Judge Mohamed Zaini Mazlan said prosecutors proved beyond a reasonable doubt that Rosmah had both solicited and received bribes. He described her defense as essentially a form of special pleading: a "bare denial, devoid of credible evidence."
The conviction comes shortly after the Federal Court rejected her husband's final appeal against his 2020 conviction and 12-year prison sentence on seven charges including abuse of power, criminal breach of trust, and money laundering. The charges relate to Najib's receipt of $9.4 million from a former unit of 1MDB, which was set up shortly after he came to office in 2009. It is just the first in a series of 1MDB-linked cases against him, the second of which held hearings the day after his imprisonment. Rosmah, too, faces additional charges of money laundering and tax evasion in connection to the 1MDB fund, in another trial that is yet to begin.
The spiraling fortunes of Najib and Rosmah are evidence that while elections in partially consolidated democracies are not always an effective means of political change, especially where they leave the country's underlying political economy intact, they can still have powerful political effects. While in office, Najib managed successfully to thwart investigations into 1MDB via the abuse of his executive authority. He replaced Malaysia's attorney general just as he was getting ready to file criminal charges, sacked cabinet members critical of the government's handling of 1MDB, and waged lawfare against media outlets that reported on the scandal.
But the shock defeat of the United Malays National Organisation (UMNO) at the general election of May 2018, a result fueled in part by the simmering public anger about the 1MDB scandal, stripped his family of its de facto immunity. Shortly after the reformist Pakatan Harapan (PH) coalition took office, the 1MDB investigations were restarted, and charges were filed in short order against Najib, Rosmah, and a number of senior officials. When police raided Kuala Lumpur apartments owned by Najib's family, they carted out $274 million worth of hoarded luxuries, including 12,000 pieces of jewelry, 567 handbags, 423 watches, and $28 million in cash.
What happens next will offer an important verdict about the solidity of the Malaysian political system. Najib and his family are already seeking to mobilize UMNO's political base in order to obtain a royal pardon, and to achieve through political means what they failed to do in court.
The political economy that undergirds UMNO's political power, in particular, the system of institutionalized ethnic preferences that it has long championed, remains mostly intact, as does the political popularity and clout of Najib. For evidence, one need look no further than the political machinations that led to the collapse of the PH government in February 2020 and the return of UMNO to the country's governing coalition, first as part of the Perikatan Nasional coalition under Prime Minister Muhyiddin Yassin, and since August 2021, under the leadership of UMNO's Ismail Sabri Yaakob.
With general elections now on the horizon –they are due to be held by September 2023, but may take place much earlier –Ismail is likely to come under increasing pressure from UMNO powerbrokers to intervene in Najib's case. How the situation unfolds between now and the next general election, therefore, bears close watching.