India Commissions Latest Aircraft Carrier
While the Vikrant's commissioning definitely boosts India's naval capabilities, the overall trend in naval power is clearly shifting away from India.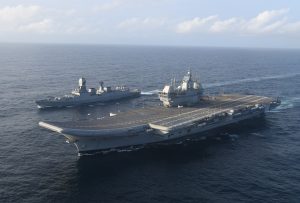 Prime Minister Narendra Modi commissioned India's latest aircraft carrier, INS Vikrant on September 2. This is India's first indigenously manufactured aircraft carrier, a commendable feat for the Cochin Shipyard that constructed the ship. INS Vikrant has a displacement of 43,000 tonnes and is capable of hosting a fleet of MiG 29K aircraft, Kamov 31 early warning and MH-60R multi-role helicopters. The importance of the Vikrant for both Indian naval power as well as India's domestic defense production is the reason why Modi was present to do the honors. It was also an occasion that was used to remove one of the last relics of colonial history, with the Indian Navy receiving a new ensign that removed the British era St George's Cross in favor of an Indian naval crest from the Maratha Kingdom. 
Although it was a happy occasion for India and the Indian Navy, it is also time for stocktaking considering that India's naval capabilities are falling further behind China than ever before. In regard to aircraft carriers, India was the first Asian power to acquire an aircraft carrier after 1945. India was proud of the fact that it had one of the few navies that could operate a carrier. India's first carrier, a refurbished British Majestic-class ship, entered service in the early 1960s. Subsequently, as the original INS Vikrant aged, India purchased the ex-British carrier, HMS Hermes, which joined service in the Indian Navy as INS Viraat in 1987. Similarly, as the Viraat aged, India purchased an ex-Soviet Kiev-class aircraft carrier, which was renamed INS Vikramaditya, which continues in service. With the latest INS Vikrant, India has a two-carrier navy. There are plans for another new carrier, though they have not been approved yet. 
On the other hand, India has now been surpassed by China which already has two aircraft carriers, and a third one on the way. The two carriers, built in China, are larger than the Vikrant, displacing more than 70,000 tonnes to the Vikrant's 43,000 tonnes. The next carrier, the Fujian, will be even larger while follow-on carriers are expected to come close to the size of the latest U.S. supercarriers. The Chinese carriers are expected to be the backbone of their own U.S.-style carrier battle groups that can deliver enormous firepower and be able to operate independently far from China's shores. 
Aircraft carriers may be the most visible symbol of contemporary naval power, but China's shipbuilding program encompasses a wide variety of other vessels also. In fact, China now has more naval vessels than the U.S. Navy, even though in terms of tonnage, it is only half the size of the U.S. Navy. The U.S. has about a dozen carrier battle groups and nine other amphibious assault ships that carry a significant number of airframes, with almost a dozen more on order. While American carriers are as yet unmatched, China is rapidly catching up in terms of its other warships, especially its destroyers and frigates. China's submarine force is also growing, with almost 60 submarines to India's 16. 
Of course, crude numbers alone do not matter very much. For example, it is difficult to imagine a Sino-Indian submarine confrontation because neither country has many submarines that can sail far from their shores. Indeed, much of China's naval power is likely to be focused on tasks close to home such as the South China Sea or Taiwan rather than confronting India. However, China's enormous wealth does give it the wherewithal to keep investing in a growing fleet while India struggles with both finances and a cumbersome procurement process that delays its modernization. Over the medium term, these differences are likely to stack up against India. 
India does have the advantage of geography because it does have open coastlines and chokepoints that could potentially make it difficult for adversaries like China in times of war. China on the other hand is hemmed in not only by the U.S. Navy but also by American allies as well as natural chokepoints. India's greater willingness to cooperate with partners in the Indo-Pacific is at least partly a recognition of its relative weakness on the maritime front. Thus, while the Vikrant's commissioning definitely boosts India's naval capabilities, the overall trend in naval power is clearly shifting away from India.