India Needs to Enact a Domestic Refugee Law
India's treatment of refugees has been inconsistent, ad hoc, and ambiguous.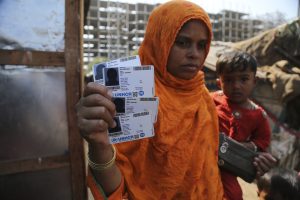 On August 17, India's Minister of Housing and Urban Affairs Hardeep Singh Puri announced that the government had decided to provide housing to around 1,100 Rohingya migrants in Delhi. They would be allotted low-cost apartments in western Delhi's Bakkarwala area, provided with basic amenities and round-the-clock police protection, he said.
Puri's announcement signaled a potential and positive change in India's policy toward the Rohingya. However, the change proved short-lived.
Within hours of the announcement, the home ministry tweeted that "Rohingya illegal foreigners will continue at the present location," pending "their deportation." It directed the Delhi state government to declare "the present location as a Detention Centre."
In effect, the home ministry clarified that the Bharatiya Janata Party (BJP) government would continue with its policy of treating Rohingya as illegal migrants and persist with detaining and deporting them.
The Rohingya have been arriving in India in waves since the 1970s. However, most are recent arrivals, having arrived in the aftermath of the Myanmar military's unleashing of extreme violence with "genocidal intent" on them in August 2017.
According to Human Rights Watch, there are an estimated 40,000 Rohingya living in India, of which some 20,000 are registered with the UNHCR. Lacking refugee status, they are not entitled to housing, jobs, or education and live in squalid conditions in slums in cities like Delhi, Hyderabad, and Jammu.
India did not sign the 1951 Refugee Convention or the 1967 Protocol. Yet, over the decades it provided refuge to millions fleeing discrimination, persecution, and war in its neighboring countries.
India is home to around 100,000 Tibetans who are living in settlements in Dharamsala, Bylakuppe, and other parts of the country. In 1970-71, as the Pakistan Army stepped up its rape and genocidal violence against East Pakistanis, over 10 million people fled to India in the run-up to and during the Bangladesh Liberation War. Following the 1983 anti-Tamil riots in Colombo, around 100,000 Sri Lankan Tamils fled to Tamil Nadu in southern India. The flow of asylum seekers continued for years as the island descended into civil war. Chakmas from Bangladesh and Chin from Myanmar are some of the other populations that have sought and received sanctuary in India.
However, its treatment of refugees has been inconsistent, ad hoc, and ambiguous.
Sri Lankan Tamil asylum seekers were initially welcomed and local political parties vied with each other to extend them support. However, following the assassination of former Prime Minister Rajiv Gandhi by the LTTE in May 1991, the Tamil refugee community came under scrutiny. Sri Lankan Tamils were now viewed as a security threat. Resources they had access to earlier were withdrawn, and they were subjected to an array of restrictions. Security agencies sought to push them back into Sri Lanka as well.
India's support for different refugee groups has been uneven too. Tibetans have been "successfully" settled in India. The Rohingya are perhaps the worst off of all refugee groups living in this country.
Discrimination against the Rohingya has grown manifold since the Hindu nationalist BJP came to power in 2014. Driven by its anti-Muslim ideology, the BJP government has enacted laws, like the Citizenship Amendment Act, for instance, and framed policies that discriminate against Muslims. This anti-Muslim outlook has manifested in BJP ministers and leaders as well as the media vilifying the Rohingya as "parasites," "illegal" migrants and "terrorists," who are a threat to India's national security.
Calls for their expulsion have grown louder over the years. Since 2018, Indian police have detained over a thousand Rohingya on charges of "illegal entry" and deported several hundreds to Myanmar.
This forced deportation of Rohingya back to Myanmar where they face persecution and violence is a violation of the principle of non-refoulement, human rights groups say.
The Indian government dismisses such criticism by arguing that since it is not a signatory to the 1951 Refugee Convention or the 1967 Protocol, it is not bound by its provisions. The principle of non-refoulement would apply to Rohingya had India granted them asylum. It has not, the government points out.
However, legal experts reject India's arguments. Since it is a party to international legal instruments like the International Convention on the Elimination of All Forms of Racial Discrimination and the International Covenant on Civil and Political Rights (ICCPR), it has a legal obligation to uphold the principle of non-refoulement.
Not only has India not signed on to U.N. refugee conventions but also, it does not have a domestic refugee law. Instead, it uses domestic laws for foreigners to deal with refugees.
It is time India enacted a domestic refugee law. This will ensure that those fleeing violence and seeking asylum in India are not victims of the whims and prejudices of parties and politicians. Granting refugee status to asylum seekers should be based on clear principles detailed in the refugee law. Refugees should be able to access education, housing, food, and security as a matter of right rather than as a result of charity.
Over the decades, India has hosted large refugee populations. But it has picked and chosen which asylum seekers it will help and how. That ambivalence needs to go.