Mongolia Unveils New Pro-Business Cabinet
The quick Cabinet reshuffle is intended to strengthen PM Oyun-Erdene's position and give him legislative support to push his liberalization and privatization agenda forward.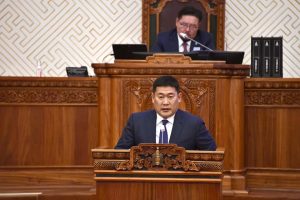 Mongolia's parliament on August 30 approved key changes to the structure and composition of the Cabinet proposed by Prime Minister Oyun-Erdene Luvsannamrsai. Ten new members were added — all but one from parliament — to the expanded 21-member Cabinet, the largest ever in Mongolia's history.
The Cabinet reshuffle happened very quickly and was intended to strengthen Oyun-Erdene's position and give him legislative support to push his liberalization and privatization agenda forward. This change is critical in the lead-up to the 2023 budget vote in November, because Mongolia's economy has not yet fully recovered from the pandemic downturn.
The boosted Cabinet will also help Oyun-Erdene advance constitutional reforms to reduce presidential power and update election rules. Oyun-Erdene is expected to accelerate the implementation of his New Revival Policy, which aims to stimulate pandemic recovery and address Mongolia's vulnerabilities as a landlocked country.
Oyun-Erdene noted that expansion of the Cabinet was necessary to meet the goals of the country's New Revival Policy and 2050 Vision Initiative. The New Revival Policy, introduced in December 2021, aims to add more energy sources, integrate border ports with China, build downstream industrial capacity, start a new city south of Ulaanbaatar, reduce red tape, and eliminate corruption. This aligns with the country's long-term development plan and Oyun-Erdene's flagship program, the 2050 Vision Initiative.
The expanded Cabinet comprises 21 members covering 16 ministries (the full line-up is below). Three ministers with no portfolios were added to oversee Ulaanbaatar affairs, physical education and sports, and port revitalization.
Amarbayasgalan Dashzegve, secretary-general of the ruling Mongolian People's Party (MPP), was appointed Cabinet secretariat chief, replacing veteran politician Nyamdorj Tsend. Amarbayasgalan will be key in executing major reform policies. Amarbayasgalan is in his early 40s and is regarded as one of the rising leaders of the MPP to succeed Oyun-Erdene in the future.
Oyun-Erdene is expected to name a new MPP secretary-general soon, who will be a power broker and key person in the upcoming general elections in 2024.
The new Cabinet includes 13 ministers who concurrently hold positions as members of parliament (MP). This follows the Constitutional Court's August 15 decision to repeal a constitutional clause limiting the number of lawmakers in the Cabinet to four.
By filling his Cabinet with more parliamentarians, the prime minister is seeking to strengthen his position politically and legislatively. These powerful 13 ministers in the 76-member parliament would be key to advancing controversial reforms and a liberalization agenda. Although the MPP maintains a supermajority, it has powerful internal factions that are not always aligned with the prime minister's agenda. Surprisingly, the construction, foreign, health, culture, defense, and environment and tourism ministers kept their seats in spite of the fact they are non-MPs.
In other key appointments, Khurelbaatar Chimed was selected as minister of economy and development and Uchral Nyam-Osor as minister of digital development and communications. Both positions were created last year and had remained unfilled since that time. Khurelbaatar is the former finance minister and will now lead revising the investment law and setting up a new Investor Protection Council. Uchral is expected to drive Mongolia's digital transformation and move more government services online.
Oyun-Erdene named Ganbaatar Jambal to lead the mining sector. Ganbaatar is a pro-business politician known for championing the reduction of government intervention in the economy. Although a mining licensing regime has yet to be finalized, revisions to the mining law are expected later this year. Former Mining Minister Yondon Geleg was tapped to lead the state-owned Erdenet copper mine company.
Pro-business new Energy Minister Choijilsuren Battogtokh will likely attempt to introduce some deregulation measures, particularly in the renewable energy sector, targeting wind and solar producers. Partial electricity tariff liberalization, which was pushed by former minister Tavinbekh, will continue to face stiff public opposition in view of rising inflation. Tavinbekh is now a deputy minister at the energy ministry.
New Cabinet Lineup
Oyun-Erdene Luvsannamsrai, Prime Minister
Amarbayasgalan Dashzegve, Chief of Cabinet Secretariat (newly appointed)
Amarsaikhan Sainbuyan, Deputy Prime Minister
Sukhbaatar Jamiyankhorloo, Minister in charge of Ulaanbaatar City and Traffic Congestion (newly appointed)
Bat-Erdene Badmaanyambuu, Minister for Olympism, Physical Culture and Sports (newly appointed)
Khurelbaatar Chimed, Minister of Economy and Development (newly appointed)
Battsetseg Batmunkh, Minister of Foreign Affairs
Javkhlan Bold, Minister of Finance
Nyambaatar Khishgee, Minister of Justice and Internal Affairs
Bat-Erdene Bat-Ulzii, Minister of Environment and Tourism
Saikhanbayar Gürsed, Minister of Defense
Enkh-Amgalan Luvsantseren, Minister of Education and Science of Mongolia
Byambatsogt Sandag, Minister of Road and Transportation Development (newly appointed)
Nomin Chinbat, Minister of Culture
Ganbaatar Jambal, Minister of Mining and Heavy Industries (newly appointed)
Sarangerel Davaajantsan, Minister for Labor and Social Protection (newly appointed)
Bolorchuluun Khayangaa, Minister of Food, Agriculture and Light Industries (newly appointed)
Uchral Nyam-Osor, Minister of Digital Development and Communication (newly appointed)
Choijilsuren Battogtokh, Minister of Energy (newly appointed)
Enkhbold Sereejav, Minister of Health
Munkhbaatar Begzjav, Minister of Construction and Urban Development
(Vacant), Minister of Border Port Revitalization (newly created)