Pakistan's Floods Are a Man-Made Disaster
It's not just climate change – corruption, bad governance, poor planning, and faulty water management are also to blame for the scale of the current disaster.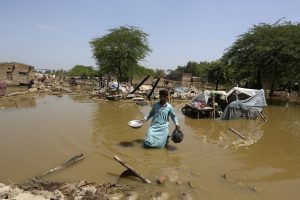 Unprecedented torrential rains followed by floods in one-third of Pakistan have caused more than $30 billion in damage, killed 1,596 people, and directly impacted more than 33 million, according to the country's National Disaster Management Authority. Pakistan's most impoverished provinces, southwestern Balochistan and southern Sindh, are the worst affected.
In Sindh, Pakistan's second largest provinces, but one of its poorest,  an estimated 10  million people have been affected by the floods. They are in desperate need of shelter and emergency medical assistance. The situation is similar in restive southwestern Balochistan province, where 300 people have died due to floods since June. The fragile provincial government declared 32 out of 34 districts "calamity-hit."
Balochistan is the second-most affected province after Sindh, with more than 9 million out of its population of 12 million affected.
Pakistan, especially its northern areas, is not unfamiliar with monsoon rain. However, what was uncommon this year was that the country's southern arid region experienced five times more than the average annual rainfall, which led to the overflowing of traditional unmaintained canals and the destruction of protective embankments, which had been built poorly with mud and sand.
The lack of proper water management exacerbated the accumulation of water. As a result, many poor towns and villages in Balochistan and Sindh found themselves under water. In several parts of Sindh, standing water reached as high as three to six meters. The same happened in Balochistan. Water accumulation and encroachment at some places caused flash floods, which washed away roads, bridges, houses, and hundreds of thousands of acres of crops.
In the aftermath of the current floods, there has been much discussion about the impacts of climate change in Pakistan. Many, including Pakistan's climate minister, Sherry Rehman, have described it as a "climate catastrophe." Rehman says that climate change caused the loss of life of nearly 1,600 people and displaced millions of others in Pakistan. She has also been demanding reparations from wealthy industrialized nations for their carbon emissions. She argues that Pakistan contributes less than 1 percent of global greenhouse gas emissions but is paying the price for climate change; thus, it deserves compensation from richer industrialized countries.
What Rehman doesn't like to mention or talk about is her government's unpreparedness and its poor regulation of floodplains. She also failed to cite the inadequate infrastructure and lack of proper water management system in her native Sindh province.
Rehman belongs to the Pakistan People's Party (PPP), currently in power in Sindh and part of the ruling coalition in the central government. The PPP was founded by Zulfikar Ali Bhutto from Sindh, and the party has been in power in the province for over four decades. The Bhutto family is Pakistan's most ambitious and powerful political clan, as British journalist Owen Bennet Jones wrote in his book "The Bhutto Dynasty."
Pakistan's foreign minister, the young Bilawal Bhutto, a history graduate from the Christ Church College at Oxford, has become the fifth in his family to run his native Sindh province. His great grandfather, grandfather, mother, and father had been in power in the past. "The Bhuttos' story is so full of passion, talent, suffering, courage, violence, and money that it never lacks a strong narrative thrust," Bennet-Jones wrote
Still, Sindh is judged food insecure and engulfed by many problems ranging from poor governance to corruption, and from deplorable infrastructure to a lack of basic health facilities.
The flash floods that hit Sindh and Balochistan weren't only the result of climate change, as claimed repeatedly by Rehman and others. One cannot deny the impacts of climate change in Pakistan; for instance, heat extremes, including an all-time record temperature of 53.5 Celsius in Balochistan's Turbat in May 2017, and the glaciers of the Himalayan mountains melting down at an alarming level. Still, the lack of proper floodplains and abysmal infrastructure have contributed to the gravity of the flooding.
Now the country's poor to nonexistent health infrastructure and lack of capacity to drain the accumulated floodwaters in some areas pose a severe health threat to millions. Two weeks ago, Sindh's chief minister said it would take his provincial government three to six months to drain water from the flood-hit areas. This shows its level of preparedness in tackling disasters.
As a result, there has already been an increase in waterborne diseases, dengue, malaria, and diarrhea. Last week, nine people died from such diseases in Sindh. UNICEF said that millions of children and women are prone to water-borne diseases, mostly in Balochistan and Sindh, the worst-affected provinces. There is widespread anger among the locals of these provinces against the government for failing to provide them with timely assistance.
The floods also struck several parts of Balochistan province, bringing life to a crippling halt. The districts of Lasbela, Jhaffarabad, Naseerabad, Jhal Magsi, and Dera Murad Jamali have been the worst hit. All these areas are ruled by tribal chieftains, who have been in power since the formation of Pakistan in 1947. The flood wreaked havoc in these areas, as either there was no plan in place to tackling such unprecedented rainfall or the leaders did not correctly plan while building dams, rivers, and bridges.
For instance, heavy floods in Lasbela could have been mitigated or diverted had a protective embankment called Tharra been built with solid materials. The poor quality of the construction couldn't resist the flood water for long. Similarly, if work on the Porali River, a project of the World Bank, had done with the proper planning, the damages caused by the current flood in Lasbela would have been much reduced.
In addition, the emphasis on building infrastructure and housing ventures in natural floodplains also played its part in causing more damage – not only to the natural environment but to the public too. We saw this in Swat, where luxury hotels and restaurants were swept away by floodwater in seconds.
Floods and torrential rainfall aren't unusual in Balochistan and Sindh. Both provinces have experienced severe floods in the last two decades. These natural calamities killed thousands of people, destroyed livelihoods, and killed thousands of animals in 2007, 2010, 2012, and now. What was uncommon was the unpreparedness of the Balochistan and Sindh governments in tackling a disaster-like situation.
The current flooding is the worst and deadliest in Pakistan's 75 years of history, and there are multiple reasons for that. Despite having experienced similar catastrophes in 2007, 2010, and 2012, the government was not prepared to deal with a major flooding event. This time the lack of unpreparedness and proper planning increased the disaster's impact, which will further escalate unless the water accumulated in flood-hit areas dries up.
More children and women vulnerable to infectious diseases are likely to suffer. The government still doesn't have a plan to rehabilitate or at least settle these displaced people in temporary shelters – many are living on their own on roadsides under the open sky. Resettling 33 million people remains a daunting task for the current government.
Climate change is a reality, and Pakistan isn't an exceptional victim of it. But despite the warnings and disasters we have experienced in the past, we still don't have proper planning to tackle it. We risk missing a crucial point if we lay the blame on climate change alone. Corruption, bad governance, poor planning, and faulty water management can equally be blamed for the current disaster.
Climate change undoubtedly played a role, but Pakistan's current flood is also a man-made disaster, requiring man-made and long-lasting solutions.