Philippine President Marcos Wraps Up State Visit to Indonesia
Standing alongside President Joko Widodo, the Philippine leader described Indonesia as "not only a neighbor, not only a friend, but kin."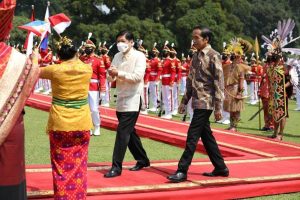 Philippine President Ferdinand Marcos Jr departed Indonesia yesterday after a three-day state visit aimed at reinforcing the economic and security ties between the two maritime neighbors.
The centerpiece of the visit, the Philippine leader's first overseas trip since taking office in June, was Marcos meeting with his Indonesian counterpart Joko "Jokowi" Widodo on Monday. According to a joint press statement issued after the meeting, Jokowi said the leaders had signed a defense and security cooperation agreement, which included the Philippines' procurement of arms from Indonesia's defense contracts, and a five-year diplomatic action plan. The Indonesian leader added that the two sides also agreed to speed up and review maritime border demarcation efforts and to strengthen "regional cooperation in the framework of ASEAN."
Less important than the formal agenda was the message sent by Marcos's choice of Indonesia as the destination of  his first state visit, for which Jokowi said he was "very honored." In a statement yesterday, the Philippine Department of Foreign Affairs said that the choice was intended to highlight the "close bilateral relations between the Philippines and Indonesia which has spanned almost 73 years across a wide range of areas, such as security, defense, trade and investments, and culture."
Similar themes surfaced in the joint press conference between Marcos and Jokowi after their meeting. Marcos, who was elected to office in May, said that while formal diplomatic relations between Indonesia and the Philippines date back to 1949, "our relations go much further than that because we consider Indonesians not only a neighbor, not only a friend, but kin," according to the joint press statement issued after the meeting.
"I believe that we have made the proper choice in coming to Jakarta as my first state visit as president of the Philippines, and I believe that this is only the beginning of many more things to come between Indonesia and the Philippines," he added.
Marcos' choice of destination was also intended to telegraph an emphasis on the Association of Southeast Asian Nations (ASEAN), which is headquartered in Jakarta. Marcos told reporters that he and Jokowi spoke at length about ASEAN's role at a "very volatile time in geopolitics, not only in our region but also in the rest of the world."
"We also spoke at length about the role that we believe ASEAN should play while we face the difficulties in this very volatile time in geopolitics not only in our region but also in the rest of the world," he said. "And we agreed that ASEAN is going to be the lead agent in the changes that we would like to see in continuing to bring peace to our countries."
There are many reasons for Indonesia and the Philippines to develop their bilateral relations. Both are far-flung and administratively unwieldy archipelagoes populated by a diverse array of ethnic groups, and have faced similar nation- and state-building challenges since winning their independence in the 1940s. The two nations also sit in broadly similar relation to the rapidly growing maritime and naval power of China, which has claimed large swathes of the South China Sea, including areas claimed by both Manila and Jakarta.
At the same time, their friendship is not marred by any outstanding political issues or territorial conflicts, unlike the Philippines and Malaysia, whose relations continue to be impeded by a long-running dispute over Sabah, on the eastern edge of the island of Borneo. All this ensures that relations have the potential to advance steadily, almost regardless of who is in power in either capital.
Following his departure from Indonesia, Marcos arrives today in Singapore, where will meet with Singaporean President Halimah Yacob and Prime Minister Lee Hsien Loong to "discuss the close bilateral relations between the two countries, as well as regional and global issues," the Philippine Department of Foreign Affairs said last week.