The US Fills ASEAN Ambassadorial Posting After 5-Year Vacancy
The post has been filled by Yohannes Abraham, a former member of President Joe Biden's National Security Council.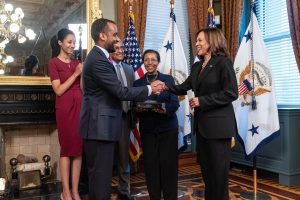 After an interregnum of more than five years, the United States government has finally appointed an ambassador to the Association of Southeast Asian Nations (ASEAN). Yesterday, U.S. Vice President Kamala Harris swore in Yohannes Abraham, a former member of President Joe Biden's National Security Council, into the post. Abraham is expected to take up the post immediately.
"I had the privilege of swearing in Yohannes Abraham as our next Ambassador to the Association of Southeast Asian Nations," Harris wrote on Twitter yesterday. "Thank you, Ambassador Abraham, for serving the White House with honor and taking on this new role. We wish you well."
Abraham was nominated to the post in May, an announcement that President Joe Biden made during the two-day U.S.-ASEAN Special Summit that was convened in Washington. As former chief of staff and executive secretary of the NSC, Abraham has worked closely with those in who have set the Biden administration's policy toward Southeast Asia.
Abraham's appointment follows a more than five year vacancy in the Jakarta-based posting, which has lain empty since President Donald Trump took office in January 2017. As Aaron Connelly of the London-based Institute for Strategic Studies (IISS) pointed out on Twitter today, "Since the U.S. established a resident mission to ASEAN in Jakarta in 2011, the post of ambassador has been vacant (6 years, 6 months) more often than it has been filled (4 years, 11 months)." The position has since been filled by a string of charges d'affaires.
Until recently, Washington's frequent statements of commitment to Asia in general, and Southeast Asia in particular, have been undermined by the inability to confirm ambassadors to fill vacant posts. This has been less a question of political will than the petty partisan sniping of Senator Ted Cruz (R-TX), who vowed to block Biden's State Department nominees until the government imposed congressionally mandated sanctions on the Nord Stream 2 pipeline running from Russia to Germany.
These vacancies were especially marked in Southeast Asia, a region that lies at the crossroads of the "Indo-Pacific." At one stage last year, the U.S. had no ambassador posted to Thailand or the Philippines, both of them long-standing treaty allies, nor in Singapore, perhaps the other most important U.S. partner in the region. It was also unrepresented in Brunei and Timor-Leste.
All but one of the vacant Southeast Asian posts – the ambassadorship to Timor-Leste – has now been filled. According to the American Foreign Service Association (AFSA), the Senate confirmed Robert Godec as ambassador to Thailand in August, on the same day that it approved Abraham for the ASEAN posting. In May, it approved MaryKay Loss Carlson's nomination as ambassador to the Philippines, along with nominees to posts in South Korea and Australia.
These followed the confirmations of Caryn R. McClelland as ambassador to Brunei (December 2021), Marc Knapper as ambassador to Vietnam (December 2021), and Jonathan Kaplan as U.S. ambassador to Singapore (November 2021). Meanwhile, Donna Ann Welton has been nominated to serve in Timor-Leste, but has yet to be approved, according to AFSA.
The Russian invasion of Ukraine, which prompted Germany to freeze Nord Stream 2 and the U.S. to impose sanctions on the company building it, has effectively removed the last remaining partisan bottleneck and allowed the remaining vacancies to be approved with relative ease.
With the U.S. now well represented in Southeast Asian capitals, attention turns to the message that these envoys will be expected to deliver to the governments of the region: about U.S.-China competition, war in Europe, and other issues of regional and global import.
As I noted in May, after the Senate's confirmation of ambassadors to Manila, Seoul, and Canberra, a lot of questions remain about the shape of U.S. policy toward Southeast Asia – not least the question of U.S. economic engagement, another area in which domestic politics imposes limits on the Biden administration's room for maneuver. But whatever message that Washington wishes to convey, it at least now has the personnel who can deliver it.