With New Law on Nuclear Forces Policy, North Korea Says Its Nuclear Status Is 'Irreversible'
A day before the 74th anniversary of the country's founding, North Korean leader Kim Jong Un vowed to keep strengthening his nuclear power.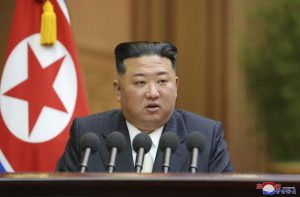 A day before the 74th anniversary of the country's founding, North Korea's supreme leader Kim Jong Un publicly declared that his nuclear weapons are no longer a bargaining chip for talks.
"By promulgating a law on a policy of the nuclear forces, our country's status as a nuclear-weapons state has become irreversible," the North's state-controlled Korea Central New Agency (KCNA) quoted Kim as saying during his speech at the 7th Session of the 14th Supreme People's Assembly on Thursday.
Calling the United States the first country that used nuclear weapons and the most powerful nuclear state, Kim said his country's nuclear arsenal is "a deterrent and ultimate weapon" that has been developed "to eliminate nuclear war and secure the country's pride and safety."
While saying that "removing our nuclear weapons is the purpose of the U.S.," Kim also stated that the ultimate goal of  U.S. attempts to denuclearize his country is "the collapse" of Kim's regime.
Kim accused the U.S. of fomenting North Korean people's complaints toward the party by imposing large scale economic sanctions against his country. he confidently stated that it is "misjudgment" and "miscalculation" by the country's adversaries – which refer to the U.S. and South Korea – stating that the sanctions only strengthened the North Korean government's commitment to develop nuclear weapons.
Kim mentioned that his people remember numerous historical incidents with tragic endings, caused by "the U.S. imperialists' cliched sermon, sophistry, sanctions pressure and military threats." He did not specify the incidents but he may have been alluding to the last days of Muammar Gaddafi, who ruled Libya as a dictator for more than four decades. Based on Washington's previous attempts to invoke the "Libya Model" in the denuclearization of North Korea, Kim may think that he could face the same fate as Gaddafi – ouster and a brutal death – if he gives up his nuclear weapons.
Stating that the U.S. would never be able to change his people's decision to develop nuclear weapons, Kim implied that time is now on his side by saying that his country can keep living under the current conditions through its own ways. With this, Kim also warned that his country's ultimate power has strengthened as a direct consequence of living under Washington's "brutal" anti-North Korea policy.
Now, as the North has provided a legal framework to keep developing nuclear weapons, Kim said "the whole world and the political and military climate in the Korean Peninsula should change first" if others want to make him change his nuclear policy.
Kim said North Korea will keep developing and testing its nuclear and missile programs as long as the U.S. and South Korea stick with their policy of pursuing the complete, verifiable, and irreversible denuclearization (CVID) of the Korean Peninsula.
According to KCNA's report on the promulgation of the new law, North Korea's nuclear forces are explicitly no longer solely meant for the country's self-defense.
Defining its nuclear forces as "a main force of the state defense," the North widened the conditions for using its nuclear weapons. The law lays out five conditions under which North Korea can use nuclear weapons, including one that represents the possibility of Kim ordering his troop to launch his nuclear weapons preemptively: "In other case [sic] an inevitable situation in which it is compelled to correspond with catastrophic crisis to the existence of the state and safety of the people by only nuclear weapons is created."
Seoul and Washington have consistently sent messages to Pyongyang to renew the deadlocked nuclear and inter-Korean dialogues. However, based on Kim's remarks on Thursday, it is unlikely Pyongyang will respond to either Seoul or Washington's gestures.
On Thursday, South Korean Unification Minister Kwon Young-se offered to hold talks with Pyongyang to resolve the issues of separated families divided in the wake of the 1950-53 Korean War. However, Kim did not say a single word about Kwon's proposal during his speech and the KCNA did not publish any statement from Pyongyang officials in response.
Kim's solidification of his nuclear force provides more evidence of two likely scenarios that were already shaping up: no inter-Korean dialogue during South Korean President Yoon Suk-yeol's term and more direct confrontation from North Korea against the U.S.
Days after South Korean President Yoon Suk-yeol introduced his "audacious initiative" to induce Pyongyang to take steps for denuclearization last month, Kim Yo Jong, the powerful sister of Kim Jong Un, harshly belittled his policy while using provocative words directly toward Yoon. In her statement, she said "it is our earnest desire to live without awareness of each other." She also said that "we don't like Yoon Suk Yeol himself" and "we make it clear that we will not sit face to face with him."
It is not surprising to see Pyongyang aim provocative words toward the South Korean president. However, the timing is notable.
It has only been four months since Yoon took office, but Pyongyang already ruled out the possibility of engagement with Seoul during his five-year term. Yoon has remained open to talks with North Korea, but it seems that Pyongyang concluded that it is pointless to speak with the Yoon administration as his previous remarks – including discussions of a preemptive strike on the North – crossed the redline from its perspective.
Kim Jong Un seems to have decided to skip engaging with Seoul. Yoon's inexperience in diplomacy and politics, coupled with his low approval ratings, might give the impression that he is not a suitable partner to negotiate with. His inconsistent stance on the North's nuclear and missile threats might also lead Kim to take a negative view of Yoon.
Yoon's "audacious initiative" is also preconditioned on the North taking substantive steps toward  denuclearization. North Korea has already made clear that it would never give up its nuclear weapons or dismantle its nuclear arsenals first. Since the failed Hanoi summit between then-U.S. President Donald Trump and Kim Jong Un in 2019, the North has demanded that the U.S. and South Korea make concessions to even restart dialogue – much less see real progress on the denuclearization of North Korea. In this context, Pyongyang may think that Yoon's audacious initiative is just an old-school policy devised by those who worked for previous conservative governments. Kim Yo Jong indicated as much in her comments last month.
Kim Jong Un's recent tendency to target the U.S. also shows that he has no interest in working with the Yoon administration. More importantly, it indicates that he will take further steps to be a contender against the U.S. in the region.
Kim briefly mentioned his bold five-year military modernization plan, which includes the development of new and advanced nuclear weapons, in his speech on Thursday. Once his military successfully achieves the goals of the plan, Kim would be able to secure more nuclear options that can be considered a direct threat to the security of the United States.
For its part, Washington appears to be interested in maintaining the status quo of the Korean Peninsula. Washington has not been able to engage in talks with Pyongyang since 2019, despite a new president taking office in 2021. Due to current President Joe Biden's previous role as vice president for President Barack Obama, his policy on North Korea was expected to be an updated version of "the strategic patience" approach that was used under the Obama administration. The White House has said that Biden's "calibrated and practical" approach to North Korea is a new one devised after a months-long policy review. However, it is hard to find differences between Biden's and Obama's approaches, considering the spate of the North's missile tests this year and stalled nuclear talks.
In the wake of the Ukraine crisis and the power game between the U.S. and China, Pyongyang has strengthened ties with Beijing and Moscow sharply in order to weaken Washington's leverage in the region. While the two powerful allies focus on their security issues, Kim may want to show off more powerful nuclear weapons so that he can be less dependent on the influences of Beijing and Moscow on Korean Peninsula issues and instead be a direct contender against the U.S. president.