In Kashmir, Counter­insurgents' Widows Fight to Save Their Sons
After their husbands' killings, these women desperately sought to protect their sons from ongoing violence, even as they are largely shunned by society.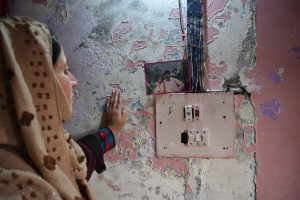 HAJIN, BANDIPORA – Every time Jameela Begum, 46, wants to talk to her late husband, she digs out a worn photo album from an old wooden almirah.
The album for her is like a time machine that transports her back in the past, where she finds solace in the company of her partner.
Each time, when she puts back the album, Begum shivers with recurring fear and longing.
On the evening of April 16, 2017, two masked men entered Begum's home on the pretext of meeting her husband, Abdul Rashid Parray, known by his nom de guerre Rashid Billa, a former counterinsurgent commander in the state-sponsored Ikhwan militia.
The masked men took Billa into a room and shot him dead.
"Our tragedy is that nobody feels about our suffering," says Begum, who has since been traumatized by her husband's death.
"No one sat with us to mourn our loss. The pool of blood in which he lay dead haunts me."
Yet, like the past, Begum has kept both the almirah and the album away from her children.
After Billa's death, all Begum knew was that she had to save her children from the fate that her husband met. Her sole mission became to protect them from the extreme forms of violence that have been engulfing the disputed region for decades now.
Billa and his two associates were accused of killing seven civilians on October 5, 1996 in Sadarkoot, a village in north Kashmir.
For years, Billa and hundreds of others operated under Ikhwan-ul-Muslimoon, the renegade militia of Muhammad Yusuf Parray or Kukka Parray, which played a critical role in containing an anti-India armed insurgency during the 1990s.
The Ikhwan were decisive in shifting the balance of power in India's favor, as the political scientist Yelena Biberman wrote in her book "Gambling with Violence: State Outsourcing of War in Pakistan and India."
"These were rebels who were willing to ally with India in pursuit of their more immediate goals: local power, profit, and security," Biberman wrote. "Most of these former rebels were incorporated as auxiliaries into the Indian security forces."
When Billa was killed, Begum and her children remained indoors for almost a year, trapped within the four walls of their broken home. They did not want to draw further attention to themselves, which was akin to inviting trouble.
"My children were very young, and they don't remember experiences of the past," Begum says.
Even before her husband's death, she raised their children as a single mother – Billa mostly stayed away from home, fearing arrest for the killings he was accused of.
Like Begum, Dilshada Bano, 54, had to slowly rebuild her family alongside young children. The rebuilding helped them recover from grief.
In the frosty winter of 2007, Bano was accompanying her husband, Muhammad Yusuf Dar, to Lolab, a valley in north Kashmir. Their car came to a grinding halt when two young men came in front. They fired into the car, killing Bano's husband and wounding her with four bullets.
Bano underwent two surgeries; three bullets were removed from her body while one bullet still remains inside.
Though she still struggles with the trauma, she spends time with her son and gives him the courage to carry on.
"I do not want my sons to be exploited in any way," she says. "I have forgotten my past. My children were too young to remember anything. They have no memory of it – good or bad."
Bano has two sons and two daughters. All of them dropped off from their studies after her husband's death. She had to take care of their emotional and financial needs with minimal ties and support from relatives or the community.
"Fear is everywhere," says Bano, who lives with her son. She married off her two daughters and elder son.
Bano says after her widowhood, her every move was judged. Yet she focused on her children, and she was able to rebuild the family stone by stone.
There were around 6,000 counterinsurgents working under the banner of Ikhwan, according to the government estimates. While many counterinsurgents were killed in ambushes and encounters, their families have been living on the edge of uncertainty.
"Women in Kashmir are among the most affected by this ongoing conflict; not only are they victims, but they are the ones left behind as their husbands and sons take up arms, go to jail, or are killed," says Dr. Edit Schlaffer, founder and chair of Women Without Borders, an international organization.
Schlaffer ran a "Mothers School" in Kashmir between 2013 and 2016 that helped women to build their capacity for active parenting.
"The mothers told us that they feel like 'trapped in the middle.' They feel pressured, worried, and helpless and even have self-doubt every time their children are out of sight," she says.
Biba Zulekha, 63, remained in a daze for days when her husband, Kukka Parray, was killed in 2003.
"My husband's past was used by many to haunt us," says Zulekha. "I was cursed. There was no empathy from anywhere. But I have endured the entire trauma for the sake of my children."
For Zulekha, it was important for her as a mother to strengthen in their children the desire to live.
Like Begum, Bano, and Zulekha, hundreds of thousands of widows of the former counterinsurgents remain ostracized by the society and forgotten by the government.
Yet, in their private lives they wage enormous battles – both financial and psychological – in providing for their children and saving them from violence.
This concern reemerged after a popular militant commander, Burhan Wani, was killed by Indian forces in July 2016. Women like Begum, Bano, and Zulekha witnessed regular cordon and search operations and were on the radar from both sides because of their pasts.
The shame and stigma attached to former counterinsurgents as "pro-India agents" are causes of exclusion for their families, who are stereotyped as "traitors."
Peace psychologists working in the region say it is difficult to talk about aspects of reintegration with a group whose family members had an important role to play in the dynamics of the ongoing conflict.
"Such communities struggle with the question of who they are and bear the brunt of what they did not do," says Ufra Mir, founder of the International Center for Peace Psychology.
Yet the importance of outreach cannot be understated. Mothers are the first line of defense against extremism in at-risk communities around the globe, Schlaffer explains.
"They need essential awareness, knowledge, and self-confidence to intervene, especially in affected communities – where the taboo topic of radicalization and resulting stigmas tends to further isolate them."
Jameela says that frequent violence in the region gives her sleepless nights.
"My everyday struggle is to reinforce in my children the belief that a single mistake can ruin your future," she says. "So, I ask them to choose life and make it meaningful and worthy."
The families of counterinsurgents, whose husbands were "once eyes and ears for the Indian armed forces became scapegoats," says Usman Majid, vice president of the Jammu Kashmir Apni Party, a recently formed political party. Majid was a former counterinsurgent himself.
"The death of their husbands is a tragedy. Then there are other feelings like frustration, guilt, and injustice. It is not an easy burden to carry."
Majid says that the community had already isolated the widows because of the Ikhwan label. "Withdrawal of support from the government turned them into cannon fodder and made their sons vulnerable to security risks."
In any crisis situation such as this, the biggest psychosocial support in terms of care, nurturing practices, and coming together comes from the community, says Mir, the peace psychologist.
"I think civil society can extend their role in the service of empathy to these families. They face existential as well as security risks in their own communities."
In Begum's case, this manifests in a daily argument with her 24-year-old son about his late return from the gym in the evenings.
"I am here to save my children and give them a direction for the future," she says.
"Then, it is on them to make their own identity, and embrace life."
This reporting was supported by the International Women's Media Foundation's Howard G. Buffett Fund for Women Journalists.