Can Kashmir's Pandits Ever Return Home?
30 years after they were forced to flee, the return of Hindu Pandits to the Kashmir Valley remains a distant dream.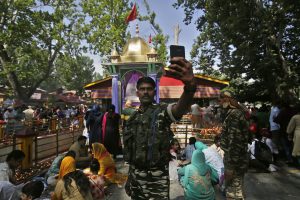 On January 19, Kashmiri Pandits across the world observed "Holocaust Day." It was on that day 30 years ago that the Pandit exodus from the Kashmir Valley began. Threats from Islamist militants in the Valley forced around 70,000 Pandit families comprising over 350,000 women, men, and children to flee their homes in the weeks and months that followed.
At events in cities in India and abroad to mark their exodus, Pandits pledged to return home. Cries of "hum wapas ayenge" (we will return) rent the air and #HumWapasAayenge has been trending on social media in recent weeks. However, 30 years after they were forced to flee their homes, the safe and dignified return of Pandits to the Kashmir Valley remains a distant dream.
Kashmiri Pandits or Kashmiri Brahmins are Hindus. A highly literate community, they were disproportionately represented in the Kashmir bureaucracy as well as in the teaching, legal, and medical professions, prompting resentment among other communities in the Valley, especially Muslims, who comprise over 95 percent of the population.
However, respect for the Pandits (many of whom were teachers) and a shared Kashmiri identity that held Pandits and Muslims together prevented differences from erupting into conflict. That changed in 1989-90.
Kashmir was in ferment. Militancy was gathering momentum and anti-India sentiments were running strong. In late 1989, Bharatiya Janata Party (BJP) leader Jia Lal Taploo and a retired judge, Neelkanth Ganjoo, were assassinated. It sent shock waves through the Pandit community. Although the pro-independence Jammu and Kashmir Liberation Front (JKLF) said the two men were killed because of their ties with the Indian state rather than their Pandit identity, the Pandits were not convinced.
Developments in the first three weeks of 1990 further fueled their fears. "It was evident that Kashmiri Muslims wanted us to leave the Valley," Ashok Dhar, who left Baramulla for Jammu on February 2, 1990, told The Diplomat. Pandits were given a choice: convert to Islam, leave the Valley, or perish. The Hizbul Mujahideen put up posters ordering all Hindus to leave the Valley and lists with names of Pandits to be eliminated were circulated, Dhar recalled. In mosques and mass rallies, people shouted inflammatory and anti-Pandit slogans. "They wanted sharia rule in Kashmir," Dhar said, adding that the Pandits "had no choice but to leave" their homes.
Matters came to a head on the night of January 19, 1990. With tensions peaking, hundreds of Pandit families began their journey out of the Valley. Their numbers would swell in the following months.
What happened in January 1990 is bitterly contested. Kashmiri Pandits maintain that they were driven out of the Valley by the Muslims. "Even our Muslim friends were caught up in the Islamist frenzy of that period," Dhar recalled.
Kashmiri Muslims disagree. They blame the then-Jammu and Kashmir governor, Jagmohan, for the Pandit exodus. Muslims argue that by arranging for buses to transport Pandits out of the Valley, Jagmohan facilitated their flight, paving the way for the Indian security forces to launch an all-out military offensive against Muslims.
Just around 600 Pandit families stayed in the Valley. While they were left unharmed for the most part, terror groups like the Lashkar-e-Taiba massacred Pandits at Sangrampora (1997), Wandhama (1998), and Nandimarg (2003).
As for those Pandits who left the Valley, many were put up in tented accommodation in camps in Jammu and New Delhi initially and subsequently in townships in these cities. Several moved to other cities in India and abroad, where they have done well professionally. Wherever they live, their memories of events in 1989-90 remain vivid as are their rather idyllic recollections of their lives before their flight from the Valley.
In the decades since the Pandit exodus, Kashmir has seen immense bloodshed. Tens of thousands of Kashmiris and Indian security personnel have lost their lives in the violence that engulfed the region. Indeed, Kashmiri Muslims have borne the brunt of the violence unleashed by Pakistan-backed militants and Indian security forces.
Much has changed in Jammu and Kashmir. A powerful anti-India militancy rattled the Indian state. It has waxed and waned over the years, as has public support for it. Anti-India sentiment has undergone changes not just in its intensity but the way it is articulated. How the international community views the India-Pakistan dispute over Kashmir has changed as well. Importantly, Jammu and Kashmir's status has changed. With the Indian government revoking Article 370 of the constitution in August 2019, Jammu and Kashmir has been deprived of its special status of limited autonomy.
Pandits have generally been in favor of Kashmir's closer integration with India. Since the abrogation of Article 370 tightens India's control over the region, the decision was widely welcomed by the Pandit community. Many Pandits celebrated the Indian government move as they believe it will pave the way for their return to the Valley.
Successive governments in New Delhi and Srinagar have attempted to draw displaced Pandits back to the Valley. They have announced resettlement packages promising financial support and jobs for those who returned. However, these offers have failed to elicit much of a response.
An important issue of concern is security. Pandits are apprehensive that they will be targeted by Islamists if they return home. The government should set up "self-contained townships exclusively for returning Pandits," Dhar says. Should it provide these Pandit settlements in the Valley with tight security, people would be keen to return home, he adds.
However, Kashmiri political parties and separatist organisations as well as Pandit groups have come out in strong opposition to such Pandit-only settlements. "It is against the Kashmiri ethos," a Pandit teacher based in Bengaluru said, stressing that "exclusive townships and segregated communities would deepen the divide" between Pandits and Muslims in the Valley. Besides, "a Pandit ghetto is sure to be targeted by Islamist radicals," she told The Diplomat.
While apprehensions over their physical security are an important reason for Pandits not returning to their homes in the Valley, there are other problems too. Many Pandits, especially the youth, feel little emotional or cultural connect to their Kashmiri heritage and homeland.
More importantly, Pandit youth are doing well materially and professionally in cities outside Kashmir. "There is little incentive for us to return to the Valley," says the Pandit teacher, drawing attention to the insecurity, lack of economic development and job prospects in Kashmir. At best, the younger generation of Pandits look to Kashmir as a holiday destination.
Thirty years after they fled their homes in the Valley, an older generation of Kashmiri Pandits continue to yearn for the lives they led before the exodus. They dream of returning to their old wooden homes surrounded by chinar trees and ringed by snow-capped mountains.
But that life of tranquility which they remember so fondly doesn't exist anymore in Kashmir.
Dr. Sudha Ramachandran is an independent journalist/researcher based in Bangalore, India. She writes on South Asian political and security issues.