India's Strategic Autonomy Does Not Mean Unilateralism
India's cooperation with Europe will prove crucial for solving the global challenges ahead.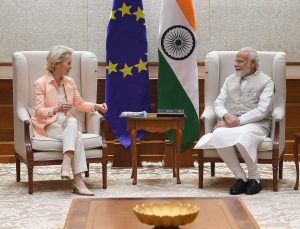 The ongoing war in Ukraine has triggered widespread condemnation and a chain of reactions, dramatically altering the international world order. It has also provoked the polarization of countries around the world against or in support of Russia.
India's response to the conflict has been unique for a global power. Although it abstained from voting for a United Nations Security Council resolution that condemning Russia's military action against Ukraine, it went on to highlight its deep concern over the rapidly deteriorating humanitarian crisis in Ukraine and expressed unease over Moscow's actions.
India emphasizes dialogue and diplomacy, and it has therefore urged Russia and Ukraine to return to the path of diplomacy. In addition, it has repeatedly called for "respect for the sovereignty and territorial integrity of states" and "for the immediate cessation of violence and hostilities." This balanced approach to the crisis is rooted in India's tradition of non-alignment, evoked by its first prime minister, Jawaharlal Nehru.
Despite India's engagement – it has sent 7,725 kilograms of essential medicines and medical equipment to Ukraine − many in the West accuse it of not being empathetic on this issue and failing to condemn human rights violations strongly enough, claiming that these contradict the country's fundamental foreign policy beliefs rooted in peace and non-violence. But as Minister of External Affairs S. Jaishankar has emphasized, India's foreign policy is not based on accepting the "construct" of siding with any power axis. Rather, India is "entitled to weigh its own interests and have its own side," especially due to the rise of authoritarian regimes in its neighborhood. India's best bet could be strategic autonomy in geopolitics.
But strategic autonomy does not mean unilateralism. The upended global order and the current geopolitical realities have reinforced the need to build strategic partnerships. The visit of Prime Minister Narendra Modi to Germany, Denmark, and France in May of this year indicated the government's intent to bolster partnerships and strengthen ties with like-minded allies in Europe. India and the European Union − both "unions of diversity" − share values of democracy, rule of law, and human rights. They are equally convinced of the necessity to preserve the rules-based international order and effective multilateralism. Each has an interest in the other's security, prosperity, and sustainable development. That is why the leaders of the EU and India have held multiple meetings and summits in the last two years, and released a roadmap to 2025 touching upon these areas of common interest.
The war in Ukraine and the strengthening of authoritarian states worldwide has led to rapid changes in the geopolitical environment. These developments have made India and the EU recognize the need for joint, in-depth strategic engagement. India's priority is to maintain its strategic autonomy, but at the same time it wants to converge with Europe. The continent's new strategic orientation toward India and its intent to enhance its maritime footprint in the Indo-Pacific have opened up the opportunity for an even more robust relationship. To tap the as yet untapped potential of India-EU relations, both sides need to urgently realign their supply chains in strategically important sectors, such as defense and energy, and try to gain a more nuanced understanding of each other's societies, politics, and cultures.
Germany is India's largest trading partner in the EU and, despite the pandemic, trade between them increased by 12 percent between April 2021 and March 2022. In addition, Modi and Germany's Chancellor Olaf Scholz have deepened ties and opened avenues in metro rail construction, the Ganges River conservation project known as Namami Gange, green transmission lines, smart cities, high-speed railways and solar rooftop projects. This realignment is expected to make Germany India's third-largest trading partner in the coming years.
As Europe seeks deeper engagement in the Indo-Pacific, a strong partnership with India will prove crucial. India and the EU, as the world's two largest democracies, can effectively work toward maintaining a rights-based global order. With the economic and political consequences of the Russia-Ukraine war and the aggressive rise of China, there is also a need for a powerful transatlantic alliance in the Indo-Pacific security framework. With growing economic competition, the impact of climate change and threats of cyber warfare, a coordinated global response − especially between India, the EU, and the United States – will be fundamental. Even if the response to the Russia-Ukraine conflict by India and the EU do not align, India and Europe will be essential for each other in the coming decade, especially in times of global polarization.
This opinion piece was first published in THE BERLIN PULSE, Körber Foundation's guide to German foreign policy. For more, please visit www.theberlinpulse.org