Indonesia Launches First Home-Grown COVID-19 Vaccine
The head of the state-owned firm Bio Farma says that the development of IndoVac will "help reduce the nation's dependency on imported vaccines."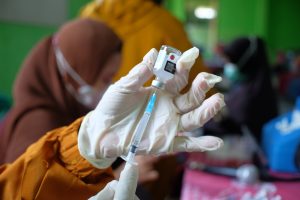 Indonesia's President Joko "Jokowi" Widodo has officially launched the country's first domestically-produced COVID-19 shot, marking an important milestone on the country's road to vaccine independence.
Presiding over a launch ceremony yesterday in Bandung, the capital of West Java, Jokowi announced that the IndoVac vaccine would help reduce Indonesia's dependence on imported vaccines.
"From now on, we can produce our own COVID-19 vaccine," Jokowi said during the ceremony, in which 15 non-vaccinated people were inoculated with IndoVac, according to The Associated Press. "And so we have independence in vaccine matters."
The IndoVac vaccine has been developed jointly by Indonesia's state-owned pharmaceutical company Bio Farma and the Baylor College of Medicine, an independent health sciences center in Houston, Texas. It has been in development since November 2021 and was approved for emergency use in adults last month, not long before the country's highest Islamic body affixed its halal stamp of approval to the vaccine.
During the ceremony, Jokowi said Bio Farma planned to produce 20 million doses of vaccine this year, but that this may increase to 120 million doses annually by 2024, depending on demand.
Indonesia has so far recorded close to 6.5 million confirmed cases of COVID-19 and an estimated 158,263 deaths, and has weathered serious waves of both its Delta and Omicron variants. The Delta wave peaked in July 2021 at around 56,700 daily new cases, while Omicron set a new high of over 63,900 new infections in February of this year.
The development of the IndoVac vaccine will allow Indonesia to renew its push to achieve widespread vaccine coverage. According to the Our World In Data COVID-19 vaccine tracker, 62.4 percent of Indonesia's population have received a complete initial vaccine protocol, while another 12 percent are only partly vaccinated. Late last month, Indonesia also became the first country to approve a Chinese home-grown mRNA COVID-19 vaccine for primary and booster use by adults.
The development of the IndoVac vaccine reflects the economic nationalism that has long had currency in Indonesian political culture. Bio Farma chief Honesti Basyir said last month that the new vaccines were intended to "help reduce the nation's dependency on imported vaccines." He added that 80 percent of the ingredients of IndoVac were locally-sourced.
This reliance on vaccine imports for its 273 million people has made Indonesia unusually outspoken about the global vaccine divide that emerged during the COVID-19 pandemic. "Nearly six billion doses of the vaccine have been administered globally but only about two percent have been administered in Africa as compared to nearly 80 percent in high- and middle-income countries," Foreign Minister Retno Marsudi told the 76th United Nations General Assembly in September 2021. "This demonstrates the deep inequality in the response to the COVID-19 pandemic."
Dr. Maria Elena Bottazzi of the Baylor College of Medicine said that the vaccine answered a need for a "safe, effective, low-cost vaccine for middle- to low-income countries that is central to the world's fight against the COVID-19 pandemic," according to the Houston Chronicle. She added, "Without widespread inoculation of populations in the developing world, which must include safe, effective booster doses, additional variants will develop, hindering the progress achieved by currently available vaccines in the United States and other Western countries."
In addition to reducing its own dependence on foreign vaccines, the vaccine could soon be exported to other parts of the Global South as production ramps up. Indonesia is already in talks with several African countries, including Nigeria, to export and donate shipments of IndoVac. But according to a Reuters report, the vaccine's export prospects may be limited, given the current oversupply of COVID-19 vaccines and the fact that IndoVac has not been developed to target the currently dominant Omicron variant and its various sub-strains.
Either way, Indonesia's development of the vaccine marks the end of the main phase of the pandemic and the opening of a new era in which the country will live with and manage the virus largely through its own efforts.