Thai PM Orders Gun, Drugs Crackdown After Daycare Center Massacre
The ghastly mass shooting in Nong Bua Lamphu Province has cast a light on the inadequacy of the country's current gun control regulations.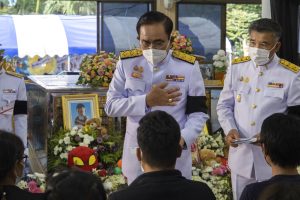 Thailand's Prime Minister Prayut Chan-o-cha has ordered the country's law enforcement agencies to tighten gun ownership rules and crack down on drug use, as the country struggles to process last week's mass killing in northeastern Thailand.
A total of 36 people, including 24 small children, were killed in a knife and gun rampage by an ex-policeman who forced his way into a daycare center in Uthai Sawan in Nong Bua Lamphu Province, around 500 kilometers northeast of Bangkok.
In a statement released yesterday and cited by Reuters, government spokesperson Anucha Burapachaisri said Prayut had ordered the authorities to crack down on illegal gun sales, weapons smuggling, and the use of illegal firearms. He has also asked government registrars to revoke the gun licenses of registered owners who have reportedly behaved in a way that "threatens society" and "creates chaos or causes unrest." Anucha added that the Thai leader had also requested that the authorities "step up testing for the use of illicit drugs among officials and communities, and step up treatment for addicts," in Reuters' paraphrase.
Last week's mass shooting was the most deadly since February 2020, when a disgruntled soldier killed at least 29 people and wounded 57 in a rampage in and around the northeastern Thai city of Nakhon Ratchasima.
Like that earlier rampage, the killings in Uthai Sawan have shone a light on Thailand's high rates of gun ownership and the inadequacy of its current firearm regulations.
While Thailand lags far behind the United States, it has one of the highest rates of gun ownership in Asia, with 15.1 weapons per 100 population compared to only 0.3 in Singapore and 0.25 in Japan, according to GunPolicy.org, an organization based at the University of Sydney. (By comparison, the U.S. has 120.5 per 100 people.)
One problem is that the country also has a large pool of unregistered firearms, and is home to a flourishing regional black market for firearms that flow back and forth across its borders with Myanmar, Laos, Cambodia, and Malaysia.
More pertinent to last week's tragedy is the fact that while civilians face many barriers to the purchase of firearms and severe penalties if they breach them, there are loopholes; there are no mental health or drug tests for gun purchasers, and many of the rules don't apply at all to members of the security forces. As the New York Times pointed out, last week's gunman, 34-year-old Panya Kamrab, used a 9-millimeter pistol that he obtained legally. The soldier who carried out the shootings in 2020 also owned five legally-registered guns, including three pistols, a shotgun, and a rifle, all of which he purchased under a "welfare gun" program run by the Royal Thai Army.
The fact that the killer was recently fired from the police force for possession of methamphetamine has also highlighted the country's worsening drug problem. For the past two decades, meth and other amphetamine-type stimulants have washed across Thailand. This has become particularly bad in the context of the COVID-19 pandemic and the turmoil that has raged in Myanmar since the military coup of February 2021.
As the United Nations Office on Drugs and Crime reported recently, the number of methamphetamine tablets seized in East and Southeast Asia exceeded a billion for the first time in 2021; total seizures that year were seven times higher than the amount seized 10 years earlier.
While the drug problem is in many ways transnational and structural, and beyond any quick solution by the Thai government, is at least theoretically possible to address the shortfalls in the country's gun laws. The 2020 killings in Nakhon Ratchasima prompted calls for Thailand to tighten its gun ownership regulations. But the urgency faded and the issue was moved onto the backburner amid the COVID-19 pandemic and a campaign of youth-led democracy protests that roiled the country in late 2020 and early 2021.
Whether Prayut's orders result in concrete improvements in the Thai government's approach to these challenges before the horror once again dulls remains to be seen – but if last week's ghastly killing doesn't prod the government toward reform, nothing will.