Understanding (and Managing) China's Economic Coercion
Insights from Max J. Zenglein.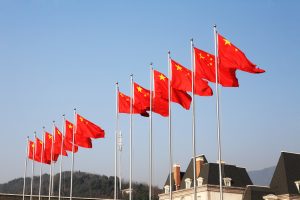 The Diplomat author Mercy Kuo regularly engages subject-matter experts, policy practitioners, and strategic thinkers across the globe for their diverse insights into U.S. Asia policy. This conversation with Dr. Max J. Zenglein  ̶  chief economist at the Mercator Institute for China Studies (MERICS) in Berlin and co-author of MERICS Report "Fasten Your Seatbelts: How to Manage China's Economic Coercion" (2022) – is the 340th in "The Trans-Pacific View Insight Series."
Explain how and why European businesses are the target of China's economic coercion.
Relations between the EU and China are increasingly marked by political differences and economic rivalry. In this context the use of economic coercion serves as a tool to safeguard China's interests and positions. It acts as powerful signal to both governments and business that there will be economic costs if actions are taken that Beijing deems undesirable. In some cases, companies are punished for their own actions, but they can also be caught in the crossfire of diplomatic tensions through no fault of their own.
As long as there is a fear of damage to economic interests, coercion can be very effective in keeping parties from crossing lines sensitive to China's interests. It has not prevented the EU from introducing new legislation, for example, on forced labor. But China might retaliate against companies once the law comes into effect to water down its implementation.
Identify the types of tools Beijing uses to implement economic coercion.
In our research we have identified six types of economic coercion. They include popular boycotts, trade and tourism restrictions, as well as the use of newly introduced defensive trade measures, such as the anti-foreign sanctions law. Administrative discrimination is another tool targeting foreign companies operating within China. Such measures include exclusion from public procurement or fines for alleged regulatory violations.
The combination of the informal nature of many Chinese measures and companies' fear of being affected means that the majority of cases remains invisible. But around 20 percent of the cases we identified were empty threats. In such instances, Beijing issues often vague warnings, which are not followed up with concrete action. For example, in the debate on whether or not to allow Chinese network equipment in 5G networks, the German automotive industry was threatened – without consequences. But even those empty threats can be effective in leveraging fear and uncertainty in policy debates related to China's interest.
What are China's red lines and triggers for economic retaliation?
The vast majority of economic coercion cases are triggered by issues related to national sovereignty and security. Most prominently this includes anything related to Taiwan, other territorial claims in the East and South China Seas, or human rights issues. But the lines are getting blurrier as China is more assertive in protecting its interests. The new red lines include perceived unfair treatment of Chinese companies overseas, such as restrictions against Chinese network providers, particularly Huawei. But companies have also been targeted for making donations to political parties that are accused by Beijing of pursuing anti-China policies and, as in the case of Australia over COVID-19's origins in 2020, began to push back against governments causing damage to its image.
Evaluate the divergent responses of European businesses to China's actions.
To navigate the new reality of economic coercion it is vital that companies assess their risk exposure. Companies of little strategic value for China's economic development goals are most prone to being targeted.        
Beijing's most common targets are consumer goods, commodities, and service sectors. Companies in these sectors need to face the uncomfortable fact that their China business is highly vulnerable. Companies can try to shield their business by aligning with the preferences of China's government, but this may cause backlash in Europe. Reducing the China exposure by diversification seems to be the most suitable response here. For foreign companies with higher economic relevance for China, including those providing needed technology, employment, and local tax revenue, it is a different story. Here, the key is to remain strategically relevant to prevent becoming a target.
Assess the long-term implications of China's coercive economic measures on doing business with China and examine the policy and commercial mechanisms European, U.S., and other like-minded governments can pursue to guard against China's actions.
The use of economic coercion is not a sign of a healthy relationship between trading partners. Beijing is banking on companies lobbying for its interests by using a carrot and stick approach. But it would be deeply worrying if foreign companies deem it safest to align themselves with China's positions and try to influence their governments' positions toward China. However, playing the economic coercion card too often will not serve China's economic interests and will diminish its effectiveness – in part because I suspect many of the threats will be bluffs or mostly symbolic.