Vietnam's UN Abstention Casts Doubt on Its Commitment to Principle
By refraining from condemning Russia's attempts to annex four regions of Ukraine, the country signaled its continued prioritization of national interests over moral principles.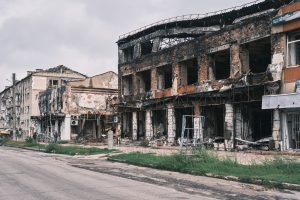 Russia's illegal annexation of four Ukrainian territories – Donetsk, Kherson, Luhansk, and Zaporizhzhia – have prompted widespread condemnations, with 143 members of the United Nations General Assembly (UNGA) voting in favor of a resolution castigating Russia's illegal referendum. Vietnam was among the 35 nations that chose to abstain, an action reminiscent of Hanoi's abstention on a previous UNGA resolution denouncing Russia's invasion of Ukraine. In April, Vietnam was among nine Asian countries that voted against suspending Russia from the U.N. Human Rights Council.
It is important to note that Vietnamese newspapers have refrained from mentioning Vietnam's vote of abstention, except for running briefings about Russia's attempted annexations, the overall result of the UNGA vote, and the remarks of Dang Hoang Giang, Vietnam's permanent representative to the U.N., about the ongoing crisis in Ukraine. The three popular domestic newspapers, Thanh Nien, Tuoi Tre, and VnExpress, deliberately avoided referring to Vietnam's abstention from the vote.
Vietnam's decision to abstain is perfectly legal but morally questionable. In his speech at this month's UNGA emergency special session on Ukraine, Giang underscored that Vietnam "understands the value of peace and opposes all behaviors that threaten and use of force to infringe on countries' independence, sovereignty, and territorial integrity." In May, in his address at the Centre for Strategic and International Studies in Washington, Vietnamese Prime Minister Pham Minh Chinh said that instead of picking sides, Vietnam "chooses justice, fairness and goodness, based on the principles of international law and the U.N. Charter."
These two statements have one thing in common: they highlight Vietnam's take on the significance of moral impulses in addressing differences and conflicts in international relations. With its abstention, Vietnam was prudent in balancing values and risk in its decision. At the cost of upsetting countries that called Russia's annexation of Ukraine illegal, Vietnam's move is aimed at avoiding criticism and potential retaliation from Moscow.
In word and deed, however, Vietnam has caught itself in a moral dilemma. On the one hand, Vietnam has underlined fundamental principles of international relations: that is, respect principles of international law, non-intervention in internal affairs, and not using force or threatening to use force in international relations. These principled commitments are in line with Vietnam's broader stance on international relations, as stated in the Defense White Paper published in November 2019. In essence, Vietnam's ways of addressing tensions in international affairs – for instance, its focus on international law and peaceful means of dispute resolution – are worthy of attention.
On the other hand, Vietnam has failed to meet its moral obligations when it comes to the defense of the principles of sovereignty and territorial integrity. By electing to maintain a neutral stance toward the Ukraine crisis, Vietnam seems to have equated a vote of abstention with neutrality. But embracing neutrality in the case of the Russia-Ukraine war and the attendant human rights violations shows a distinct lack of moral reasoning. It should be noted that the resolution, which highlights the importance of "sovereignty, political independence, and territorial integrity," was unequivocally consistent with the spirit of Giang's speech; the only difference is that the resolution mentions Ukraine and the Russian Federation by name. While Hanoi may have considered the resolution as purely symbolic, it calls into question its vow to adhere to "justice, fairness, and goodness" in international relations, making this seem hypocritical or merely a case of lip service.
International relations observers may find Vietnam's vote problematic or frustrating, as the country continues to talk the talk but has yet to walk the talk. The best answer to its behavior is that the country is privileging pragmatic considerations over moral reflection. This year marks the 10th anniversary of the Vietnam-Russia comprehensive strategic partnership, thus making Vietnam's condemnation of Russia's actions improbable.
In addition to the diplomatic bond, Vietnam also maintains robust economic ties with Russia, even if the trade volume remains modest. In the first eight months of 2022, the total two-way trade turnover between Russia and Vietnam reached only $2.48 billion. In September, both sides enhanced ties by launching new maritime and railway routes to facilitate the more direct and efficient flow of goods. A country with a maritime strategic orientation, Vietnam's national security is intrinsically linked with the South China Sea. And Russia, the largest arms provider and a primary investor in Vietnam's oil and gas sector, could continue to help the country enhance its maritime security and at the same time bolster Hanoi's status as Moscow's closest partner in Southeast Asia.
Given its "strong-established links to Russia," especially in terms of diplomacy, defense, and the economy, it is unlikely that Vietnam will walk back its position on the Russia-Ukraine war, a phrase that Vietnam's media outlets even avoid using, instead referring to the invasion as Russia does, as a "special military operation." The vote for abstention has demonstrated that Vietnam has doubled down on its position toward the Ukraine war, thus leaving Russia with no doubt about Hanoi switching position vis-à-vis Moscow.
But countries voting against Russia's illegal annexation may think twice when considering forging or deepening ties with Vietnam. It is uncertain whether these countries, especially Western ones, will view Vietnam as a trusted or (to a lesser extent) like-minded partner in addressing other conflicts. While being consistent in its voting pattern, Vietnamese leaders could potentially face the challenge of gathering global support in the event that China one day uses force against their own country. This possibility is perilous, especially when Beijing could take advantage of the Ukraine crisis to step up aggressive actions to occupy islands or features in the South China Sea over which Hanoi claims sovereignty.
Whatever international tension its stance on Ukraine has created, Vietnam will continue to value national sovereignty and diplomatic means to address conflicts, even if it does not come close to condemning Russia outright. Despite valuing territorial integrity and other principles, Vietnam will likely continue to avoid being entangled in great power politics. The nation's abstention is contentious, but it could help Vietnam avoid being embroiled in the conflict. In a nutshell, by choosing pragmatism over moral principle, Vietnam not only exposes its neutral power in global diplomacy but also signifies that the country is taking a detour on the road toward values and principles.
This article reflects only the views of the author and not his affiliated institutions.