With Pakistan, America is Back Between a Rock and a Hard Place
Given India's inability and unwillingness to counter China on matters of strategic importance to the US, Biden is now reaching out to Pakistan on at least a limited scale.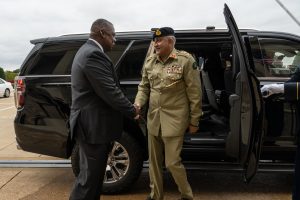 America's tempestuous relationship with Pakistan is back on a seesaw. Last month, Washington gave Pakistan a $450 million package to sustain and upgrade its F-16 fighter jet fleet.
But only weeks later, U.S. President Joe Biden revealed what he really felt about Pakistan. "Maybe one of the most dangerous nations in the world: Pakistan," Biden said in a largely unscripted and extemporaneous speech. "Nuclear weapons without any cohesion."
That statement was later diluted by his administration, which said that it is confident that Pakistan can secure its nuclear arsenal.
For India, this sequence of events brings an eerie sense of déjà vu. For the most part of this century, India has tried to wean the U.S. away from its Cold War era partnership with Pakistan — positioning itself as a more reliable strategic alternative. That foreign policy campaign was predicated on shared values and India's potential as a democratic counterweight to China — attributes that many in both New Delhi and Washington have long argued Pakistan does not possess.
In his own reaction, India's foreign minister, Subrahmanyam Jaishankar, reiterated that philosophy. "Very honestly, it is a relationship that has ended up serving neither Pakistan nor serving American interests well," he said.
But Washington's latest aid package to Pakistan appears to be a tacit admission that there are limits to this realignment. For starters, America is increasingly anxious about keeping Pakistan out of China's orbit — or at least making that relationship more difficult.
In recent months and years, China has sought to exploit America's strategic woes in order to build a corridor of influence from Pakistan to Afghanistan and onward into Iran and the Middle East. In that context, Pakistan is an important gateway into both the Indian Ocean and the Middle East. At the United Nations, China has continued to support Pakistan's causes on Kashmir and other matters. Earlier this year, China's foreign minister, Wang Yi, brought together his counterparts from Pakistan and the Taliban regime to strengthen Beijing's Belt and Road Initiative (BRI) in those two countries.
Yet, as China's own economy flounders amidst President Xi Jinping's zero-COVID policy, domestic restructuring and tiffs with the West — and Pakistan's economy continues to struggle under crippling debt and climate change — that partnership has been tested. In the first half of this year, funding for BRI projects in Pakistan fell by as much as 56 percent, according to China's Ministry of Commerce.
Washington now sees a strategic opportunity to insert itself into this vacuum. And that opportunity has been made all the more alluring by the fact that Biden is grappling with ever-widening differences with India.
For years now, as India's democracy has deteriorated along multiple parameters, the shared values long touted by Washington and New Delhi have been considerably strained. But even as a strategic partner, New Delhi has often been a laggard.
In Ukraine, India has remained on the fence, citing its historic defense partnership with Russia as a significant constraint. But even on matters concerning China, where India has far more of an incentive to vote with the U.S. and much less to lose, New Delhi has stayed on the fence. At the UN Human Rights Council in Geneva this month, for instance, the U.S. proposed a draft resolution to debate China's human rights abuses in Xinjiang. India abstained, alongside many of China's BRI partners, and the resolution was ultimately defeated.
India has similarly maintained a studied silence on tensions surrounding Taiwan, even as Xi has raised the stakes with both rhetoric and intimidation in the seas.
Given India's inability and unwillingness to counter China on matters of strategic importance to the U.S., Biden now finds himself in a difficult spot — having to hedge his bets by reaching out to Pakistan on at least a limited scale. America's relationship with Pakistan may never rescale the heights of the Cold War era. But for as long as New Delhi plays a limited role as a strategic ally — and the allure of shared values vanes — Washington might believe that it has no choice but to strike a balance between India and Pakistan.