Can India Rein In Putin's Worst Impulses in Ukraine?
It is hard to see how India can influence the Russian president, given its military and economic dependence on his country.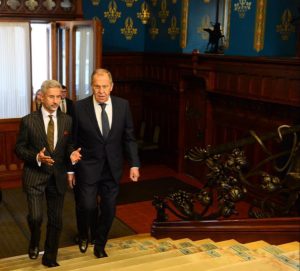 Ahead of Indian Foreign Minister Subrahmanyam Jaishankar's visit to Moscow this week, Russian President Vladimir Putin was engaged in a significant but welcome flip-flop in Ukraine.
Late last month, Putin accused Ukraine of attacking Russia's naval fleet and suspended a deal that allowed Ukrainian grain to transit through the Black Sea. But four days later, Putin backtracked on that threat and said that the deal was back on.
Putin's excuse was that he had received assurances from Ukraine that it won't use the grain corridor to attack Russian forces. But in a provocative and insightful essay for the Washington Post, military historian Max Boot argued that the U-turn might have been provoked by diplomacy from unlikely quarters. "It looks as though Putin buckled to pressure from Turkey and, more broadly, from developing nations that rely on Ukrainian grain to feed their people," he wrote. "Putin didn't want to risk the opprobrium that he would face from sinking cargo ships carrying grain to feed some of the world's poorest people."
Boot pointed out that Russia's burgeoning ties with countries like India, China and Turkey could, in that sense, rein in Putin's worst impulses – whether starving millions to death or setting off nuclear weapons. "Those countries have a lot of leverage with Russia," he wrote.
It's not yet clear what role India has played so far in reining Russia in. At the Shanghai Cooperation Organization this September, India's Prime Minister Narendra Modi appeared to castigate Putin when he told him that "today's era is not an era of war." In Moscow this week, Jaishankar echoed that statement and also brought up the issue of grain and fertilizer shipments from Ukraine. "The Global South, especially, is feeling this pain very acutely," Jaishankar said of the war's impact.
It's well possible that stronger words have been used privately. But as the war continues to devolve and Russian hardliners rattle the saber at home, India will perhaps have to deliberate on where it should draw the line on Russia's aggression.
So far, India has remained steadfastly neutral and stoic through copious reports of Russian war crimes in Ukraine, including the massacre in Bucha earlier this year. But with each passing month, leverage seems to flow both ways.
Before the invasion, Russia was already a key military partner to New Delhi. Now, it is also an important economic partner with a significant trade imbalance in its favor. Bilateral trade is reported to have gone up by a whopping 310 percent since the invasion – the biggest increase among any of Russia's major trade partners. Yet, India's exports to Russia have fallen by 19 percent while imports have soared 430 percent. More importantly, Russia now accounts for a record 23 percent of India's oil imports, up from a share of just 2 percent before the invasion.
This year, as the West tightened financial sanctions on Moscow, Russia became the first country to initiate rupee-based trade with India through a special Vostro account. It also now accounts for India's highest trade deficit – over $20 billion, second only to China.
For New Delhi, these economic factors are not easy to discount, no matter what Putin does in Ukraine. Last month, the International Monetary Fund downgraded India's expected economic growth for this year and the next, citing "weakening of external demand and a tightening of monetary and financial conditions." Meanwhile, large parts of the Indian economy also show signs of weak domestic demand and confidence in the aftermath of the pandemic.
These dynamics were visible in Moscow during Jaishankar's visit this week. On his trip, the Indian foreign minister took with him a sizable contingent, comprising officials responsible for everything from agriculture, petroleum and ports, to chemicals, fertilizers and finance.
When asked about India's continued import of oil from Russia, Jaishankar candidly conceded that New Delhi has little wiggle room or leverage on the matter. "[As] the world's third largest consumer of oil and gas – a consumer where the levels of income are not very high – it is our fundamental obligation to ensure that the Indian consumer has the best possible access on the most advantageous terms to international markets," he said.
For months, analysts across the West have been hoping that India would mediate purposefully in Ukraine or at least use its relationship with Putin to rein him in. But as the invasion has gone on, it's becoming increasingly unclear how New Delhi can ever do that.