Commemorative ASEAN Summit Watches Cost $500,000, Cambodian PM Says
Hun Sen commissioned the 25 luxury tourbillon watches in order to showcase his country's "scientific and technical progress."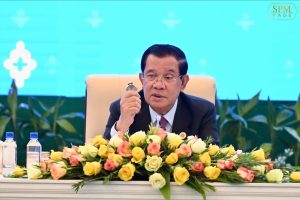 When visiting dignitaries flew out of Phnom Penh International Airport after last week's Association of Southeast Asian Nations (ASEAN) summit and related meetings, 24 of them carried in their luggage a gift from the country's Prime Minister Hun Sen: a limited edition luxury tourbillon watch bearing the engraving "Made in Cambodia."
Speaking at a press conference marking the conclusion of the summits on Sunday, Hun Sen said that he had commissioned 25 of the commemorative watches before the summit. As Radio Free Asia (RFA) reported, he brandished one of them before reporters, admitting that they cost around $20,000 each to produce.
Far from seeming embarrassed by the gap between the outrageously expensive curios and the economic reality facing many of his countrymen – a point made by Hun Sen's critics – the Cambodian leader defended the decision to spend half a million dollars on the watches, claiming that they showcased his country's "scientific and technical progress."
The timepieces were meant to show the world what "Khmers can do," he said. "We want to show Cambodia's ability to produce watches."
Hun Sen knows of what he speaks. As VICE News detailed in a 2020 story, Hun Sen has amassed a collection of luxury watches including a Patek Philippe Sky Moon Tourbillon "with a hand-engraved white gold bezel and blue leather strap" ($1.2 million) and a "rare limited edition Richard Mille Tourbillion Sapphire Dragon," worth some $950,000. RFA estimates the value of Hun Sen's watch collection to be around $13 million.
Like many of the items in Hun Sen's personal collection, each of the 25 commemorative ASEAN timepieces is distinguished by its tourbillon (French for "whirlwind"), an intricate mechanism designed to counter the effect of gravity on the watch's internal workings.
According to RFA, Hun Sen commissioned the watches from Prince Group, one of the country's fastest-growing companies. The conglomerate is headed by Chen Zhi, a Chinese national and naturalized Cambodian citizen who has shot out of obscurity over the past five years to become one of the country's most prominent businesspeople.
Since gaining Cambodian citizenship in 2014, Chen and his firms have invested more than $1 billion in corporate ventures across Cambodia, from real estate to banking. In July 2020, King Norodom Sihamoni granted Chen the title oknha, an honorific that is granted to the most generous benefactors of Hun Sen's Cambodian People's Party (CPP).
Chen is one of a crop of Chinese businesspeople who have established intimate relations with the Cambodian elite as bilateral relations between Beijing and Phnom Penh have grown closer and more entwined over the past 15 years.
Hun Sen's trumpeting of the commemorative watches thus encapsulate several themes – national pride, close relations with China, and the dissonant flaunting of wealth – that have become keynotes of his long reign. It was thus an entirely characteristic sign-off for the leader's third, and likely final, spell as ASEAN chair, after previously chairing the bloc in 2002 and 2012.
At his press conference on Sunday, Hun Sen said that he would wear his commemorative watch to future ASEAN meetings and noted that some of the bloc's leaders were sporting theirs before departing the country.
"I'm sure my grandkids will demand this watch from me," he said, according to RFA. "But I will not give it to them because it is a souvenir of my third ASEAN Chairmanship."