Germany's Quietly Growing Relations With Japan
While the whole world is talking about Chancellor Scholz's controversial visit to China, Germany's ties with Japan are growing quietly but significantly.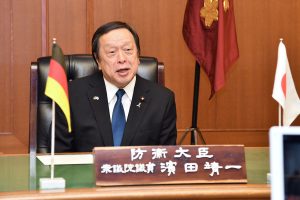 Three days before German Chancellor Olaf Scholz's controversial visit to China on November 4, German President Frank-Walter Steinmeier met Japanese Prime Minister Kishida Fumio in Tokyo. At the meeting, the two sides agreed to strengthen their cooperation on a wide range of issues including sanction against Russia, economic security, nuclear disarmament and non-proliferation, reform of the United Nations Security Council, and climate change. The two leaders also expressed their common concerns about unilateral attempts to change the status quo in the East and South China Seas by force. In an interview afterwards, Steinmeier called Japan an important partner sharing a wide range of interests and common values despite being geographically distant.
Germany's Growing Relations With Japan
The German president's visit is only one indication of the recent development of Germany's ties with Japan. An interesting comparison can show how Germany's relations with Japan are shifting: In the policy guidelines on the Indo-Pacific region adopted by the German government in 2020, the word "China" appears 62 times while "Japan" only 28 times in the 68-page document. However, in the "Progress report on the implementation of the Federal Government policy guidelines for the Indo-Pacific in 2022" issued two years later, "China" appears only twice while "Japan" is mentioned 10 times in the 11-page document.
The only achievements related to China mentioned in the progress report are two movements in agricultural cooperation. By contrast, Germany's cooperation progress with Japan in various fields – including digital transformation, tackling climate change, joint military exercises, high-level visits and strengthening multilateralism – are recorded in the document. While China was a vital factor for Germany to take account of when making its policy guidelines for the Indo-Pacific, Japan became the partner that really played a role in the process of the guidelines' implementation.
The growing Germany-Japan relationship is characterized by two trends. The first trend is the increase of high-level communication. Three high-level German governmental officials – the president, chancellor, and foreign minister – have made official visits to Japan so far this year. In the cases of Chancellor Scholz and German Foreign Minister Annalena Baerbock, Japan was chosen as a destination on their first trip to Asia. Other high-level communication channels such as the Japan-Germany Foreign and Defense Ministers' Meeting ("2+2") and inter-governmental consultations by the prime ministers and cabinet ministers are also in operation or in preparation.
The second trend is the expansion of areas of cooperation. While Germany and Japan have been intensifying their bilateral cooperation in the field of economy and trade, their security cooperation has also been growing. Baerbock spoke of seeking the two countries' stronger defense ties in the Indo-Pacific region.
In the field of traditional security, the two countries signed the agreement on the security of information in 2021, and on November 3 this year they agreed to coordinate to start negotiations on an acquisition and cross-servicing agreement (ACSA). In November 2021, German Navy frigate Bayern docked in Tokyo as the first German warship visiting Japan in 20 years and conducted a series of exercises with Japan's Maritime Self-Defense Force. In the field of non-traditional security such as cybersecurity and climate change, the sixth Germany-Japan ICT Policy Dialogue was held in March this year to share information about promoting the development of 5G, R&D projects in 6G, and security measures, and the German government has supported materials and propulsion research for marine transport with institutions in Japan.
Reasons Behind the Convergence
Several factors at different levels have contributed to the growing relationship. The first factor, which is at the international level, is the increasingly controversial and difficult China-Germany relationship. Chinese state company COSCO's plan to obtain a controlling stake in a Hamburg port terminal caused concerns from multiple ministries in the German government, as well as from the United States, over possible Chinese influence over European critical infrastructure. EU firms' business plans in the Chinese market are hindered by China's "zero-COVID" policy and long-standing restrictions on foreign investment. The growing political divergence between Germany and China has caused fierce responses from Beijing: ahead of Scholz's visit to China in November, China warned the German side not to use the visit to "interfere China's domestic affairs" such as Xinjiang-related issues.
These facts have led to Germany's more frequent interactions with Japan. In German officials' view, Japan is an "role model" demonstrating how to deal with China correctly. German President Steinmeier said that Germany should learn from Japan because Tokyo has intelligently balanced its economic ties, political differences, and security challenges in its relationship with China. Baerbock also told reporters at the G-7 Foreign Ministers' Meeting this year that Japan had repeatedly pointed out that China should be treated not only as a partner, but also a competitor and even a rival.
The second factor, which is at the bilateral level, is Japan's issue-linkage strategy. Since the time of Abe Shinzo's administration, Tokyo has been linking security challenges in Europe and in East Asia together to make European partners pay more attention to Japan. At Kishida's meeting with Scholz in April this year, after stating Japan's ongoing cooperation with Germany to impose severe sanction on Russia, the Japanese prime minister also reminded his German counterpart the security of Europe was "inseparable" from the security in Indo-Pacific. Three months later, a German foreign minister's statement stated that Germany can "rely 100 percent on Japan" in the Indo-Pacific because Tokyo has demonstrated it clearly in the face of Russia's war against Ukraine. This shows that Japan's communication strategy has indeed played a role in bringing Berlin closer to Tokyo.
The third factor is at Germany's domestic level, namely the increase of domestic support for a value-based foreign policy. The prevailing domestic preference for strengthening ties with partners with shared values has made Japan an ideal partner candidate. With the Greens and FDP's participation in the ruling coalition, more tough words on human rights are written in Germany's coalition agreement.
While it is a well-known fact that Baerbock and her Greens party strongly support the value-based foreign policy, it should be noticed that their policy preferences are also firmly backed by German voters. According to a poll conducted by Infratest-Dimap in November 2022, 90 percent of Germans call on the federal government to make Germany more economically independent of non-democratic countries in general. In the same poll, only 9 percent of the interviewees view China as a trustworthy partner; Baerbock and her party colleague, Vice Chancellor Robert Habeck, are the politicians viewed most favorably in the eyes of German population. Most German citizens now prioritize Germany's cooperation with partners that share democratic values – such as Japan – over economic ties with non-democratic countries.
Future Challenges
Although the two countries are growing closer to each other, three factors may potentially bring challenges to developing Germany-Japan relations. The first factor is China's behavior. Facing Scholz's demands for Beijing to use its "influence" on Moscow amid the Russian war against Ukraine and his interest in continuing economic cooperation with China, Beijing may ask Germany not to get too close to Japan on some issues such as human rights and territorial disputes, in return for responding – at least partially – to Germany's demands.
The second factor is Japan's future policy. For now, Japan is still importing energy from Russia and has not joined the sanctions imposed on China by the European Union and the United States over Xinjiang. If Japan does not have enough resolution to change its existing policy, Germany-Japan relations' value base might be questioned soon.
The third factor is Germany's shifting policy for the Indo-Pacific. While its policy guidelines issued in 2019 emphasized the importance of closing ranks with "democracies and partners with shared values in the region," the German government stated in September 2022 that the government's offers of cooperation are "extended to all partners in the region that are committed to the principles of the rules-based order." The dilution of the criteria for partners, with less emphasis on shared values and democratic institutions, may result in Germany's increasing outreach to a wider range of countries in the region. Japan's priority in Germany's foreign policy to Asia may thus decrease.
In sum, Germany's relations with Japan are growing quietly but significantly because of international, bilateral, and domestic factors. Potential challenges to the bilateral relations from China as well as from the two countries themselves still exist, however. How long the upward momentum can continue remains to be seen.