Nepalis Feel the Human Toll of Qatar's World Cup
Far from demanding accountability from Qatar, South Asian governments have often been mute spectators to the plight of workers and their families at home.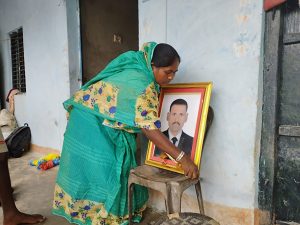 Twenty-four-year old Tej Narayan Tharu dreamt of buying a small plot of land and building a concrete house using his earnings  as a scaffolder in a football stadium being built for the FIFA World Cup Qatar 2022. Born to a poor landless family of peasants in Morang, in Nepal's eastern lowland bordering India, Tharu did not want his 4-year-old daughter to grow up in a mud hut or cut short her education due to financial problems like he did.
Tharu died long before he could see his dreams turn into a reality, using the "blood money" that Qatar paid his family as compensation.
Tharu's family now lives in a cement building and owns a small plot of agricultural land where they grow paddy and corn. Samiksha, his daughter, studies in a private school. Renuka Chaudhary, Tharu's wife, has cleared off the debt acquired during Tharu's visa processing.
Qatar paid the family around 200,000 Qatari riyals (around $55,000) after Tharu fell to his death while working at Al Wakrah stadium (now Al Janoub Stadium) in 2018, legal documents show. The death report cites "Multiple Trauma Fall from height" as the cause of death.
"We now have a cemented roof above our head, but nothing will be enough to reimburse what we have lost. All these things are meaningless without him," said Chaudhary.
Nirmala Pakhrin, another widow of a Qatar stadium worker, didn't even receive that cold compensation. Pakhrin has been going from pillar to post seeking "justice and dignified compensation" after her husband, Rup Chandra Rumba, died while working as a scaffolder in the Education City.  The medical report states that Rumba, who was then 27, died of "acute cardiorespiratory failure due to natural causes."
"It boils my heart to think how they ignored us after my husband's death. I have done everything I could," Pakhrin said.
Unlike Chaudhary, Pakhrin only received around 7,000 Qatari riyals in a "good faith settlement" from Qatar, an amount barely enough to pay for two years' of her son's school expenses. In a letter, Hassan Al Thawadi, the head of Qatar's Supreme Committee overseeing World Cup infrastructure projects, told her that she was not eligible for proper compensation because her husband had worked less than a year.
However, she received relief from the Foreign Employment Welfare Fund, a fund created through the mandatory contributions of workers. She also benefited from a life insurance policy her husband had bought before going to work in Qatar, which she used to pay off the family debt and buy land to build a house.
Pakhrin currently works as a daily wage labor to meet the family's day-to-day needs.
"Sometimes I feel it would be better if the World Cup gets canceled. I have talked to the media, made attempts to talk to the company and Qatari authorities but nothing has happened," Pakhrin said.
Stories like these echo across the hills and plains of Nepal, a country which has an estimated 400,000 citizens working in Qatar, and across the border in India and other South Asian countries, which are among the major suppliers of cheap, unskilled laborers to the oil-rich emirate.
Qatar has never been transparent with numbers, but Amnesty International cites Qatar's official statistics to show that as many as 15,021 non Qataris died between 2010 to 2019 (Qatar was awarded the World Cup in December 2010). According to Nepal's Foreign Employment Board, at least 1,700 Nepalis have died in Qatar since 2010.
For many years now, foreign media have extensively highlighted Qatar's systematic exploitation of workers through Kafala, the now-modified sponsorship system in which a worker's mobility is tied to their employer. Human rights groups have documented hundreds of cases of workers being forced to overwork in heat for little or no pay. At times workers were forced to surrender their passports and even faced mistreatment and violence at the hands of employers.
But none of the labor-sending countries in South Asia have publicly condemned Qatar or demanded any accountability at bilateral or multilateral forums.
"The current situation is that governments like Nepal are so economically dependent on remittances that they feel they can't be assertive on rights issues, and the people who pay for that are Nepali workers and their families," said Nicholas McGeehan, director of FairSquare Research and Projects, a U.K.-based organization that focuses on migrant issues.
"For far too long the Gulf states have exploited the economic weakness of the countries that supply them with workers, playing each off against the other and driving wages and protection down," he added. "Bilateral and multilateral forums have made little meaningful progress and enable the Gulf states to make claims of engagement, while retaining a deeply harmful and abusive status quo."
McGeehan does see a road forward, however: "The solution has to be at a regional level and South Asian states have to act in unison and use their collective bargaining power. If they do so, they will see wages and protections increase, because the Gulf states cannot function without South Asian workers."
Despite being a region whose economies rely heavily on remittances sent by the migrant workforce, South Asia has historically kept migrants' issues at the bottom of its priority list. There are hardly any villages that haven't lost members or had someone return with physical injuries or mental scars of exploitation and abuse in the Gulf. Far from demanding accountability from Qatar and other labor-receiving governments in the Gulf, South Asian governments have often been mute spectators to the hardships and agonies of workers and their families at home. At times, these countries have also aided and abetted the exploitation and discrimination meted out on workers by letting recruitment agencies make profit out of workers' miseries.
"Because migrants can't take part in the elections, their issues seldom get priority. The situation is more or less similar elsewhere in the region," said Ganesh Gurung, an expert on labor and employment.
With both their home government and the labor-receiving country turning blind eyes to their plight, workers and their families have been forced to blame their own fate for their loss and hardship.
Since her husband's death in 2018, Koshila Mukhiya hasn't been able to reconcile herself to her loss. Ramsis was planning to save money, return home, and live the rest of his life with his wife, children, and grandchildren. Ramsis, 52, died in his sleep at his labor camp at Al Wakrah Stadium, his family and friends say. The death certificate cites "acute heart failure due to natural causes, natural death," an obscure reason used to explain a large number of worker deaths. Ramsis, a construction laborer, never had any health issues but would sometimes talk about the excessive heat in Qatar, his family says.  Some studies have shown that excessive heat could be one major reason behind the high number of deaths in the Gulf.
"My life has become miserable since his death," Koshila said, "God is the only witness to what I have been suffering."
Overseas employment has long remained the first choice Nepalis who can afford the visa processing fees and air tickets. Nepal, one of the poorest countries in the world, doesn't have many industries to absorb the nearly half a million people who enter the job market every year.  There is reluctance among youth to take on available jobs in the agriculture or service industry due to low pay and lack of social security. More importantly, almost every village has success stories about families known to have transformed their life through overseas employment. These examples lure new batches of workers.
Ramsis, like Tharu and Rumba, was driven by similar dreams of transforming his life and the lives of his family members through overseas work.
Before going to Qatar, Ramsis had worked in Malaysia and the United Arab Emirates as an unskilled laborer, according to government records. He would also work as a seasonal laborer in various cities of Nepal and neighboring India. Each time, he borrowed heavily from moneylenders to pay hefty fees to recruitment agencies and fund expenses for visa processing, pre-departure health screening, and orientation required for overseas jobs.
"Our family didn't have enough land. That's why he would keep moving in search of jobs," said Koshila.
Koshila, who looked after the family and children in her husband's absence, was hoping to retire soon and spend the rest of her life together with her husband.
"I recall all the moments spent together. He had never hit me or got angry with me. Our dreams to spend life together have gone forever," said Koshila.
As the FIFA World Cup inches closer, Qatar, one of the richest countries on the planet, has been making full use of its vast PR machinery to cover up the dark stories buried beneath its spectacular World Cup infrastructure. It has been spending billions in soliciting favorable views of footballers, influencers, media, and FIFA officials. Rather than mounting pressure on Qatar to provide redress to distressed families, Qatar's supporters have been lauding the tiny nation for proving skeptics were wrong in their initial doubts about its ability to host the World Cup through its successful completion of vast construction projects.
According to McGeehan, FIFA has repeatedly abdicated all responsibility for all the harms and abuses associated with the Qatar World Cup. "FIFA will stand up for the state of Qatar and praise its efforts, irrespective of how Qatar treats migrant workers and irrespective of how many it deports. FIFA, under the reign of Gianni Infantino, has carried on from where Sepp Blatter left off – it cares about profit and power and it doesn't care who gets trampled underfoot," said McGeehan.
Such tendencies have only emboldened Qatar to perpetuate more harms on workers ahead of the World Cup. In recent months, Qatar has expelled hundreds of workers from the country.
Ramesh Thapa, a worker of Al Bandary Engineering in Qatar, was deported along with hundreds of fellow workers in July this year after they refused to work over delayed salaries. He alleged that Qatari authorities even prevented him from bringing his luggage home.
"We were told that the luggage would be sent on the next flight, but I have yet to receive it. There are around 2,000 riyals worth of goods in that luggage I bought to give to my family members," said Thapa.
Qatar began deporting workers much earlier. Shankar Tamang, who worked for 14 years in Qatar, was deported during the height of the COVID-19 pandemic, allegedly for going to the grocery store during lockdown.
"We were treated like animals," said Tamang, a driver working at a World Cup stadium in Al Khor.
Qatari officials weren't available for comment, while Nepali officials acknowledged the deportation of some workers.
Dwarika Upreti, chief of the Foreign Employment Board, a government body formed for the welfare of Nepali migrants workers and families, admits that there are problems and said that Nepal was talking with Qatar to establish a joint mechanism to address problems concerning workers.
"We are seriously raising these issues and there has been positive response from Qatar and other countries to work together to address various problems facing our workers," said Upreti.
As Chaudhary sat with us for an interview one recent morning, her eyes repeatedly landed on a dark corner of her dimly lit room, where she keeps a framed photo of her husband alongside the Hindu deities. Whenever she misses the man she loved, she looks at the photo and his last remaining effects, like the passport she received after Tharu's death.
"It's difficult to tell how much I miss him," Chaudhary said.
Chaudhary, who has already spent all the compensation from Qatar in paying off the family debt, and buying land and their new house, now brews homemade liquor and sells it in the local market to meet the family's daily expenses and pay Samiksha's tuition fees.
"I wouldn't have to go through these hardships if my husband was still alive. My daughter wouldn't have to grow without her father," she said.
Chaudhary is grateful to Qatar for the monetary help, which she says helped her start a life from scratch, but also disappointed. She believes the Qatari government is failing to tell the truth behind her husband's death.
Tharu's colleagues had told her that he died due to the company's negligence and compromised safety standards, she said. No one from Qatar has contacted her in the last four years.
"They have totally forgotten us. It was as if their obligations to us ended with that money. Nobody has ever contacted us to know our situation."