Thai PM Could Jump to New Party Ahead of 2023 Election
Prayut Chan-o-cha is being courted by the newly formed Ruam Thai Sang Chart party, which was founded last year by one of his advisors.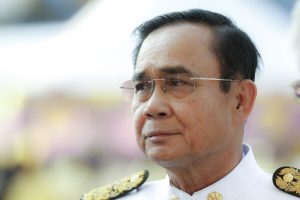 Thailand's Prime Minister Prayut Chan-o-cha is being courted to join a newly established political party and "remake" his image ahead of next year's general elections, according to local media reports. Citing an unnamed party source, the Bangkok Post reported today that Prayut would join the new Ruam Thai Sang Chart Party after the conclusion of next week's Asia-Pacific Economic Cooperation (APEC) summit.
"We are confident the prime minister will join the party after the conclusion of APEC," the source told the Post, adding that it was making efforts to approach Prayut.
The source said that the change of party would allow Prayut to shed the military image that has clung to him since he led the military coup in 2014 and ruled for five years as an unelected leader of a military junta. "His military image will take a back seat to his prominent role as a politician," they said. "We are also confident the party's popularity will increase if he joins us."
The source also predicted that Prayut could be followed out the door by other MPs from the ruling, military-backed Palang Pracharath Party (PPRP).
Were Prayut to make the jump, it wouldn't represent much of a political shift. Ruam Thai Sang Chart – its title translates to "Uniting Thais to Build the Nation" – was founded last year by Pirapan Salirathawipak, a former MP for the Democrat Party who is also a current advisor to Prayut. In a recent article in the journal Southeast Asian Affairs, Paul Chambers of Naresuan University described Ruam Thai Sang Chart as a "backup party" for the PPRP.
It will almost certainly seek to line up with the PPRP in any coalition government formed after the general election, which has been tentatively scheduled for May 17, 2023, though Prayut could also call it earlier.
Whether or not it eventuates, the mooted defection is a sign of the high level of internal divisions within the PPRP. While not a member of the party, Prayut was elected prime minister under its banner at the last general election in 2019. However, it is currently unclear whether the party will retain him as its prime ministerial candidate in next year's election. The PPRP's leader, Deputy Prime Minister Prawit Wongsuwon, said earlier this week that he would not try to stop Prayut from leaving the PPRP, and taking some of its 94 MPs with him, should he wish to do so.
The possible shift of parties also reflects the current fluid state of Thai politics. Ruam Thai Sang Chart is one of a host of new parties that have mushroomed up over the past couple of years, many of them led by familiar political figures. As Punchada Sirivunabood of Mahidol University explained in these pages last week, recent changes to Thai electoral laws, which introduced a two-ballot system, have meant that "many prominent politicians have seen greater benefits in establishing a new political party rather than switching to an existing party."
"Disappointed by their former parties, these politicians have sought new fortunes elsewhere, hoping their new parties might join in a coalition government," she added.
Whether hopping to another party would do much to alter Prayut's political fortunes remains to be seen. The Thai leader is far from popular; in January, The Diplomat columnist Tita Sanglee wrote that his popularity was "plunging toward rock bottom" amid the country's economic downturn. It is also unclear worth asking whether, if Prayut has failed to shrug off his gruff military image during his eight years in power is he capable of doing so at all.