The US Must Help Bring Democracy Back to Cambodia
During his visit to Phnom Penh this week, U.S. President Joe Biden must hold Prime Minister Hun Sen accountable for the country's steep democratic decline.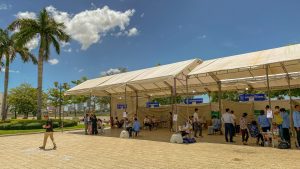 President Biden will visit Cambodia in the coming days, to attend this year's summit for the Association of Southeast Asian Nations (ASEAN).
As a proud Cambodian and someone actively involved in the process of signing the 1991 Paris Peace Agreement, a former finance minister, and leader of the main opposition as part of the country's first independent movement of workers in 1995, I hope President Biden enjoys his visit to my country.
Whilst there, he must take concrete measures to hold Prime Minister Hun Sen accountable for his theft of democracy, and help bring a return of freedom, equality, and human rights to the country
Despite being born there, in Phnom Penh, it's a place I have not been able to visit since 2015, as part of Hun Sen's campaign against me and members of my party, the Cambodia National Rescue Party (CNRP).
Our crime? Threatening Hun Sen's grip on power, which he has held since 1985.
Hun Sen's vendetta against the political opposition in Cambodia – and me in particular – goes back decades. In 1997, I was the target of a grenade attack in Phnom Penh, which killed 16 people and injured hundreds, including a U.S. citizen who was severely injured. The FBI pinned responsibility for the deadly blast on bodyguards employed by Hun Sen.
Hun Sen has drastically eroded democracy, accountability and human rights in Cambodia with the direct support of China, which is often contingent on non-democratic practices and principles. He has allowed the People's Liberation Army to build a naval base on Cambodian territory, and Chinese involvement is clear in a raft of cyber human trafficking scams in the country. Under Hun Sen's watch Cambodia is now essentially a Chinese "client state," a relationship that threatens the immediate and long-term security of Southeast Asia and the Indo-Pacific.
Despite removing me from my homeland more than seven years ago, Hun Sen's grudge against me continues. As well as preventing me from returning to face numerous trials he has used the courts to open against me, last month those very same courts sentenced me to life in prison in absentia. Meanwhile, the recently formed opposition party the Candlelight Party – a continuation of my party that won more than a fifth of the popular vote in June's local election – has been threatened with dissolution for its apparent association with me.
Under Hun Sen's watch corruption has also drastically risen, largely due to the system of patronage that sustains his rule, as well as rampant cyber-scam trafficking operations that are happening under his watch. Deforestation is another major issue Hun Sen has overseen, and last year the United States ended an aid program aimed at protecting the Prey Lang Wildlife Sanctuary in northern Cambodia, saying the government had not done enough to tackle deforestation and was harassing environmental activists.
Despite banning the CNRP, Cambodia's only viable opposition party, in 2017, a year later Hun Sen went ahead with a general election that was rejected by the international community, declaring his CPP the resounding winner, and taking all 125 seats in the National Assembly.
With no dissenting voices in the country's parliament, Hun Sen has used his absolute power to introduce increasingly harsh laws against the Cambodian people. His regime has also continued to harass, intimidate, and jail members of the opposition, including several mass trials of hundreds of CNRP members, as well as deploying thugs to brutally attack peaceful protesters – many of them women – in central Phnom Penh.
Next July, Cambodia will hold its first general election since 2018, and Hun Sen and his CPP cannot be allowed to run unopposed once again. Before July, it is crucial that democratic allies around the world take stronger actions against Hun Sen, and help bring a return of democracy to Cambodia.
The United States has a direct role to play, not only as a global leader of democracy, but also as a signatory to the Paris Peace Agreements – the 31st anniversary of which recently passed – which promised the Cambodian people "self-determination" through "free and fair elections".
Promoting democracy in Cambodia also supports President Biden's security strategic objectives, by restoring U.S. credibility and implementing forward-looking leadership. This is crucial both to lessening China's international influence – in the region, and globally – and promoting the U.S.' global reputation.
When President Biden meets with Hun Sen in Phnom Penh this week, he must make it abundantly clear that there is no way next year's vote will be accepted unless drastic changes are made, including the restoration of free speech and assembly across the country, as well as reforms to an election commission he has stacked with his allies. All political prisoners, including the Cambodian-American lawyer Theary Seng, must be freed and charges against them dropped, and opposition voices such as myself and my CNRP colleagues must also be allowed to return and run freely in the election. Nothing short of this can be accepted.
For too long Western countries, including the U.S., have sent weak and mixed signals to Hun Sen through the lack of a coordinated and strong response.
His administration must also ramp up its use of sanctions against the Hun Sen regime, using the same vigor and techniques it has used to target Vladimir Putin's allies over their war in Ukraine. In Cambodia, this includes targeting judges that hold senior positions in Hun Sen's CPP, and who have been directly responsible for the erosion of democracy.
The U.S. must ensure that all of those who have orchestrated the country's tilt towards dictatorship is hit with sanctions, sending a clear message to Hun Sen and his allies that there will be consequences for their theft of democracy from the Cambodian people.