Can Nepal Achieve Political Stability?
Nepal's political landscape after the November 2022 election looks disturbingly familiar – but there are some signs change is coming.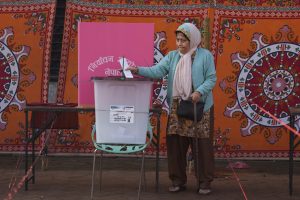 Not a single government in Nepal has served out a full five-year term since the restoration of democracy in 1990. The federal government to be formed after the November 20, 2022, elections is unlikely to be an exception.
In the recent elections, the Nepali Congress, the traditional champion of liberal democracy, emerged at the top, winning 89 seats in the 275-member federal lower house. Hot on its heels was the Communist Party of Nepal-Unified Marxist-Leninist (CPN-UML), the torchbearer of leftist politics, with 78 seats. The CPN (Maoist Center), the revolutionary force that waged a decade-long armed insurgency to overthrow the old unitary state, came in third, with 32 seats. 
In the previous elections in 2017, at a time when the UML and the Maoists had struck an electoral alliance, they won 121 and 53 seats, respectively. The two parties later united to give birth to a behemoth leftist force in the form of the Nepal Communist Party (NCP). The unified party went on to form governments at the center as well as in six of the country's seven provinces. People had given the communist coalition an overwhelming mandate to rule for five years; they had voted in favor of stability.
But it wasn't meant to be. As suspected at the time of their merger, the two communist parties had come together not because they were ideological cousins but because the merger suited the political ambitions of both UML Chairman K.P. Oli and his Maoist Center counterpart, Pushpa Kamal Dahal. 
They had a "gentleman's agreement" that each would lead the government for two and a half years. Oli got first crack at the top executive post, but when the time came to switch he refused to step down. Feeling betrayed, in March 2021 Dahal walked away to revive his old political outfit; at the same time, a big chunk of the UML also broke away from the mothership.
Then, in July 2021, the Supreme Court dismissed the Oli government when he tried to unconstitutionally dissolve the federal lower house and call snap elections. Removing Oli from office, the court declared Congress leader Sher Bahadur Deuba the new prime minister. Joining him in the new government was the Maoist Center, plus three smaller parties. 
Four of the five parties in the ruling coalition decided to jointly contest the 2022 elections. The coalition had been cobbled together out of the necessity of unseating an increasingly authoritarian Oli, but electorally, it was an unnatural amalgam. The Congress and the Maoist Center are ideological opposites. So when the Congress asked its traditional voters to again support Maoist Center candidates, some declined.