Don't Force Europe to Choose Between the United States and China 
Coercive diplomacy comes at a cost: It threatens to inject friction and erode trust in the transatlantic relationship.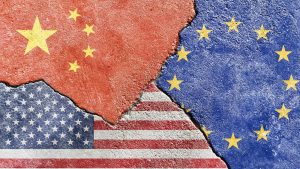 During his first trip to Europe in March 2021, U.S. Secretary of State Antony Blinken reassured Europeans that "the United States won't force our allies into an 'us or them' choice with China." Although this remains the United States' stated policy, Washington's actions have not matched the rhetoric. This is a mistake.
To succeed in a competition with China, the United States should focus on coordinating policies with Europe, rather than insisting that its transatlantic allies adopt identical policies. Instead of unnecessarily injecting friction into the relationship, Washington should develop complementary and coordinated approaches in those areas most central to its competition with China. 
Despite Blinken's reassurance, the United States has grown more assertive in pressing Europe to adopt its approach to China. On October 7, the United States imposed restrictions on semiconductors to China. While the United States consulted the Netherlands and Japan, they ultimately failed to reach an agreement in which they would all impose identical restrictions prior to Washington introducing restrictions.
The United States has spent the past months pressuring the Netherlands to adopt the United States' restrictions on chips to China. Reports emerged that U.S. officials were even debating applying the measures extraterritorially and preventing the Netherlands from exporting chip equipment to China that contains trace amounts of U.S. technology. Such U.S. diplomacy has not been in vain, since the Netherlands and Japan recently indicated they will likely impose some of the same restrictions, though likely not identical ones. However, the United States' coercive diplomacy comes at a cost: It threatens to inject friction and erode trust in the transatlantic relationship.
The chip restrictions issue is just one of many examples that illuminate a broader disconnect between how far Europe and the United States are willing to go in their respective competitions with China. A few months ago, U.S. National Security Advisor Jake Sullivan announced that the United States planned to abandon its "sliding scale approach that said we need to stay only a couple of generations ahead" of Chinese technology. The policy was revised that the United States "must maintain as large of a lead as possible" in foundational technologies. Here, too, the revised U.S. strategy is a bridge too far for many in Europe, even in those countries taking a harder line on China, such as the Netherlands.  
This disconnect is not limited to the United States' technology competition with China. The latest U.S. National Security Strategy (NSS) defines China as "the only competitor with both the intent to reshape the international order and, increasingly, the economic, diplomatic, military, and technological power to advance that objective." While the need to partner with China is cursorily mentioned in the NSS, U.S. policy toward China is characterized with an eye toward competition. 
In contrast, in advance of his trip to China, German Chancellor Olaf Scholz stressed Europe's limits: "China remains an important business and trading partner for Germany and Europe — we don't want to decouple from it." In the same month, Scholz pushed through a deal allowing Chinese shipping company COSCO to purchase a stake in the Hamburg Port. Likewise, French President Emmanuel Macron called for the "confrontation" between the United States and China to stop and labeled the China-U.S. competition "a big risk and a big challenge." Similarly, the European Union still maintains its "Holy Trinity" approach to China – defining China as a partner, economic competitor, and systemic rival. The EU's approach contrasts to the United States' threefold strategy on China: invest, align, and compete. 
However, Washington risks failing to implement a key pillar of this strategy: aligning the United States' efforts with our network of allies and partners. If the United States continues to force European countries to pick a side, the United States risks alienating its transatlantic partners. The United States and Europe will not have identical China policies. Nor should they. Instead, the transatlantic partners should focus on coordination and alignment, when possible, on the most critical issues. The United States should temper its expectations of Europe and focus on areas most critical to succeed in a competition and where alignment with Europe is possible.

Most importantly, the United States and Europe should focus on those areas most critical for success in competition, including those areas of particularly high risk, such as securing critical and digital infrastructure. Washington should continue to encourage Europe to use an actor-agnostic, risk-based assessment to evaluate risks. While the EU's "Cybersecurity of 5G networks: EU Toolbox of risk mitigating measures" did not mention China outright, the toolkit in effect bans Chinese providers from providing 5G infrastructure in Europe. Simply put, the United States and Europe took different approaches, but wound up with similar policies. The United States should refrain from pressuring Europe to mention China outright if their policies yield similar results to U.S. policies.
The United States and Europe should focus on areas already ripe for transatlantic cooperation. One such area is bolstering supply chain resiliency. The war in Ukraine and the COVID-19 pandemic has laid bare the importance of supply chain resiliency and the risks associated with strategic dependencies on autocratic regimes. The United States and Europe have made strides in bolstering resilience in the semiconductor value chain through the historic investments mobilized by the U.S. CHIPS and Science Act and the European Chips Act. However, it will be critical to coordinate these investments – along with other semiconductor producing nations in the Indo-Pacific – to ensure there are no points in the value chain where the world is reliant on one geography.
The green technology value chain should be the next frontier for cooperation. To enable the green transition, the United States and Europe presently must rely on inputs from China, including lithium batteries and rare earth minerals. The transatlantic partners should replicate the progress made in the semiconductor supply chain and assess vulnerabilities in the green technology value chain to work toward reducing reliance on China in this area. 
The United States' not-so-secret weapon in the China-U.S. competition is its network of allies and partners. However, to bring Europe along, Washington can't resort to bullying tactics. Otherwise, the United States will wind up alone in a competition that necessitates cooperation with its allies. The United States must start meeting allies where they are, not threatening them for failing to precisely mirror U.S. policy. Transatlantic cooperation is a precondition for success in a China-U.S. competition. And, the United States must start acting like it.