European Leaders Fret Over Their 'Value-Led' Approach to China
The recent visits to Beijing of German Chancellor Olaf Scholz and European Council President Charles Michel reflected the ongoing attempt to calibrate Europe's China policy.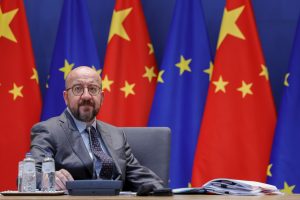 In Chinese President Xi Jinping's view, there is no reason to be worried about the "white paper protests" that took place in 10 Chinese cities in November in response to COVID-19 lockdowns.
He believes they were merely a show of frustration after three years of the pandemic and the demonstrators were "mainly students, or teenagers in university."
Xi expressed his views during a meeting with the European Council President, Charles Michel, according to a senior EU official who was part of the delegation to China. The Diplomat confirmed the accuracy of the comments with a spokesperson in Brussels.
Xi's alma mater, Tsinghua University, was among the locations where people took part in demonstrations against China's zero COVID approach at the end of November. In response, administrators quickly arranged buses and trains to whisk students back to their hometowns, encouraging them to complete their studies and exams online.
The exchange between Michel and Xi about the nature of the protests provided a glimpse of the mindset within Zhongnanhai. Older Politburo members will recall when campuses were hotbeds of activism during the 1980s, culminating in the 1989 student-led movement, centered on Tiananmen Square, which was crushed by the People's Liberation Army.
In the wake of the recent protests, the authorities sought to quell student anger, while offering slight relaxations to COVID-19 controls in some regions. Chinese state media has almost completely ignored the demonstrations.
Meanwhile, censors have snuffed out images on social media of foreigners enjoying life without worrying about COVID-19. Pictures of the football World Cup in Qatar have been removed from Weibo, and China's official broadcasts took to removing footage of the unmasked crowds watching the matches.
Among economists, there is a widespread view that China's zero-COVID approach will be extended into 2024. Beijing has so far refused to approve foreign vaccines for mass use, preventing healthcare providers from employing the latest mRNA technology.
Michel told Xi that Europe offers more effective vaccines than the domestically manufactured ones China is using to combat the virus, which is spreading at a rapid rate.
"We made it very clear that European companies are available to provide vaccines, if those vaccines will be agreed by the official authorities in China," he told reporters in Beijing.
Xi is also said to have told Michel that the dominant strain of COVID-19 in China is "now mainly Omicron, and Delta before that was much more lethal," according to the senior EU official.
When German Chancellor Olaf Scholz visited China in early November, he agreed with Xi and outgoing Prime Minister Li Keqiang that the countries would work closely in the fight against the virus.
The Germans persuaded China to grant approval for the use of the BioNTech/Pfizer mRNA vaccine among expats but not for Chinese citizens. Scholz was accompanied by Ugur Şahin, the CEO of BioNTech, a company whose profits have declined as the global demand for its vaccine has waned.
Scholz's short visit to China bore fruit for another European business: Airbus. After the meeting, China agreed to buy 140 passenger jets, in a deal valued at $17 billion.
Scholz justified his trip, which came hot on the heels of Xi's coronation as Chinese Communist Party leader for a third term, in an op-ed in Politico. He emphasized that "China remains an important business and trading partner for Germany and Europe – we don't want to decouple from it." Nevertheless, Scholz wrote that "as China changes, the way that we deal with China must change too." He said Germany intends to "dismantle one-sided dependencies in the interest of smart diversification."
The chancellor's pragmatic approach toward China has been criticized by several politicians within Germany's governing coalition. Foreign Minister Annalena Baerbock said the timing of Scholz's trip to Beijing was wrong. She advocates a "values-led" approach to foreign policy, focused on issues such as human rights. The German government is currently formulating a new strategy on China, to be published in 2023.
Xi is aware of this "values-led" rhetoric. In December, he heard Michel speak about the importance of "fundamental freedoms and the rights of minorities," "the right to peaceful assembly," and a "rules-based world."
In response, the Chinese Ministry of Foreign Affairs gave a typical grumble at what it regards as a Cold War mentality, implying that the United States is pressing Europe's liberal democracies to contain China's rise.
French President Emmanuel Macron discussed China with U.S. President Joe Biden at the White House on December 2. Afterward, the two leaders said they would coordinate concerns regarding China and reiterated the importance of peace and stability across the Taiwan Strait. They added that they would seek to work together with China on important global issues, such as climate change.
Despite similarities in the tone of the rhetoric emulating from France, Germany, and the United States, tensions exist beneath the surface.
Macron plans to visit Beijing in January and – like Scholz – will be accompanied by a delegation of business leaders who do not intend to decouple from China. French CEOs are reluctant to allow the Germans to seize all the best opportunities.
Furthermore, business leaders in Europe's tech sector are resistant to the U.S. ban on the export of equipment for the manufacture of advanced computer chips and semiconductors to China. In Washington, such export controls are justified on security grounds. The Europeans fear the move will disrupt supply chains, causing severe problems for the consumer electronics and automotive industries.
Dutch Foreign Trade Minister Liesje Schreinemacher told NRC newspaper that the Netherlands will "make its own decision" regarding the relationship between China and ASML, a major Dutch producer of chip equipment. Furthermore, the EU High Representative for Foreign Affairs and Security Policy Josep Borrell said in the European Parliament that the EU will not follow the United States' toughest policies on China, a comment that was seized on by Chinese propaganda as a sign that some European countries are "standing up to say no to U.S. bullying."
Although Macron smiled at Biden as they chatted by a log fire and drank champagne, he has recently accused American companies of exploiting the energy crisis to earn "superprofits" from exports to Europe. French Finance Minister Bruno Le Maire said that U.S. exporters are seeking "to further U.S. economic domination and weaken Europe."
Where does all this leave the United Kingdom, three years after its exit from the European Union? In a major speech on foreign policy delivered on November 28, Prime Minister Rishi Sunak said he wants stronger ties with Europe, including engagement with the European Political Community, a new security group championed by Macron.
When he spoke on the topic of China, Sunak described it as a "systemic challenge to Britain's values and interests," but stopped short of describing China as a threat. He said that in the past there had been a "naive idea that trade would lead to social and political reform."
The Financial Times informed its readers that this comment implied criticism of former British prime minister, David Cameron, who courted Xi Jinping and was also opposed to Brexit.
In Germany, the debate on China is linked to the legacy of former Chancellor, Angela Merkel, who promoted close economic cooperation using the slogan wandel durch handel (change through trade). Like Cameron, she suggested that businesses could help coax China toward democracy.
The mood is different now. This November, Germany's Economic Minister Robert Habeck promised "no more naivety in trade dealings with Beijing." The extent to which the German government will change its approach depends on the coalition. Habeck and Baerbock belong to the Green Party, which intends to put its own stamp on international relations strategy. Yet, as leader of the SDP, Scholz may not be ready to make significant concessions to a rival political group.