In Forming Malaysia's New Cabinet, Anwar Strikes a Careful Balance
The 28-member cabinet, which included members of four coalitions and an independent MP, was sworn in on Saturday.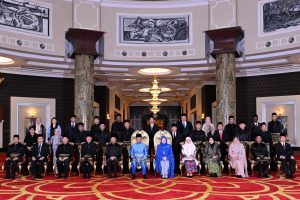 Malaysian Prime Minister Anwar Ibrahim has taken on the role of finance minister more than two decades after last holding the post, he announced Friday, as he unveiled a diverse cabinet designed to stabilize his broad unity government.
The 75-year-old leader previously held the post of finance minister from 1991 to 1998, before his falling out with then Prime Minister Mahathir Mohamad led to his jailing on spurious charges and his long banishment to the exile of opposition. As finance minister now he is in a position to coordinate what he has described as one of his government's priorities: to address the rising cost of living and ensure that Malaysia's system of government subsidies benefits those most in need.
The make-up of the rest of the 28-member cabinet, which came more than a week after Anwar's appointment as prime minister, reflected the need to appease the diverse array of coalition partners that populate his administration. Following November 19's inconclusive general election, Anwar managed to cobble together a minority government that brings together four coalitions consisting of 19 political parties, in addition to two independent MPs.
"This cabinet is a cabinet of a unity government," Anwar told a news conference. "We have set several basic principles: good governance, spurring the economy, and reducing the people's burden in terms of living costs." The cabinet members, which included 22 ministers, two deputy prime ministers, and four portfolios in the Prime Minister's Department, were sworn in at the Istana Negara, the residence of Malaysia's king, in Kuala Lumpur on Saturday.
The majority of the cabinet members – 15 of the 28 – hail from Anwar's Pakatan Harapan coalition. Of the remaining 13, six were awarded to BN, the coalition that ruled Malaysia for an unbroken 61 years from independence in 1957 until the general election of 2018, five to the Sarawak-based Gabungan Parti Sarawak (GPS) coalition, and single posts to Gabungan Rakyat Sabah (GRS), a coalition based in Sabah, and the independent MP Mohamad Naim Mokhtar.
To stabilize his unity government, Anwar created two deputy prime minister posts for the first time in Malaysia's history, which he handed to officials from BN and GPS, the two most important parties in the coalition.
The most obvious sign of political accommodation, however, was the appointment of BN's Ahmad Zahid Hamidi, the president of the United Malays National Organization (UMNO), as rural and regional development minister and deputy prime minister. Prior to the election, some observers queried whether the claims of corruption again Ahmad Zahid – he currently faces 47 charges of bribery, money laundering, and criminal breach of trust – would disqualify him from a cabinet position, all the more so given Anwar's headline pledge to fight corruption and cut back on wasteful government expenditures.
But while BN, the once-dominant coalition of which UMNO is the primary member, registered its worst-ever performance at the election, winning just 30 seats, the inconclusive result left it in a position to act as kingmaker in the formation of the next government.
To placate the party and ensure its support, Anwar held his nose and awarded the two key posts to Ahmad Zahid. UMNO/BN officials also received the ministries of defense, international trade and industry, and higher education, as well as the all-important foreign ministry portfolio, which was handed to Zambry Abdul Kadir, the former first minister of Perak state. A further UMNO/BN official has been appointed to serve as minister in the Prime Minister's Department, in charge of laws and institutional reform.
In addition to this, Anwar chose to appoint Fadillah Yusof of GPS as the other deputy prime minister, fulfilling his campaign pledge to make his cabinet regionally diverse by appointing a politician from East Malaysia as second-in-command.