Malaysia Sets Important State Polls for August 12
The six state polls, especially those in Selangor and Negeri Sembilan, shape as a crucial political test for Prime Minister Anwar Ibrahim's Pakatan Harapan coalition.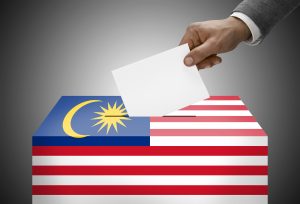 Malaysia's Election Commission has announced the nomination and polling dates for six state elections that are a significant political test for Prime Minister Anwar Ibrahim since his appointment last year.
After a meeting today, EC Chairman Abdul Ghani Salleh told reporters that the elections for state assemblies in Selangor, Negeri Sembilan, Penang, Kelantan, Terengganu, and Kedah – all of them in peninsular Malaysia – would take place simultaneously on August 12. The deadline for candidate nominations will fall on July 29, with early voting set for August 8, he added.
Legislatures in the six states have dissolved themselves one by one over the past few weeks, paving the way for elections that could have a big impact on the fate of Anwar's ruling coalition. A total of 245 state seats will be up for election.
The polls come nine months after last November's inconclusive general election, when Anwar managed to cobble together a multifarious minority government that includes four coalitions consisting of 19 political parties, in addition to two independent MPs.
While the main plotline of the election centered on Anwar's elevation to the country's top office after decades in opposition, the election also saw major gains for the Islamic party PAS, which gained more seats than any other single party. As I noted at the time, "While Anwar's brand of cosmopolitan, multi-ethnic politics has scored a victory in capturing the prime minister's office, the Islamic-inflected Malay identitarianism that it opposes has perhaps never been stronger."
While Anwar has promised to rule for all – "No Malaysian, regardless of race or religion should be left to feel that they are ignored in any way," he said shortly after his appointment – his opponents have lost no time in mobilizing perennial Malay identity politics in order to undermine his hold on power.
Indeed, since the election, the all-Malay Perikatan Nasional (PN) opposition, of which PAS forms the largest component, has attempted to depict Anwar as a "bad" Muslim who is aiming to erode the country's system of ethnic Malay privileges. These claims have only been magnified by the corruption investigations that are underway against former Prime Minister Muhyiddin Yassin of Bersatu, the other component of the PN coalition, which has attempted to depict itself as victims of a politically motivated witch-hunt.
As Sophie Lemière, a leading observer of Malaysian politics, observed recently, the PN opposition is widely expected to maintain its control of the conservative northern states of Kedah, Terengganu, and Kelantan. (Indeed, Kelantan and Terengganu figuring have long been strongholds of PAS.) By the same token, PH is expected to retain in control of Penang, a bastion of the ethnic Chinese-dominated Democratic Action Party.
Lemière wrote that the biggest stakes will be in the states of Negeri Sembilan and Selangor, both of which are currently held by PH – narrowly, in the case of Negeri Sembilan. "The loss of these two states would be a terrible defeat and throw the government into great uncertainty," she wrote.