Maldives' 2023 Election Will Shape Indian Ocean Geopolitics
Both China and India have a stake in the drama surrounding the Maldives' upcoming presidential election.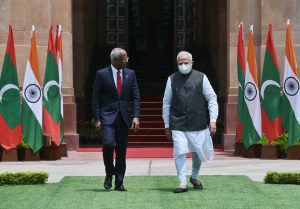 The Maldives will hold its next presidential elections in September 2023. As Maldivians brace for elections portending important domestic consequences, regional powers will be watching keenly – albeit with their own considerations in mind. Long famed as a luxury tourist destination,  the Maldives has gained a strategic importance belying its small size, owing to its central location in the Indian Ocean, with critical sea lanes of communication cutting through its territory.
These facts no longer escape the attention of larger and more powerful actors eager to consolidate their competing regional interests. The Maldives' politics – and thus the upcoming elections – are increasingly entangled with those competitions, particularly the maritime rivalry between India and China, the latter of which has been steadily expanding its Indian Ocean presence.
A Maritime Great Game
China began its naval expansion into the Indian Ocean in earnest in 2008, under the aegis of United Nations Security Council Resolution 1851, which authorized an international taskforce to combat piracy off the Gulf of Aden. China has only expanded its maritime presence since then.
In fact, under President Xi Jinping, China has seized upon two new principal reasons to justify expanding its regional presence: first, to prevent a foreign power from gaining control over the Malacca Straits, through which much of China's commerce and energy supplies flow; second, to advance Xi's signature Belt and Road Initiative (BRI) and complementary Maritime Silk Road (MSR) linking Eurasia and Africa through a series of massive infrastructure and connectivity projects.
India perceives China's growing presence as an encroachment into its traditional sphere of influence. This exacerbates a complicated Sino-Indian relationship on land, stemming from border disputes in the Line of Actual Control in the Himalaya Region – left unresolved after the 1962 Sino-Indian war – and from China's close relationship with India's neighbor and rival Pakistan, exemplified by the China-Pakistan Economic Corridor, a key component of the BRI.
With regard to the Maldives, both India and China are seeking to influence its politics. India wants to maintain its grip in South Asia, in line with Prime Minister Narendra Modi's "neighborhood first" foreign policy, and to prevent China from building an alleged "string of pearls," or naval bases surrounding the Indian littoral. China, meanwhile, wants to continue its steady expansion into the Indian Ocean and advance its BRI and MSR aspirations.
Swings in the Maldives' Foreign Policy
Traditionally, the Maldives has been a close ally of India, owing to proximity and longstanding socio-cultural ties. It has often relied on India as its security guarantor: India launched "Operation Cactus" in November 1988 at the request of then President Maumoon Qayoom, to thwart a coup attempt launched by an invading force of the People's Liberation Organization of Tamil Eelam. Maumoon would remain in office for 30 years, from 1978 to 2008, until his replacement by the country's first democratically elected president, Mohamed Nasheed.
Nasheed maintained friendly relations with India. Yet in 2011, his administration's decision to award a contract to develop the country's international airport on the island of Hulhule to Indian conglomerate GMR was characterized by the opposition as a concession of the Maldives' sovereignty to India. Marching under a nationalist banner, the opposition began a series of protests, which added fuel to wider discontent against Nasheed and pressured him into resigning from office on February 7, 2012 – following which the GMR contract was unceremoniously canceled. Subsequent and much delayed elections in 2013 saw Maumoon's half-brother, Abdulla Yameen Abdul Gayoom, secure power.
Yameen's Progressive Party of Maldives (PPM) continued to draw upon hyper-nationalist sentiments and cast itself as a party devoted to protecting the country's independence, especially from India. Under Yameen's administration, the Maldives pivoted to China, building a strong commercial relationship with Beijing, and awarding tenders to Chinese companies to carry out infrastructure and housing development projects in the spirit of the BRI.
This included the Sina-Male bridge, linking Male with the nearby island of Hulhumale and the airport island, Hulhule. Yameen also tried to enter the Maldives into a free trade agreement with China, which he forced through parliament on an accelerated timeline but was unable to ratify.
During the scheduled elections in September 2018, despite Yameen's efforts to intimidate his political rivals, the electorate delivered a strong mandate to current President Ibrahim Mohamed Solih, who belongs to Nasheed's Maldivian Democratic Party (MDP). Nasheed himself, who is now the speaker of Parliament, had been forced to sit out those elections because a now-overturned terrorism conviction against him barred his candidacy.
In terms of foreign policy, the Solih administration reversed course, committing itself to the traditionally strong India-Maldives bilateral relationship and to an "India First Policy." India has reacted positively: Modi was present at Solih's inauguration, and the two countries have continued to deepen engagement and exchange high level visits at both the head of government and ministerial levels.
Among other bilateral cooperation projects, India is financing the Greater Male Connectivity Project, linking all the islands within the Maldivian capital's administrative region. India has also opened a line of credit to the Maldives to fund further development projects. India was a key provider of COVID-19 vaccines to the Maldives through its Vaccine Maitri policy and is currently helping build a police academy in the country's southernmost island, Addu.
The "India Out" Campaign
In the past, close cooperation with India has been a divisive issue in the Maldives; that history is now repeating itself. In anticipation of the upcoming election, Yameen's PPM has launched an "India Out" campaign, protesting the current administration's alleged overdependence on New Delhi. As examples, they point to the government's decision to sign an agreement with India to allow a dockyard in the country's north at Uthuru Thilhafalhu, which they allege will double as a full-fledged military base.
The PPM also criticized the government's agreement with India for allowing Dornier helicopters gifted by India to operate in the Maldives. No Maldivians are yet trained to operate Dornier aircraft; thus their operation requires a contingent of Indian personnel to be based in the Maldives, with all the customary diplomatic immunities. (It should be noted, however, that despite their current opposition to renewing the Dornier agreement, its original iteration was signed under a PPM administration.)
In April of this year, Solih issued an executive order banning the "India Out" movement, to prevent a deterioration in India-Maldives bilateral relations and to combat rising xenophobia targeting Indian nationals. The latter was illustrated by a bizarre episode in November 2021, when a mob waving Islamic flags distributed at PPM headquarters stormed the Maldives' national football stadium during  a "yoga day" celebration led by the Indian embassy.
The opposition alleges that the ban is an unconstitutional infringement on free expression and continues to use "India Out" rhetoric, hoping that it will resonate with the electorate and influence the next elections in its favor.
What Is at Stake?
If Solih wins the 2023 presidential election, the Maldives will likely continue its current trajectory of solidifying ties with India. While the Solih administration does not characterize itself as "anti-China" and continues bilateral engagement with Beijing, the MDP is more skeptical of uncritically allowing BRI projects on Maldivian soil and has thus far been content to let the Free Trade Agreement with China remain unratified.
Nasheed, however, is emphatically opposed to closer relations with China, demonstrated by several public pronouncements, including on his official Twitter account, that have characterized China as an economically predatory power. He often repeats his anxiety that China might lead the Maldives into a "debt trap" and alludes to Sri Lanka's experience with Hambantota Port as a cautionary tale.
Nasheed and Solih are currently estranged, and their rift is reflected in internal party politics. For instance, pro-Nasheed and pro-Solih factions supported alternate candidates for the MDP's internal chairperson election in 2022. Nasheed is presently advocating for a referendum on changing the country to a parliamentary system, ostensibly so that he can become prime minister. He has also announced that he will challenge Solih in the MDP primary. If he is successful in these efforts, an MDP administration with Nasheed at the helm is likely to retain a friendly India posture while evincing far more hostility to China.
On the other hand, if Yameen returns to power on the momentum of an "India Out" campaign, it would represent a significant setback for India. True, as president, he would have to temper rhetoric better suited to a crass, populist campaign. The Maldives after all cannot fully disengage from India, which is a close neighbor and a giant in its eponymous ocean. Yet, the example of his first term cannot be dismissed.
A second Yameen administration will likely draw closer to China, including by ratifying the Sino-Maldives Free Trade Agreement, and further increasing commercial cooperation. China would thus be in a better position to continue its BRI and MSR projects and expand its Indian Ocean presence.
As Maldivians prepare to head to the polls in 2023, foreign policy considerations might not be foremost on their minds. Yet they should be aware that their choices in this election will carry reverberations far beyond the country's borders; they will have direct implications for the Indian Ocean Region's balance of power. Both China and India will be watching closely.