The Answer to Countering Chinese Influence in Brazil? Sanitation Reform.
The Amazon region's water and sanitation infrastructure is critically underdeveloped. By working in this vital, often overlooked, area the U.S. can present itself as a stronger partner.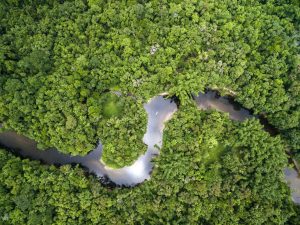 Luis Inacio Lula Da Silva, commonly known as Lula, defeated incumbent right-wing president Jair Bolsonaro on October 30 in a race that could have significant implications for Brazil's role on the world stage. After four years of retrenchment under Bolsonaro, Brazil will seek to reclaim its role as a leading voice for the Global South that characterized Lula's first two terms in office from 2003 to 2011. In particular, Lula will seek to restore Brazil's closer links with China that marked his first term, which may have significant implications for both Chinese influence in Latin America and Brazil's future environmental prospects. 
Lula's presidency presents an opportunity for the Biden administration to strengthen the Brazil-U.S. relationship through increased climate cooperation in the Amazon region, which is a top priority for both administrations. Biden has thus far publicly championed efforts to reduce Amazon deforestation and should maintain his support. At the same time, the United States should lead international efforts at the 2023 Amazon Summit to invest in the Amazon region's critically underdeveloped water and sanitation infrastructure. By doing so, the United States can build global support for protecting a less visible component of the Amazon ecosystem and simultaneously present itself to Lula as a stronger partner than China in climate efforts. 
While Bolsonaro's presidency was characterized by harsh rhetoric and strained Brazil-China ties, Lula has promised to restore Brazil's relationship with China within the first six months of his presidency. From the outset of his term, he may look to the greatest hits of his first presidency as the easiest way to repair Sino-Brazilian ties. His government has pledged to strengthen BRICS, the geopolitical grouping of Brazil, Russia, China, India, and South Africa that Lula helped found in 2009. 
More concerningly for American interests, a Lula presidency may see Brazil finally sign on to China's Belt and Road Initiative (BRI), a worldwide Chinese-financed infrastructure fund. China unsuccessfully attempted to sign Brazil onto Xi's signature foreign policy plan during Bolsonaro's presidency. With a friendlier face in the Palacio da Alvorada, China may try again. Lula may hope that doing so brings additional Chinese investment to boost Brazil's flagging economy, similar to the $14 billion in financing China committed to Argentina after it signed onto the project. 
A potential Brazilian accession to the BRI would be a much bigger coup for China than securing Buenos Aires' signature. Even considering the slowdown in BRI investment outflows, Brazil's commitment, coupled with a reinvigorated BRICS, would provide China with increased influence in Latin America's largest economy and democracy. The possibility of such an event should concern Washington, particularly as the BRI's climate record elsewhere does not align itself with either Biden's or Lula's environmental agenda. 
Out of all the climate change issues currently rampant in the Amazon, reducing the levels of deforestation and forest degradation garner the highest levels of multilateral cooperation. Deforestation efforts are a great start for Brazil-U.S. bilateral cooperation on climate policy, but another critical and underdeveloped sector impacted by climate change in the Amazon is Brazil's sanitation infrastructure. As climate change continues to threaten the Amazon, a lack of secure sanitation services, like access to clean water and working sewage systems, further aggravates the inhabitability of the region.  
Twenty percent of the world's freshwater discharged into the oceans flows through the Amazon River basin, but climate change has altered the river's natural flow. In 2021, the rising sea levels in the Northern Bailique Archipelago region of Brazil pushed back the freshwater in the river, leaving thousands without access to clean water. As it stands, 94 million Brazilians do not have access to treated water and about half of the entire population lacks access to proper sewage systems.
Of Brazil's 20 worst cities in terms of clean water supply, nine are located within the Amazon. A significant part of this region's population only has access to the contaminated water in the Amazon River. Water pollution not only exacerbates inequalities between one of Brazil's poorest regions and the rest of the country, but it also poses an environmental risk to the Amazon River and its tributaries. After deforestation, water pollution presents the Amazon region's greatest climate challenge. 
During his presidential campaign in 2020, Biden pledged to mobilize $20 billion in international finance to the Amazon Fund, a multilateral fund created with the purpose of reducing deforestation and forest degradation in the Amazon. Now that the Brazilian supreme court has ruled to reactivate the Amazon Fund after Bolsonaro froze funding in 2019,  the United States has an opportunity to reevaluate and reorganize its commitments to help address other potential avenues of cooperation on climate issues in dire need of funding in the Amazon region, like the sanitation sector.  
In line with Bolsonaro's 2020 law establishing regulatory frameworks to advance Brazil's sanitation infrastructure and with the U.N.'s Sustainable Development Goal No. 6 — access to clean water and sanitation for all — the United States should use Lula's coveted Amazon Summit in 2023 to launch a new strategy to help universalize sanitation services in the Amazon region by 2033. 
As part of the reevaluation of U.S. commitments to the Amazon Fund, the United States should work with the Amazon Fund Guidance Committee to outline new criteria within the fund's guidelines that specifically allocate funding to sanitation infrastructure projects in the Amazon region. Bolsonaro's 2020 sanitation reform bill received a lot of foreign private investment attention, especially from China. The Chinese company, China Gezhouba Group Company (CGGC), already invests in local water systems in Sao Paulo. While Chinese companies have invested in Brazil's sanitation infrastructure, they have focused on the rich southeast region. In contrast, the Amazon region's sanitation network is underfunded, giving the United States an opportunity to have the most impact with its foreign financing. Washington should use its Amazon Fund commitments to stake out what sustainable investment in Brazil's infrastructure looks like, especially in direct contrast to China's environmentally damaging projects.  
Through the incorporation of sanitation reform within the Amazon Fund guidelines, private investments should focus on projects like desalination of seawater in the Northern Bailique Archipelago region. Other sanitation projects should include sanitary sewage extensions and rainwater harvesting. 
Many argue that Lula's presidential campaign promises surrounding deforestation reform and new climate policy will not go far because of the country's current congressional composition. However, sanitation infrastructure reform offers a huge opportunity for government consensus. Foreign private investment in anti-deforestation initiatives has proven to be a polarizing issue for domestic Brazilian politics, with nationalists accusing conservationists of selling Brazil's sovereignty. Sanitation, on the other hand, is not a partisan issue, increasing Lula's chances of bipartisan support. 
By committing to finance underfunded Amazonian sanitation infrastructure, Washington can not only build soft power in Brasilia, but also achieve a higher return on investment to prevent environmental degradation. Establishing a strong diplomatic and economic relationship with Lula, especially on climate, will help counter Chinese influence in Brazil and the Latin American region at large.