The Foreign Policy Implications of Nepal's Election
Continued political instability could allow external powers to increase their influence in the country's political landscape.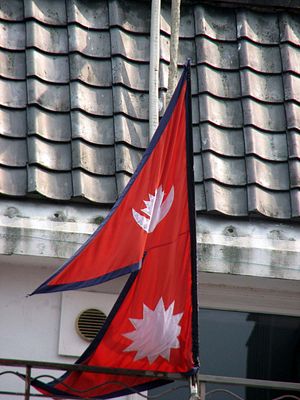 Nepal's general elections have concluded. The results merit close analysis, given their wide-ranging implications for Nepal's political stability over the long term and the country's relations with neighbors including India and China.
With no single party garnering enough seats in the House of Representatives to form a government, President Bidhya Devi Bhandari has asked prime ministerial aspirants who can garner a majority with support from two or more parties to submit their claims by December 25.
The ruling coalition has secured 136 seats – two short of the 138 seats required to prove a majority in the 275-member House of Representatives. The coalition is presently comprised of the Nepali Congress (NC) with 89 seats, the Communist Party of Nepal-Maoist Center (CPN-MC) with 32 seats, the Communist Party of Nepal-Unified Socialist (CPN-US) with 10 seats, the Loktantrik Samajbadi Party with four seats, and the Rastriya Janamorcha Party with one seat.
Opposition Communist Party of Nepal-Unified-Marxist-Leninist (CPN-UML) and its allies, which include the Hindu nationalist and royalist Rastriya Prajatantra Party (RPP) and the Janata Samajwadi Party, have secured 92 seats. This is 46 short of the 138 seats required for a majority.
The NC-led ruling coalition is expected to form the next government, but experts have highlighted uncertainty posed by ongoing disagreements over premiership and shifting alliances.
NC Chairman and five-time Prime Minister Sher Bahadur Deuba as well as CPN-MC Chairman and two-time Prime Minister Pushpa Kamal Dahal (also known by his nom de guerre, Prachanda) are both vying for the premiership. As leader of the ruling party, Deuba is in a better position to muster support for a majority. Dahal, despite being previously deemed a "kingmaker," has lost some of his bargaining power due to the CPN-MC's poor electoral performance, posing less of a challenge to Deuba's bid for premiership.
Prior to the elections, Deuba and Dahal reportedly agreed to a power-sharing deal to split the premiership during their five-year tenure. However, Deuba has remained silent regarding this issue since the voting, with Dahal allegedly seeking support from fringe parties such as the CPN-US and the Janata Samajwadi Party, even considering possible mergers with them. Notably, a communist alliance between the CPN-MC and the CPN-UML remains in the cards, although their previous merger ended in acrimony just two years ago.
With Dahal publicly proclaiming that the "government will be led on a rotational basis," the failure to create a power-sharing deal that includes him creates potential for political upheaval. Notably, a power-sharing deal among leaders bound together only by opportunism, such as one between Deuba and Dahal, would be precarious and leave room for volatility. This was clearly demonstrated in 2020 by the disintegration of CPN-UML chair K.P. Sharma Oli and Dahal's power-sharing deal and its aftermath.
In short, Nepal looks headed toward political instability.
Political infighting and the failure to form a lasting government – trends that have plagued the country since the end of the Maoist insurgency – would exacerbate long-standing political instability in Nepal, creating significant ramifications for its nascent democracy, which has seen 13 different governments over the last 16 years.
Additionally, it could allow external powers to increase their influence in Nepal's political landscape – an accusation often directed at neighbors India and China. A visit from Chinese Vice Minister for Culture and Tourism Li Qun days before the general elections as well as meetings that reportedly took place between the Indian ambassador to Nepal and top Nepali political leaders have fueled these accusations, raising concerns over foreign interference in government formation.
As aptly put by former Prime Minister Baburam Bhattarai, "Nepal can only thrive through ebbs of India-China contestations and flows of India-China synergies if it is prepared to play a facilitative role of a bridge between the two neighbors."
Indeed, balancing relations with India and China is a key concern in Nepali politics, with parties and leaders often using it for political posturing.
In the aftermath of India's unofficial blockade on Nepal – enacted in response to the Nepali Constitution being perceived as discriminatory toward Nepalis living in the lowlands near India – K.P. Sharma Oli capitalized on the brewing anti-India rhetoric to be elected as prime minister in 2015. Throughout his three stints as premier, Oli fueled this rhetoric, publishing maps that included disputed areas as Nepal's territory, alleging that the "Indian (COVID-19) virus" is more lethal than the Chinese and Italian ones, and claiming that Ayodhya – the birthplace of Lord Ram – lies in Nepal and that the Hindu god is thus Nepali.
Deuba, on the other hand, belongs to the NC, considered a pro-India party. His most recent premiership, following Oli's, was welcomed by New Delhi owing to his cordial relations with India during previous premiership stints. A month into Deuba's premiership, Minister of State for Finance and NC-member Udaya Shumsher Rana notably said, "Nepal, under this government, will be interested in maintaining good relations with all its neighbors. Nepal needs Beijing, and China has been a good neighbor to us, but India will remain special, China cannot replace India."
Political orientations change with evolving political conditions, but a Deuba government is anticipated to be more inclined toward Delhi. This assumes significance for Nepal's economic landscape, especially regarding global infrastructure projects.
While the CPN-UML's manifesto includes the construction of the Nepal-China railroad as a major electoral pledge, attaching priority to the implementation of agreements with China on trade and transit, roads, and petroleum trade, the NC manifesto appears to favor the $500 million Millennium Challenge Corporation (MCC) grant extended by the United States over China's Belt and Road Initiative (BRI).
Nepali governments notoriously move around contracts contingent on parties in power, with projects often falling into politicking. This is exemplified by the Budhi Gandaki Hydropower Project – a 1,200-megawatt, $2.6 billion undertaking and Nepal's largest hydropower endeavor to date. The Budhi Gandaki Hydropower Project was awarded to the China Gezhouba Group Corporation (CGGC) in 2017 by the Dahal administration – a decision reverted by the Deuba government in 2017 over allegations of procedural flaws in awarding the contract. In 2018, the Oli administration, once again, roped in the CGGC, only for the Deuba administration to revoke their license in 2022.
Given its leanings, the Deuba government is likely to focus on expanding collaborations with India and the United States. In fact, this August, Deuba awarded the much-touted contracts for the West Seti Hydropower Project and the Seti River Project to the National Hydroelectric Power Corporation (NHPC) – a hydropower board under the ownership of India's Ministry of Power.
In Nepal, global infrastructure endeavors – often perceived as a threat to Nepali sovereignty and used as a political tool – have typically garnered strong reactions from the public. The BRI stoked fears that Nepal is "following Sri Lanka's fate," and was met with protesters asking to revoke the "anti-national" agreement and calling for an end to "Chinese expansionism." The MCC, suspected to be a means of establishing U.S. military bases in Nepal, was also met with widespread criticism and protest.
The Deuba government will have to tread lightly as it navigates these endeavors. The MCC, which analysts argued could have broken the former governing alliance, may prove particularly contentious. The implementation of existing projects such as the Kathmandu-Terai-Madhesh Expressway – awarded to China First Highway Engineering over India's Afcons Infrastructure Ltd. days before the elections – may also cause conflict.
Looking forward, signs point to Deuba serving his sixth stint as prime minister. While reviving the Nepali economy and maneuvering the China-India contest for influence should be at the top of his administration's agenda, Deuba's ultimate challenge will be forming a government that serves a full term.