What Tajikistan's Persecution of Faromuz Irgashev Really Means
The journey of Faromuz Irgashev from presidential hopeful to prison underscores Tajikistan's total descent into authoritarianism.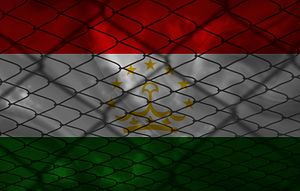 In 2020, a 30-year-old Tajik lawyer from Tajikistan's eastern Gorno-Badakhshan Autonomous Region (GBAO) declared his intention to run in the then-upcoming presidential election. Faromuz Irgashev was almost immediately contacted by the security services.
In an interview with Asia-Plus, a Tajik news outlet, Irgashev cited his witnessing of police abuse in Khorog, GBAO's capital, and the region more widely as motivation for running in the 2020 election. Prophetically, when asked if he thought the state would refuse to register his candidacy, he remarked: "If they refuse me, it will undermine the prestige of the state in the international arena. That is, labels and stereotypes will remain that there is a totalitarian regime here."
He wasn't allowed to run. President Emomali Rahmon "won" reelection with 92 percent of the vote.
Two years later, Irgashev is on trial in Tajikistan and prosecutors have asked for a 30-year sentence following charges of receiving illegal financial support from abroad, organizing an unsanctioned rally, and participating in the activities of a criminal group. The trial is taking place behind closed doors like all of the trials related to the events in GBAO, with the authorities saying little, if anything, officially.
Irgashev's trouble stems from his involvement with "Commission 44," a group of lawyers, human rights defenders, and activists that formed in the wake of the November 2021 protests in the region with the aim of facilitating dialogue between the authorities and anti-government protesters. The protests in November abated and Commission 44 initially cooperated with the Tajik government's attempt to investigate the killings that had triggered the protests.
In December 2021, Irgashev read a statement on behalf of Commission 44 appealing directly to Rustam Emomali — the son of President Rahmon — in his capacity as speaker of the Tajik Senate to intervene on behalf of the people of GBAO and stop the abuse of the region's citizens by police. He read the statement in front of a Tajik flag and a portrait of Rahmon.
By January 2022, the group had stopped cooperating with the government and issued a list of demands, including that the authorities stop pursing charges against ordinary citizens and investigate police abuses.
A spokesman for the group, Khujamri Pirmamadov, put it plainly at that point: "Taken as a whole, there is no investigation; there is only pressure on the people and accusations against people. A person can be jailed for cutting down a tree, but nobody wants to investigate the killing of people. We won't work like this anymore. Either all those guilty are punished, or we will not cooperate at all." (Pirmamadov was sentenced to 18 years in prison within six months, in June 2022).
Tensions in GBAO continued to escalate until large protests erupted in May. The central government responded with an "anti-terrorist operation" that resulted in more deaths and triggered a tsunami of arrests. In August, Tajikistan's Supreme Court deemed Commission 44 a criminal group.
Irgashev was arrested in May, but his trial only began in October. Irgashev's mother, Olabegim Irgasheva, told RFE/RL's Tajik Service that during her one visit with him in August since his arrest, her son asked her "not to turn to official channels to seek justice as it is useless." 
In 2020, Irgashev's presidential run called Dushanbe's bluff: If Tajikistan was going to continue to call itself a democracy, why couldn't a particular citizen run for president? Allowing him to run, Irgashev said in various interviews, was in the state's interests. "We will be able to say that there is no dictatorship in Tajikistan, that a citizen put himself forward and that nobody created any obstacles," he told Eurasianet. 
For a man once hopeful that the state would allow him to run for president — lest Dushanbe earn the title of a dictatorship — Irgashev's fate serves to prove the critics right. Irgashev did not blink, saying also in interviews that he would not flee Tajikistan under pressure. But Tajikistan is a dictatorship.
Two years ago, Irgashev was interviewed by Eurasianet in September 2020 about his presidential run. The article's subtitle remarked: "Coming out as a categorically opposition figure is dangerous business in Tajikistan. Such people end up either dead or in prison."