Amid Signs of Softer Foreign Policy Tone, Is China About to Shift Its Russia Policy?
There is little evidence that Beijing's quasi-apology tour in Europe and other Western capitals will yield any significant concessions over Ukraine.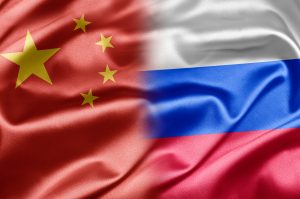 Beijing has hinted in recent weeks that it will dampen its "wolf warrior" rhetoric and seek to reduce tensions with the United States and, especially, Europe. While Beijing's shifting posture is notable, the adjustment appears tactical rather than fundamental. Barring a surprising volte-face from the Chinese government, Beijing will very likely continue its policy of supporting Moscow rhetorically and substantively while simultaneously balancing its bilateral economic relationships with Washington and Brussels. If Moscow appears to be on the verge of defeat, however, Beijing's Russia policy will become more unpredictable.
Analysts have noted China's recent diplomatic shifts. Chinese officials claim on background that Beijing seeks to improve diplomatic and economic ties with Western countries and can point to several actions that reinforce this narrative. While Beijing's quasi-apology tour does seek to ease economic pressures on China, it will have little impact on its Russia policy and indeed aims to drive a wedge between Europe and the United States.
Personnel changes reflect the new, softer emphasis in Chinese foreign policy messaging. Former Chinese Ambassador to the U.S. Qin Gang sounded conciliatory themes in an op-ed after his elevation to foreign minister. Meanwhile, wolf warrior extraordinaire and former Foreign Ministry spokesperson Zhao Lijian has been moved to a less prominent position in the Department of Boundary and Ocean Affairs.
While notable, these diplomatic personnel moves will have little-to-no substantive impact on the conduct of Chinese foreign policy. Top U.S. national security officials have stated that even China's top diplomats, the now-retired Yang Jiechi and Wang Yi, are "nowhere near, within a hundred miles" of Xi's inner circle.
While Beijing's diplomatic rhetoric can usually be ignored, other, more fundamental reasons suggest it may genuinely seek a reset – albeit on its own terms. China's economy is facing significant and growing impediments over the immediate and long terms. Gold-standard economic analysis suggests the Chinese economy grew by under 2 percent in 2022, while 2023 GDP growth could fall as low as 0.5 percent. Over the longer term, China's economy faces demographic headwinds, a wall of debt, stark educational inequalities, and more.
Compounding these domestic economic challenges is the external environment. Western countries are increasingly wary of Beijing's intentions regarding Taiwan and the South China Sea and haven't forgotten China's prevarications in the early days of COVID-19. Fearing the emergence of a hostile and reckless hyperpower, the West is constraining Beijing's access to critical technologies, such as semiconductors.
Beijing's latest charm offensive seeks to reduce external economic headwinds and, wherever possible, spark divisions between the Washington-Brussels alliance. China hopes its latest charm offensive will tamp down Europe's growing skepticism of trade with China while enabling Beijing to exploit potential transatlantic fissures over the United States' Inflation Reduction Act. Beijing is attempting to build economic relations with European countries, especially key technology producers like the Netherlands.
Still, there is little evidence that Beijing's quasi-apology tour in Europe and other Western capitals will yield any significant concessions over Ukraine, or a shift in the China's Russia policy. On December 21, Deputy Chairman of the Russian Security Council Dmitry Medvedev met with CCP General Secretary Xi Jinping just ahead of Ukrainian President Volodymyr Zelenskyy's own surprise visit to Washington, D.C., suggesting that Moscow will continue to enjoy support from the highest levels of the Chinese government. Indeed, on January 19, the Chinese Foreign Ministry reaffirmed its desire to "[foster] a more equitable and reasonable international order" after the Russian foreign minister said that Russia-China relations are at their best in history.
In other words, there is no evidence of a reversal in Beijing's Russia policy.
While Beijing will very likely continue to balance its desire for Russia's Vladimir Putin to prevail in Ukraine with its need to sustain trade ties with the West, a collapse in the Russian war effort could alter Chinese foreign policy calculus. While the course of the war in Ukraine is highly uncertain – and the war will likely continue for much longer – recent trends do not favor Putin.
Regarding the kinetic war, NATO countries have agreed to expand military support for Ukraine, with the latest package including main battle tanks. U.S. military officials, meanwhile, say there is a "window of opportunity" to reclaim Russian-occupied territory. Russian forces are regrouping and may launch a new offensive in the spring, but Ukraine has reasonable prospects for re-acquiring sizable portions of its territory that were seized by Russia.
Putin's energy war is also not going as well as he had hoped. European natural gas inventories are at relatively comfortable levels, French nuclear reactors have mostly restarted, Europe could install up to 68 gigawatts of solar PV capacity in 2023; world liquefied natural gas prices are expected to continue to fall; and the price cap appears to be hampering Russian crude export earnings. While Europe will likely face a small contraction in GDP growth in 2023, Christine Lagarde, head of the European Central Bank, says the growth rate "is a lot better than what we had feared." It's far too soon to declare victory in the energy war, but the larger trends may be moving against Putin.
China may be willing to revise its pro-Russia neutrality in the months ahead if Putin appears to be on the verge of a major military or political defeat. While Western policymakers should not expect any substantive shift in Beijing's Russia policy anytime soon, it's worth sounding out China's willingness to put some distance between it and Putin. If Xi breaks his silence and calls Zelenskyy, the course of the war – and Beijing's relationship with Europe – might be constructively altered. There is no sign that Beijing seeks such a course correction in the near term, however.