Australia Is Finalizing a New Security Pact With Papua New Guinea
Australian Prime Minister Anthony Albanese said he expected negotiations to conclude in April and the treaty to be signed in June.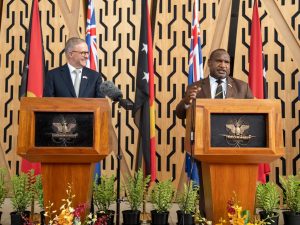 The leaders of Australia and neighboring Papua New Guinea said Thursday they are finalizing a new security treaty — a move that comes as a challenge to China's growing assertiveness in the region.
Last year, China signed its own security pact with nearby Solomon Islands, raising alarm that it could lead to a military buildup in the South Pacific region.
Australia and PNG haven't released details of their planned new treaty, but Australian Prime Minister Anthony Albanese said he expected negotiations to conclude in April and the treaty to be signed in June.
Albanese said the treaty would be based on the deep trust between the two nations. The people of Papua New Guinea showed heroism and humanity during World War II battles, he said.
"In the years ahead, Australia and Papua New Guinea have a chance to honor our shared history of service in the cause of peace — by adding to it," Albanese said. "Deepening our defense ties and enhancing our national security cooperation, and achieving a swift conclusion to negotiations on a Bilateral Security Treaty."
Albanese's remarks were part of the first address to the Papua New Guinea Parliament by a foreign leader since the nation of 10 million gained independence in 1975.
"Australia and Papua New Guinea are the closest of neighbors, we are the greatest of friends," Albanese said.
Albanese said the treaty would work to address PNG's needs, including strengthening the justice system and resolving law-and-order challenges.
In response, PNG Prime Minister James Marape welcomed Albanese and said the two leaders would meet later Thursday to finetune their relationship, including "support for the law and justice sector, including police, military exchanges."
Marape said the safety of both countries was intertwined. He said Australia was more than just a bilateral partner and was a parent nation, because PNG had been been under Australia's administration before gaining independence.
"One cannot talk about the Indo-Pacific without progressing the Papua New Guinea agenda because we are right in the heart and the center of this confluence, the Indo-Pacific confluence," Marape said. "In order for PNG to participate in a safer Indo-Pacific region, Papua New Guinea herself must be stronger economically."
Albanese said he wanted to enhance trade between the two countries "in everything from coffee and cocoa to fisheries and tourism," and to work with PNG on nation-building projects including upgrading ports, roads and digital infrastructure.
Later Thursday after the two leaders met, Albanese told reporters the discussions on the treaty had centered around increased defense cooperation and joint training of personnel, and the potential for joint operations.
Marape said the discussion had been all about the relationship with Australia.
"At no instance was China or any other nation brought into the picture," he said.
The tense relationship between Australia and China has thawed somewhat since Albanese's election victory in May 2022. Last month, Australian Foreign Minister Penny Wong met with her counterpart Wang Yi in Beijing for a new round of long-suspended China-Australia talks on foreign and strategic issues.