Cambodia's Turn to Raise Eyebrows Over Infrastructure Projects
Up to $30 billion in financing is potentially on the table – most of it from China.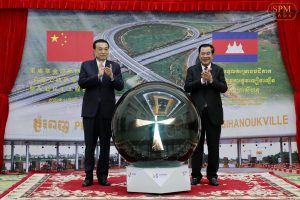 Cambodia has rapidly transformed its economy since the end of its civil war almost 25 years ago, but a slew of recently announced mega-infrastructure projects to be built mainly with Chinese money has raised the stakes – and more than a few eyebrows.
The big-ticket item is a $16 billion real estate development at Ream City on the south coast, to be built by Canopy Sands Development, a member of the Prince Holding Group, which is led by the Chinese developer Chen Zhi. The project is expected to be completed by 2028.
There's also a $4 billion high-speed rail plan to modernize a 382-kilometer section of the link between Phnom Penh and Poipet on the Thai border. High-speed rail links are also planned from Phnom Penh to Bavet on the Vietnamese border and from Phnom Penh to Sihanoukville on the country's coast.
And a $1.4 billion expressway will also be built by China Road and Bridge Construction (CBRC) from the capital to Bavet, after it successfully completed the $2 billion, 190-kilometer expressway linking Phnom Penh and Sihanoukville, which opened late last year.
A $1.5 billion new airport for Phnom Penh, funded entirely by Cambodia, is expected to open in 2025. An $880 million airport is on target to open in Siem Reap this October and a $300 million international airport will be built on the pristine island of Koh Rong.
Then there's an "action plan" being drawn up to address more than 1,100 unfinished buildings in Sihanoukville left deserted for the last three years, which one pro-government media outlet said was "a stark reminder of botched investments, mostly by Chinese nationals."
These projects are mega and many and must be questionable. Cambodia's GDP is about $27 billion, stated debt levels amount to almost $10 billion, with China accounting for about 43 percent, giving it a reasonably solid debt-to-GDP ratio of 37 percent for now.
And the much-anticipated return of Chinese nationals, free of COVID-19 testing requirements, also got underway in early January with 2 million tourists from the People's Republic expected to arrive shortly. There's been speculation that many more will be allowed to emigrate and work here.
A statement from the Tourism Ministry noted Cambodia received 2.36 million Chinese tourists in 2019, generating about $1.8 billion in revenue, while Chinese investment in tourism-related sectors represented more than 50 percent of total foreign direct investment.
That's a lucrative amount of business. But the similarities with countries that have borrowed heavily and are now struggling, like neighboring Laos, are striking.
In 2012, Vientiane began a spending spree. Multi-billion-dollar projects exceeding its GDP were announced and despite the many warnings Laos is now, effectively, a bankrupt Chinese dependent. Its currency, the kip, has collapsed and inflation is near 40 percent amid chronic fuel shortages.
It's a fate that is not too dissimilar to Sri Lanka.
But where Colombo engaged neighbors like India and the International Monetary Fund (IMF) through a parliamentary democracy and financial institutions, Vientiane – a one-party communist state – can only beg from Beijing in its time of need.
Whether Phnom Penh can juggle the equation remains to be seen. Most of these projects will be built by Chinese investors and/or with Chinese funding and they fit neatly within Beijing's Belt and Road Initiative, which is re-emerging in a post-pandemic world.
However, diplomats have long-complained about the opaque nature of Chinese turnkey projects, their financing, and the actual numbers which are unlikely to emerge until it's too late.
At an Extraordinary General Assembly of the ruling Cambodian People's Party (CPP), held last weekend, the party faithful reaffirmed its commitment to make Cambodia a high-middle-income country by 2030.
It's an ambitious target, and worth striving for, but it's also a dubious exercise in numbers.
China has the world's second-largest economy but, according to the IMF, is ranked just 77th out of 194 countries by GDP per capita, a far better reflection for the citizens of any country, one spot below Equatorial Guinea.
Laos, which enjoyed a sharp rise in GDP due to its debt excess, is ranked at 124 and Cambodia at 148, 24 places behind. Laos is also choking on debt, its people are hungry, and its economy is in tatters. One would hope Cambodia does not follow suit.